Published:
July 17, 2021 08:54 pm EDT

As soon as driver Dexter Dunn got on the track with Manchego for Saturday's (July 17) $40,000 fourth leg of the Miss Versatility Series for trotting mares at The Meadowlands, he had a good feeling. Dunn's initial impression proved correct.
Manchego equaled the Meadowlands track record for an older female trotter with a 1:49.4 victory — the first sub-1:50 trotting mile of the season — defeating Weslynn Quest by 1-1/2 lengths. When Dovescry finished third and Atlanta was a late-charging fourth.
The time matched the divisional standard set by Darling Mearas S in 2019.
"Honestly, I don't think she's felt any better post parading than tonight," Dunn said. "As soon as she got on the track, she just felt so good. She loved it out there."
Weslynn Quest took the early lead, getting the field to the first quarter in :27.4, but Manchego came calling on the backstretch and was on top in a :55 half. It was the first time Manchego was in front at the half in eight starts dating back to last October.
From there, it was all Manchego. She reached three quarters in 1:23 and cruised to victory for trainer Nancy Takter and owner Black Horse Racing.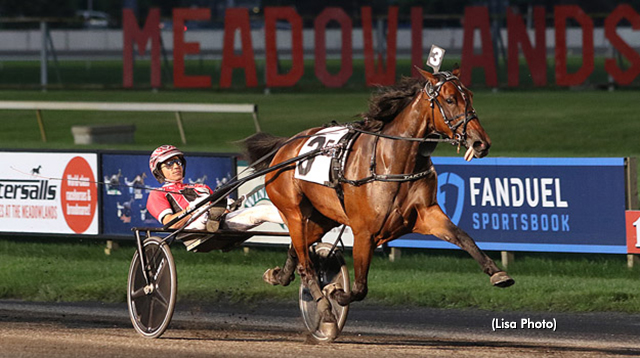 "She hasn't been on the front in a while, but she had her ears perked up and got along good," Dunn said. "She was still traveling good [in the stretch]. I've driven her enough to know how she feels, and if someone was going to go past her, they'd have to be pretty good."
Manchego has won four of five races this year and 37 of 61 in her career. She has earned $2.89 million.
The six-year-old daughter of Muscle Hill and Secret Magic was bred by Brittany Farms. She was a Dan Patch Award winner at ages two and five.
"She's better than she was last year," Dunn said. "She's just so happy right now. Her gait has always been great, but it's even better."
Sent the 8-5 second choice behind favourite Atlanta, Manchego paid $5.20 to win.
(The Meadowlands)
The Miss Versatility was part of a massive night of stakes at The Meadowlands. Full coverage is available in the Meadowlands Pace news centre.