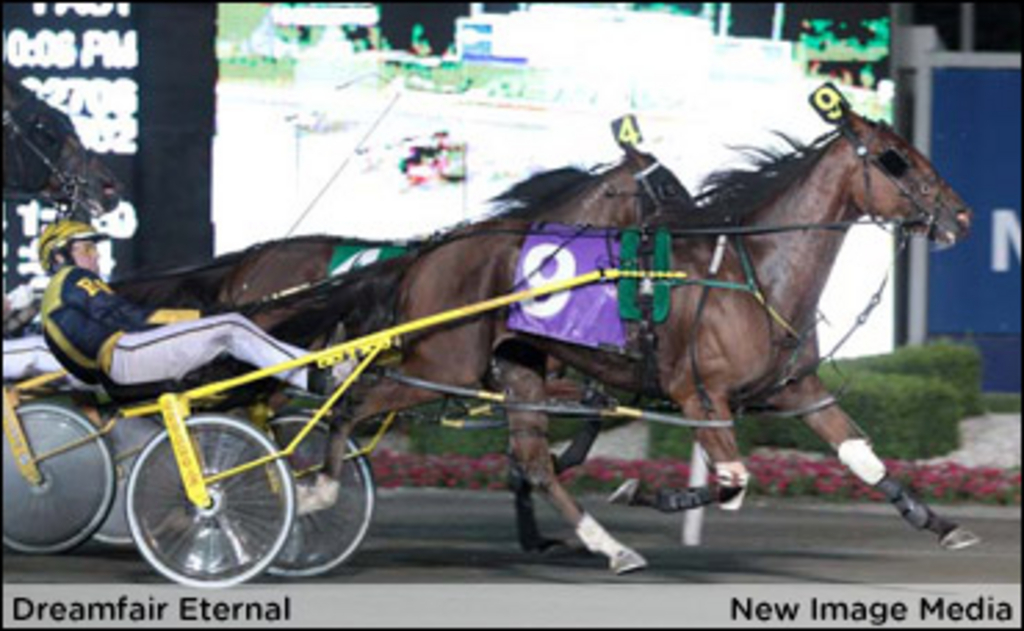 Published:
July 17, 2010 10:09 pm EDT

San Pail served notice that he is not about to give up his Maple Leaf Trot crown without a fight by turning in a sparkling 1:52.3 victory in Saturday night's single $50,000 elimination at Mohawk Racetrack
.
The six-year-old San Pellegrino gelding had some questions surrounding him entering Saturday's contest after making a rare break in stride in an Open event at Mohawk on June 29. He then finished second in a qualifier behind Define The World on the morning of July 9 at Mohawk.
This week, however, the old San Pail was back and marched to the lead for driver Randy Waples after parking through much of the :27 second opening quarter. Once on top, Waples was able to settle the speed and took the field past the half in a controlled :55.4.
At that point, European invader Reven Damour (Fredrik Larsson), who had been parked all the way, made a three-wide move around a stalled Arch Madness (Trond Smedshammer) and prompted San Pail through three panels in 1:25.
Waples called on San Pail for more as they turned for home and he responded with a strong :27.3 final quarter. Lanson (Mario Baillargeon), who was locked in until mid stretch, found room late and rallied sharply for second with Reven Damour holding on extremely gamely for third.
Rounding out the top seven positions and advancing to next weekend's final were Define The World (Paul MacDonell), Triumphant Caviar (Luc Ouellette), All Cantab (Trevor Ritchie) and Slave Dream (Sylvain Flion). Arch Madness, along with Striking Lindsey and Wind Surfer, failed to qualify.
"He's back, he proved that tonight," said winning trainer and co-owner Rod Hughes. "Dad had to work hard on him all week. We crossed our fingers and here we are."
"I liked that when I saw Randy get a bit of a breather and they were stacked up on the outside with no one coming real hard at him Randy said he was strong right to the wire and he said to just keep doing what I'm doing. This week will be fairly easy for him. I just have to make sure I do my job and have him as good as I can."
San Pail returned $4.60 as the bettor's choice and improved his record to seven wins in nine trips postward this year while increasing his career earnings to just over $1.2 million for Hughes along with co-owner Glenn Van Camp of Port Perry, ON.
By virtue of the win, San Pail's connections got to choose their post for the final and opted to go with post four. The top seven finishers from Saturday's elimination will join Lucky Jim, Enough Talk and Armbro Chronicle in the $772,000 final.
Here is a look at the entire field in post position order:
1. Enough Talk
2. All Cantab
3. Lucky Jim
4. San Pail
5. Slave Dream
6. Reven Damour
7. Armbro Chronicle
8. Lanson
9. Triumphant Caviar
10. Define The World
Dreamfair Eternal turned in another 'tour de force' in winning Saturday's lone $50,000 elimination for the Roses Are Red Stakes for older pacing mares at Mohawk Racetrack.
The daughter of Camluck – JCs Nathalie quickly overcame the obstacle of Post 9 with a sharp leaving move for driver Randy Waples and tucked in fourth through an opening panel of :27.1 which was put up by Tug River Princess (Jack Moiseyev).
That world champion daughter of Badlands Hanover continued on top past the half in :55.4 with Ginger And Fred (Sylvain Filion) drafting closely behind in the pocket position. That's when Waples brought Dreamfair Eternal out from fourth to go on the attack.
Tug River Princess continued to hold the upper hand at the three-quarters in 1:24 as Dreamfair Eternal moved up to her wheel. Meanwhile, Ginger And Fred was live along the inside and waiting for racing room.
Just as it looked like Tug River Princess might hold on, Dreamfair Eternal, as she's done so many times in her career, found another gear when it counted and came past for the measured win. Tug River Princess held the place spot over an onrushing Ginger And Fred, who shook loose too late.
"It worked out really well, she left a little bit tonight and there was a big opening there for me," explained Waples, who, earlier in the night, captured the Maple Leaf Trot elimination with San Pail. "She got to follow until going into the last turn. That's the trip she likes. She likes to hunt other horses. It seems like every week 'Eternal' comes to play."
"As long as she comes out of this race good and healthy, now that we don't have to worry about post position, she'll make a good account of herself [in next week's final]."
The victory was the eighth in 10 starts this season for Dreamfair Eternal, who is trained by Pat Fletcher for owner John Lamers of Ingersoll, ON. She surpassed the $1 million mark in her prior start, which was a win in the Masters Series at Georgian Downs.
Dreamfair Eternal had the option of a bye straight to the final, but the connections opted to race instead and, by virtue of her win, they got to choose their post for the final. She will start from post in the $376,000 contest next Saturday night.
Accepting byes into the final were To Helen Back, Shanghai Lil and A Ps Money Maker.
Here is a look at the entire field for next weekend's Roses Are Red Stakes final in post position order:
1. Shanghai Lil
2. Ginger And Fred
3. A Ps Money Maker
4. Dreamfair Eternal
5. Arts Diva
6. Tug River Princess
7. Miss Scarlett
8. Chancey Lady
9. Up Front Kellie Jo
10. To Helen Back
Open pacers were also in action on Saturday night with this week's edition of the $42,000 top class going to Waples and millionaire pacer Keystone Horatio, who cleared the lead after the :26.1 opening quarter and carved out the remaining panels of :54.2 and 1:22.2 en route to victory in 1:50.1. The 9-2 second choice held off the pocket pulling Awesome Armbro N (Luc Ouellette) by half a length. Stonebridge Terror (Mike Saftic) finished back in third.
Keystone Horatio paid $11.00 to win for the fourth time in 24 starts this year. The five-year-old son of Rustler Hanover-Keystone Havoc boasts $211,880 in seasonal earnings for trainer John Kopas and the Estate Of George F Hempt Trust of Camp Hill, Pennsylvania.
Waples also drove one of the four Canadian Breeders Championship elimination winners, Text Me. For a recap of tonight's CBC elims, click here.
To view Saturday's results, click here.
(With files from WEG)