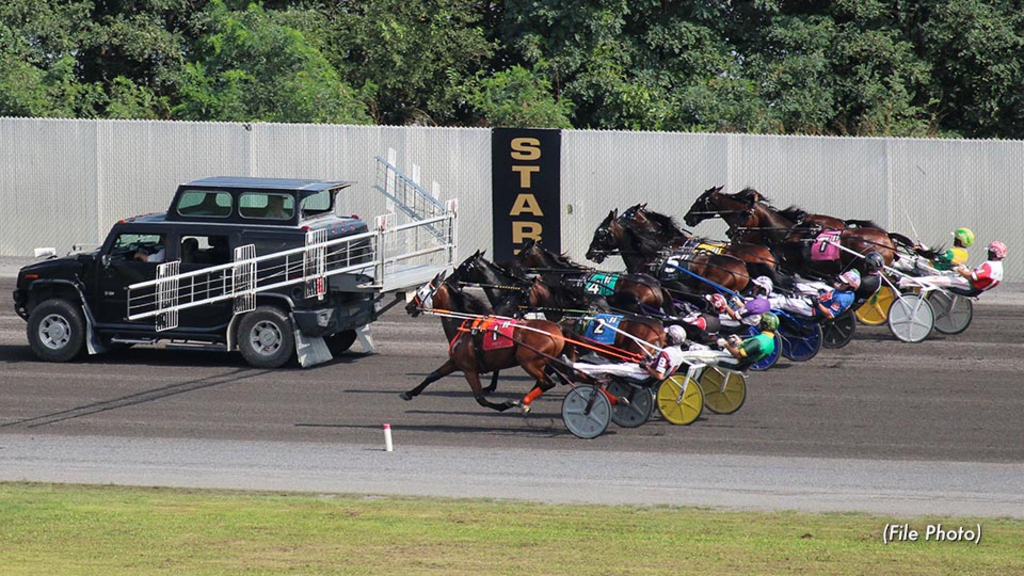 Published:
July 14, 2022 07:48 pm EDT
Top Me Off was the winningest trotting three-year-old male in North America in 2021, and the son of Bar Hopping continued to exhibit good form on Thursday afternoon (July 14), winning the $15,300 featured trot at Harrah's Philadelphia under Tim Tetrick's guidance, paying an un-Tetrick-like $41.40.
Tetrick spotted Top Me Off fourth early from post 8 as favoured Star Razor, going for his sixth-straight victory, took command at the :27.4 quarter and went on to post fractions of :56.3 and 1:25.3. Top Me Off had been given his marching orders and went uncovered down the back and through the turn. But in the stretch, Top Me Off proved the strongest and won by a half length over pocket-sitter AP Hall Of Trix with Star Razor another half length back.
Top Me Off, who was purchased by trainer Arlene Cameron at the end of last year, equaled his lifetime best of 1:54.2 with the win Thursday, but putting up fast clockings is old hat to him – he holds the record for the fastest trotting mile ever on the Pennsylvania Fair Circuit, going in 1:57.2 at Gratz last season.
Tom Haughton, a member of one of harness racing's most prominent "golden families" and still with his hand in on a reduced basis, trained his first winner in over just a year (encompassing just 13 starts) when his mare Nancy Bar, also sired by Bar Hopping, went wire-to-wire for driver George Napolitano Jr. Nancy Bar was the longest-priced winner on a day when upsets were generally the rule, paying $54.60 while also overcoming post 8 (which does better at Philly than at most tracks, with an 8.2% win rate).
Andy Miller won four races on the day, two for trainer/wife Julie; Tim Tetrick, the meet's leading driver, was next in line with three tallies, two for trainer Arlene Cameron.
The next few days of racing at Harrah's Philadelphia have some sort of feature every day. Friday there are $5,000 guaranteed pools for the Pick-4 bets beginning in Races 1 and 10, and a $1,525.46 carryover for the Pick 5, which launches in Race 5. On Sunday (July 17), 2021's superstar free-for-aller Allywag Hanover comes to town, handicapped to post 6 in a $22,500 contest. And next Wednesday (July 20) and Thursday (July 21), two-year-old males will contest a leg of their Pennsylvania Sire Stakes and Stallion Series contests – the pacers on Wednesday and the trotters on Thursday. Program pages are or will be available at the PHHA website.
(PHHA / Harrah's Philadelphia)