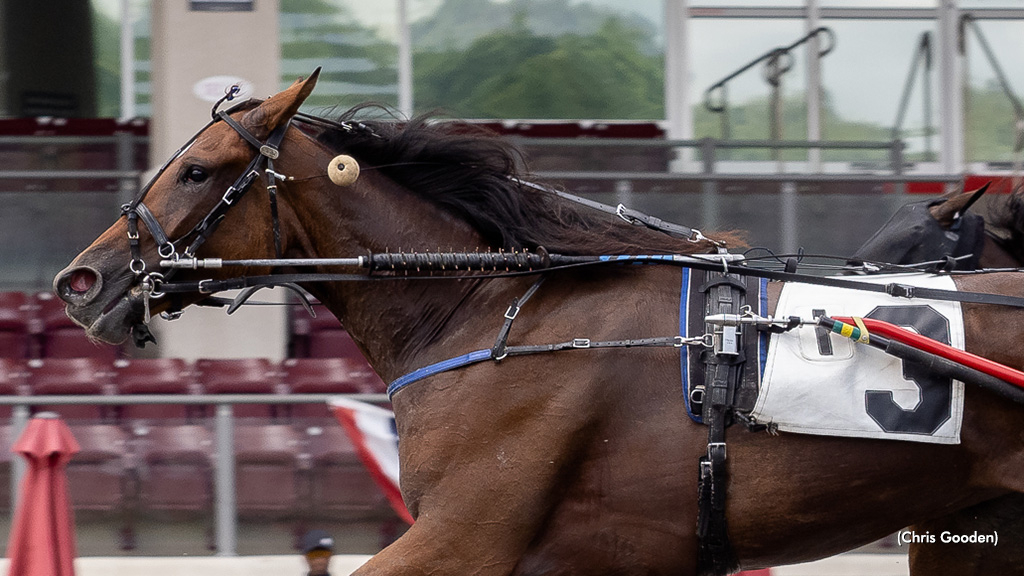 Published:
July 14, 2022 07:56 pm EDT
Eternal Lee tipped off cover out of the final turn and roared through the stretch to score in Thursday's (July 14) $133,982 Pennsylvania Sires Stake at Hollywood Casino at The Meadows. Luisella captured the other division in the event, known as the Stenographer, for three-year-old trotting fillies.
Eternal Lee followed the live cover of the first-over Dreamonhigh before Dave Palone sent her wide for the drive. The daughter of Southwind Frank-Charity Hall outkicked Virgin Mary S to down her by three-quarter lengths in 1:53, matching her career best. Early leader Mon Cheval finished third.
"It set up perfectly," Palone said. "They mixed it up enough, and I got a perfect trip behind the filly I wanted to follow. She was letting me know she really felt good about herself around the last turn, and when I moved her, she responded like you want them to."
Chris Ryder trains Eternal Lee for owner-breeder Murray Ferguson, Jr.
Shuffled to fifth through the final turn, Luisella and Andrew McCarthy first peeked outside, then knifed into the "Lightning Lane". That proved the winning move, as Luisella found a new gear and defeated Ebbies Lady by 1-1/4 lengths in 1:55, a lifetime mark. Samosa completed the ticket.
"It's hard to catch up that much ground after the others have momentum on you," McCarthy said. "But once I headed inside, I saw that some of them were getting tired. I knew I had a shot then."
Fred Grant conditions the daughter of Bar Hopping-Melusine for owner-breeder Russell Williams.
It isn't clear if either divisional winner has earned enough points to qualify for the $260,000 PASS championship, which is set for Sept. 3 at The Meadows.
$40,000 PA Stallion Series — Three-Year-Old Trotting Fillies
Chake had little trouble winning her seventh straight while the other split went to Rosaline.
Chake seized the early lead from post 5 for Ronnie Wrenn, Jr., pretty much ending the suspense there. The daughter of Donato Hanover-Linda Lovelegs widened steadily to score by 5-1/4 lengths in 1:55.1. Red Light Lady and Sweet Tomato rounded out the ticket. Per Engblom trains Chake for Daniel Sarafian.
A three-race maiden entering the day, Rosaline zipped to the point from post 7 for Scott Zeron and prevailed in 1:56.4, 4-1/2 lengths better than Gumdrop Hanover, with V Four Victorious third.
"Last week was a bit of a hiccup for her because she was overly aggressive," Zeron said. "So they made some changes today, and everything kind of aligned. It was the first time she wore ear plus; I didn't pop them because I didn't want to find out if she'd respond or not when I pulled them."
Clifton Green trains Rosaline for Keystone Stable.
Elsewhere on the card, Fortune Forecast notched a facile front-end victory in the $13,800 championship of a Pop Up Series for freshman filly trotters. Ridge Warren piloted the daughter of Fordham Road-Fast Reaction for trainer Rick Beinhauer, who owns with Regina Beinhauer. Stablemates Horn Player and Sister Solange were second and third, respectively.
Palone collected three wins on the 12-race card while trainer Steven Walters fashioned a double. Jim Pantaleano and trainer Peter Stratton also enjoyed a big day, teaming for a pair of wins.
Friday's (July 15) 12-race program features a pair of stakes for three-year-old trotting colts and geldings — a $131,506 PASS and a $40,000 PA Stallion Series event. On the wagering front, the card offers a $2,573.97 carryover in the final-race Super Hi-5 as well as a $2,023.43 carryover in the Jackpot Pick 5 (Race 4). First post is 5:10 p.m. (EDT).
(MSOA)