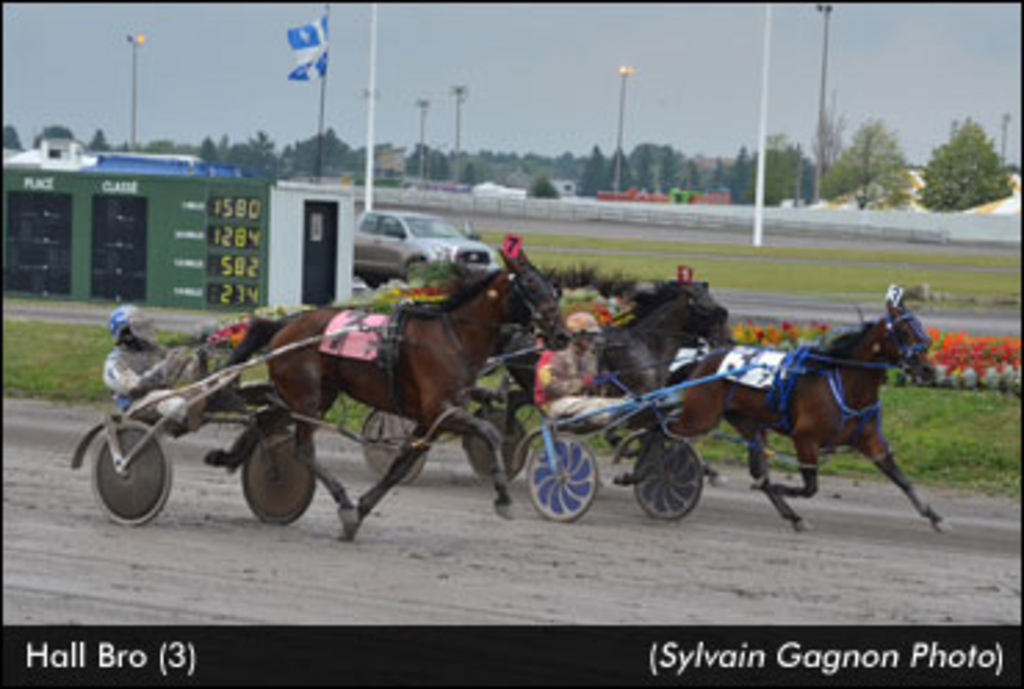 Published:
July 13, 2014 07:04 pm EDT
There was certainly no lack of excitement at the Hippodrome 3R Sunday for the start of the $400,000 Quebec-Bred Series for three-year-old trotters and pacers. The action was fast and furious despite earlier rains that labeled the track in 'good' condition.
The series features four weeks of preliminary rounds for both colts and fillies in each class and then on Sunday, September 7 will be the $65,000 finals for each of the four divisions.
The fastest action took place in both $7,500 opening round divisions for three-year-old pacing colts and geldings as Jefferson Tare saw his six-race winning streak come to a close at the hands of Hall Bro.
After leaving and grabbing the early lead by the opening quarter mile in :27.4 despite the "off track" conditions, Jefferson Tare and driver Pascal Berube took command, but it was short lived as Stephane Brosseau came right back with the 4-5 race favourite Hall Bro.
Those two held the field at bay as they sped past the half-mile marker in :58.2. That was when Eveil Dun Champion (Mario Charron) came first-over to challenge to no avail.
Then after the three-quarters in 1:28.4, Berube came back out with Jefferson Tare and in the stretch tried his best, but could not collar Hall Bro until after the wire in 1:58, losing by a slim neck. Bad Magic (David Pilon) was third.
The win was the third this year for Hall Bro, a gelded son of Blissfull Hall, who is trained by Antonio Valente and was bred and is owned by Ferme Brodeur of Terrebonne, Que. Hall Bro paid $3.80 to win.
The first division was the fastest mile of the day as Atomic Million AM and driver Sylvain Lacaille, despite making a break at the start of the race, came back to take command after the opening quarter mile and wired the field winning by one and three-quarter lengths in 1:57.1. No one was really able to challenge Atomic Million Am as My Lucky Bluejeans (Denis St. Pierre) was second with Bali (Marie Claude Auger) third.
Sired by Million Dollar Cam, the win was the seventh in nine starts this year for Hall Bro, who was bred and is owned and trained by Alain Martin of Gatineau, Que. He paid $2.40 to win.
In the first division for trotting colts and geldings, Maximuscle saw his three-race winning streak come to a close as he could only manage a third-place finish. The race was won by Somoli E and owner/driver Jerome Lombart and they led from start to finish, barely holding off a super game first-over effort by Andovers Touch (Stephane Brosseau) to win by a nose in 2:02.4.
The win was the third this year and a lifetime mark for Somoli E, a son of Mr Lavec, who is trained by Andrea Lapierre. He went off at odds of 8-1 and paid $19.40 to win.
The second division for trotting colts saw Monster Mass and driver Claude Larose lead from the start and score in a romp by five and one-quarter lengths in 2:05.1 over Jardinier (Marie Claude Auger) and De Pres Mirabel (Rosaire Renaud).
The gelded son of Muscle Mass posted his third win this year for trainer Justin Blais, who is also the owner and co-breeder. He paid $4.30 to win.
The highest payoff of the series preliminary rounds Sunday was set in the second division for pacing fillies as Ladylyonne and Stephane Brosseau came from third over at the top of the stretch to win by a neck in 2:00.4 over My American Tallia (Stephane Gendron) with Thrill Chaser (Marie Claude Auger) third.
Sent off at odds of 24-1, Ladylyonne paid $51.70 to win in posting her maiden victory after 11 lifetime starts for trainer Dominc Gladu and co-owners (breeder) Zephirin Lyonnais of Varennes, Que. and Andre Grosso of Mascouche, Que.
The first division saw C L Infinite and trainer/driver David Pilon close from fifth place at the top of the stretch and draw off to win by one and one-quarter lengths in 2:02.4. Pacesetter Night Fall (Stephane Gendron) was second with Tango Bayama (Rheo Filion) third.
The win was the first in five starts on the year for the daughter of Artistic Fella, who was bred and is owned by Ecuries Leblanc Inc. of Saint-Eustache, Que. She paid $7.70 to win.
There was only one division of three-year-old trotting fillies with 10 starters. Half of the field made breaks and after weaving her way around those horses, having started from post 10 in the second tier, Viva Bayama blew away the entire field. Trained and driven by Yves Filion, once they had clearance in the backstretch the second time, they sprinted to the outside, looped the field and then drew off to win by 10 and one-quarter lengths in 2:04.3. SOS Striking Monte (Francine Morrissette) was second with Bambie Benjo (Rheo Filion) third.
It was the maiden victory in five lifetime starts for Viva Bayama, a daughter of Muscle Mass, who is owned and bred by the Filion's Bayama Farms Inc. in Saint-Andre-D'Argenteuil, Que. She paid $3.20 to win.
Live racing resumes Tuesday evening at the Hippodrome 3R. First race post time is 7 p.m.
To view Sunday's harness racing results, click on the following link: Sunday Results - Hippodrome 3R.
(With files from QJC)