Published:
July 13, 2012 10:26 pm EDT

The trotting fields for the Canadian Breeders Championships have been narrowed down to 10 following Friday's elimination round at Mohawk Racetrack.
Favourites Im On Cloud Nine and Miss Paris delivered a pair of winning performances in their respective $35,651 filly trot eliminations.
In the first elimination, slight second choice Lovely Vacation (Randy Waples) worked her way to command around the first turn, hitting the opening quarter in :28.1. Twin B Sensation (Stephen Byron) settled for a pocket trip while Im On Cloud Nine was positioned third by driver Jack Moiseyev.
Lovely Vacation carved out middle fractions of :57.3 and 1:26.1 with Im On Cloud Nine advancing first up to apply pressure around the final turn. The SBOA Stakes champion took over command at the top of the stretch and drew off to win by nearly two lengths in 1:55 flat.
Finishing second through fifth and also advancing to next week's final are Lovely Vacation, One More Ginny (Paul MacDonell), Smarty Pants (Sylvain Filion) and Twin B Sensation.
"She's a nice filly, she made $172,000 this year, and she gives it all she's got," commented Moiseyev following the win. "I got away third and I was able to sit as long as I could and usually if she can sit that long she can come first up and close pretty good."
Im On Cloud Nine paid $6.10 to win. The Angus Hall-Celebrity Angel filly, now seven-for-10 on the year, is trained by Kevin O'Reilly for owner W. J. Donovan. The lion's share of the purse pushed her career earnings past the $200,000 mark.
Fresh off a Gold victory in the Ontario Sires Stakes program, Miss Paris found herself parked out in seventh after a post nine start in her elimination, but driver Rick Zeron sent the half-million dollar earning Kadabra-Pizza Dolce filly wide down the backstretch and stormed home to win in 1:54.4.
Windsong Idol (Chris Christoforou) finished half a length behind while Circles (Luc Ouellette), who fronted the field through splits of :27.4, :57.4 and 1:26.3, settled for third-place honours a length and a half behind. Sugar Wheeler (Paul MacDonell) and Frisky Strike (Randy Waples) were fourth and fifth, earning the final spots in next week's test.
"It was a bit of a tough race for her," said Zeron in the winner's circle. "I didn't want to get away ninth so I thought I would float off the gate and see if I could sit around fifth or sixth, but the six, seven and eight horses kind of left so I had to go with the flow...She's just all horse, she gives you 110 per cent every time you go out."
Miss Paris paid $3.50 to win. The Richard 'Nifty' Norman trainee earned her second win of the season in six starts. She is owned by Melvin Hartman, Herb Liverman, and David McDuffee.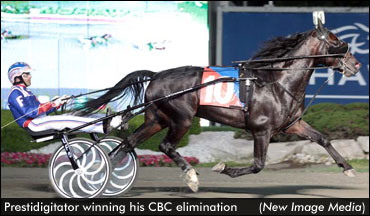 Only one elimination worth $68,168 was necessary for the trotting colts, which was won by the popular Prestidigitator.
Deck The Halls (Sylvain Lacaille) was the first to fire from post nine, but his lead was short-lived as Reckon Im Ready (Keith Oliver) rolled right on by and cleared just past the :27.2 opening quarter mark. Decret Justiciale (Mario Baillargeon) then made his move down the backstretch and rushed up from third to take over command en route to the :56.1 half-mile mark.
At the halfway point, driver Sylvain Filion sent Prestidigitator first up from mid-pack and moved up alongside the new leader, who made a costly break and moved into the safety lane as they approached the 1:25.2 third quarter mark. The favourite was left to contend with Reckon Im Ready and he downed that rival to win by three lengths in 1:54.3.
Reckon Im Ready stayed for second and Victim Of Changes (Randy Waples) rounded out the top three. The top seven finishers, who also include Heres The Magic (Scott Zeron), Decret Justiciale, Mikey Hanover (Paul MacDonell) and Jetcrest (Mike Saftic), will advance to next weekend's final joining Cold Certified, Il Mago and Knows Nothing, who all received byes.
"When you get post 10 it does worry you, but I knew I had the best horse," said Filion after the victory. "I think I have the best horse so I don't have much to worry about [for the final]."
Prestidigitator paid $2.80 to win. The Kadabra-Shesa Priority colt, who swept his first OSS Gold test of the season, is trained by Dustin Jones for Ecurie Synergie. He has banked over $440,000 in career purse earnings.
The Canadian Breeders Championship fields for the pacing divisions will be finalized in Saturday's elimination round.
Here are the fields in post position order for the CBC trot finals, which will be contested on Maple Leaf Trot night next Saturday, July 21:
$166,373 Canadian Breeders Championship - Three-Year-Old Filly Trot
1. Frisky Strike
2. Miss Paris
3. Im On Cloud Nine
4. Twin B Sensation
5. Windsong Idol
6. Lovely Vacation
7. Sugar Wheeler
8. One More Ginny
9. Smarty Pants
10. Circles
AE: Racing Dreams
$159,058 Canadian Breeders Championship - Three-year-old Colt Trot
1. Il Mago
2. Delcret Justiciale
3. Cold Certified
4. Prestidigitator
5. Knows Nothing
6. Heres The Magic
7. Mikey Hanover
8. Victim of Changes
9. Reckon Im Ready
10. Jetcrest
AE: Deck The Halls
To view Friday's harness racing results, click on the following link: Friday Results - Mohawk Racetrack.