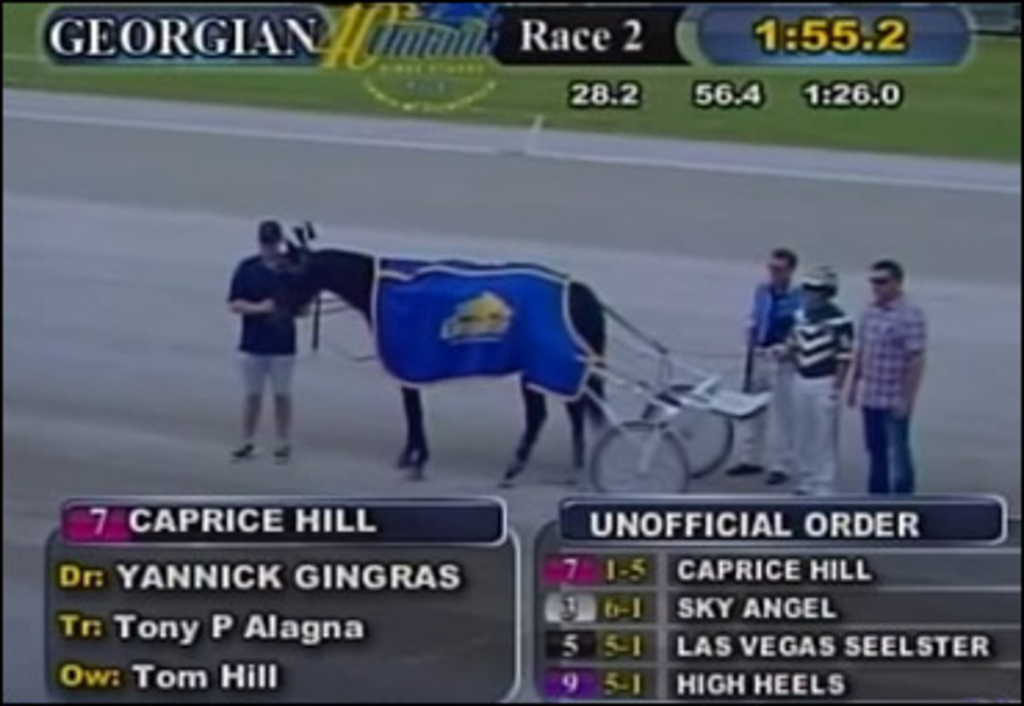 Published:
July 12, 2015 10:36 pm EDT

If the performances in Sunday night's Gold Series season opener at Georgian Downs were any indication, Ontario has produced another world class group of two-year-old trotting fillies.
Caprice Hill established the lofty standard for the evening in the first $52,500 division with a commanding gate-to-wire victory in 1:55.2. Allentown, New Jersey resident Yannick Gingras made his first-ever trip to Georgian Downs for the race, steering the daughter of Kadabra and Bramasole to the win for trainer Tony Alagna of Manalapan, New Jersey and owner Tom Hill of Lancashire, Great Britain.
"I baby raced her the first time [June 15] and I told Tony I'd like to stay with her, she showed me abilities that day," said Gingras. "She has a beautiful mouth on her, and great gaited, and she had all kinds of power, so I was very high on her and she proved me right tonight."
Going unchallenged around the Georgian Downs five-eighths oval, Caprice Hill hit the wire four and one-quarter lengths ahead of Sky Angel and Las Vegas Seelster. Her 1:55.2 clocking was just two-fifths of a second off the 1:55 Ontario Sires Stakes record for two-year-old trotting fillies on a five-eighths mile track, set by the great Bee A Magician at Georgian Downs in an October 2012 Gold Series event.
"She's got the whole package, let's put it that way. She's got as much speed as anything, but her manners are very, very good. You can do whatever you want with her," added Gingras. "Last baby race [June 27] I left and let somebody go, and came back in the stretch; just whatever you throw at her she's very professional about it, so I think that's her best quality right now."
Alagna selected the half-sister to $278,868 winner Bramalea Hanover out of last fall's Harrisburg Yearling Sale and Hill issued the winning bid at $55,000. Since then, Caprice Hill has been a star pupil for Alagna and his mother Donna Lee Ozment.
"She's a really special filly. My mom trained her this winter in Chicago and she came out to us this spring and she's been fantastic from the get go," said Alagna. "I'm very happy with where we're at right now."
In addition to the Ontario Sire Stakes, Alagna says Caprice Hill has a full complement of open stake races on her calendar so long as she stays healthy and continues to thrive on the racetrack.
Also delivering an impressive front-end performance was locally-owned Could It Be Magic, who cruised home a 1:56.4 winner in the third division for Alliston, Ont. resident Fred Brayford and trainer/driver Wayne Henry of Arthur, Ont. Unchallenged through fractions of :29, :59.2 and 1:28, Could It Be Magic trotted under the wire six lengths ahead of Devils Advocate and Danish Darby.
"She can really get out of there off the gate, and then Wayne seems to be able to get control and they kind of respect her I guess," said Brayford. "Then when he needs the last quarter, he just kind of lets her trot and so far she's been pulling away from them."
Brayford and Henry acquired the daughter of Kadabra and $233,554 winner In The Mean Time for $18,000 from the Harrisburg Yearling Sale and Brayford says the filly seemed like a natural from her earliest lessons.
"He [Henry] trains in Florida. I was down there for most of the winter and I used to go out and see her train, and she just seemed to be kind of a natural right from the start," explained Brayford. "She liked to trot. She didn't spend much time breaking, touch wood."
Sunday's win was the second for Could It Be Magic, who also captured a conditioned event at Mohawk Racetrack on July 2.
In the fourth division, Emoticon Hanover stormed up the stretch to post a 1:56.3 victory and make it a hat trick for trotting sire Kadabra. The filly and driver Sylvain Filion of Milton, Ont. reeled in pacesetter and fan favourite Ready Any Time and Magical Wonder to record the one and one-quarter length victory for trainer Luc Blais of Lochaber Ouest, Que. and owner Determination of Montreal, Que.
The first foal from former Ontario Sires Stakes star Emmylou Who, a winner of 660,354 during her racing career, Emoticon Hanover was a $165,000 purchase from the Harrisburg Yearling Sale.
The other Gold trophy went home from Georgian Downs with One Too Many, who was awarded the win when it was ruled that she was impeded by Silky Flashy Nfast in the stretch. Silky Flashy Nfast was moved back to second and Liberty Lane finished third in the 1:58.2 mile.
Guelph, Ont. resident Anthony MacDonald drives and trains One Too Many for Rene Allard of Milford, Pennsylvania, who purchased the Manofmanymissions daughter for $14,000 from the Canadian Yearling Sale.
The two-year-old trotting fillies make their second Gold Series start at Mohawk Racetrack on July 23, while Ontario Sires Stakes excitement returns to Georgian Downs on Tuesday, July 14 with seven Grassroots divisions for the three-year-old trotting fillies.
To view Sunday's harness racing results, click on the following link: Sunday Results - Georgian Downs.
(OSS)