Published:
July 11, 2021 04:59 pm EDT
Splash Blue Chip and Moni For Lindy won their respective New York Sire Stakes events for three-year-old trotting fillies at Tioga Downs on Sunday (July 11).
Splash Blue Chip (Åke Svanstedt) charged late to capture the $56,000 first division.
Soukup Blue Chip (Andy Miller) led early before yielding to Trip Stevens (David Miller) just before hitting the first quarter in :27.1. Soukup Blue Chip regained the lead before hitting the half in :56.2. Contested Hanover (Scott Zeron) came first-over down the backstretch and challenged Soukup Blue Chip, who maintained the lead to three-quarters in 1:24.3.
As they made the turn for home, Contested Hanover took over the lead. Dream Chapter (Wally Hennessey) came three-wide and Splash Blue Chip ($3.50) made it four in a line, fanning widest of all. Splash Blue Chip flew right on by to win in a lifetime best of 1:55.1. Dream Chapter finished second best and Contested Hanover held on for third.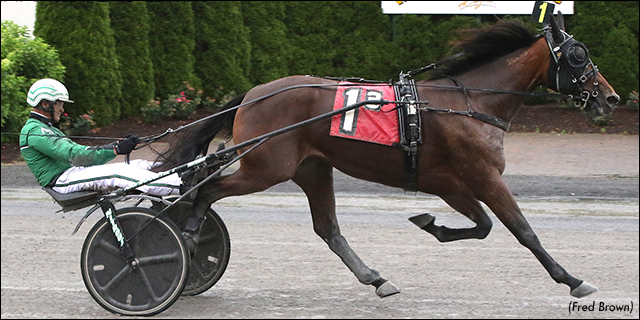 Splash Blue Chip is a three-year-old filly by E L Titan. She is owned by trainer Svanstedt as well as Mellby Gard Inc. It was her first win this season and the second of her career.
Moni For Lindy (Wally Hennessey) upset in the $55,000 second division.
Big favourite Iteration (Brian Sears) controlled a sizzling :26.4 first quarter before pulling the half back to :57. Moni For Lindy ($17.00) came first-over from fifth heading down the backstretch and steadily made up ground as Iteration hit three-quarters first in 1:25.2.
As they made the turn for home, Moni For Lindy muscled right on by to take the lead. Illuminata (Svanstedt) and Sweeping Rainbow (David Miller) both made bids in the stretch, but were too late as Moni For Lindy won easily in 1:55. Illuminata finished second; Sweeping Rainbow took third.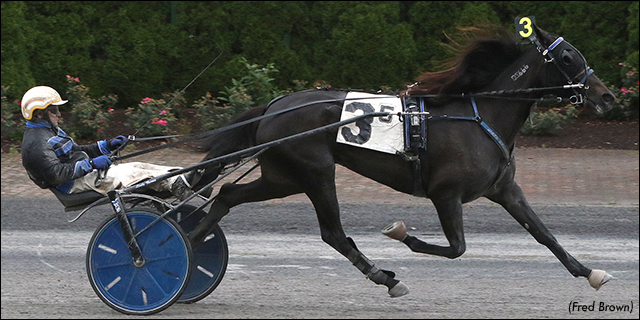 Moni For Lindy is a three-year-old filly by Credit Winner. She is owned by Greathorse and trained by Domenico Cecere. It was her third win of the season and fifth career victory.
Live racing returns to Tioga Downs on Friday (July 16) starting at 6:15 p.m.
(Tioga Downs)