Published:
July 10, 2021 01:07 am EDT
One week ago, Walner sired six of the seven divisional winners of the opening leg of the New Jersey Sire Stakes for two-year-old trotters at The Meadowlands, and the sport's newest super sire stayed sizzling hot Friday night, as five of his progeny reigned supreme in the six $25,000 NJSS leg two events at The Big M.
Four Walner babies stayed unbeaten in two NJSS attempts, beginning with Temporal Hanover ($7.00 to win as the second choice), a colt who scored from just off the pace for driver Tim Tetrick and trainer Marcus Melander in a lifetime-best 1:54.1.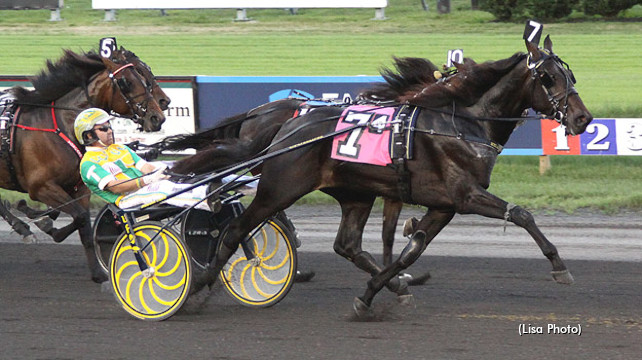 "The [Walner babies] are smart and have tons of speed," said Tetrick. "He's real handy, super nice and likes his work. He surged down the lane and was really impressive."
King Of The North ($2.80 as the 2-5 favourite) impressed in his split for colts and geldings, as the Ray Schnittker-trained colt moved to the lead at the half and just held off Bully Boy Hill by a head at the wire in a lifetime-best 1:54.2.
"He's a professional out there," said winning driver Mark MacDonald. "[Early on] I thought I was going to be in a bad spot, so I just pushed forward a bit to get the lead. I might have shut him down a little bit too much in that third quarter. He got a little sleepy there in the last 100 yards. My ear plugs got caught on the gating pole [so I couldn't pop them]."
Completing a three-race Walner wipe-out of the colt and gelding divisions was Majestic J ($3.00 as the 1-2 public choice), who held off the pocket-sitting Classic Hill by a nose in a lifetime-best 1:54.4 for Dave Miller and Tony Alagna.
Venerable ($3.20 as the 3-5 favourite) won one of the filly divisions for Miller and Nifty Norman in a lifetime-best 1:54.3 to stay perfect in two NJSS tries while Raised By Lindy ($35.60) pulled off an upset for Scott Zeron and Domenico Cecere, winning her pari-mutuel debut in 1:54.3.
Like last week, there was one non-Walner-sired winner, a Muscle Hill filly, Delilah Hanover ($6.20 as the 2-1 second choice), who scored in her second career outing from off the pace for Dexter Dunn and Norman in 1:54.4.
Like seven days ago, Great Vintage-sired horses scored in the two $20,000 NJSS splits for two-year-old pacers.
In the leg two events conducted before the betting card, both filly Not So Evil and colt Vintage Valentino stayed perfect in two series outings.
Not So Evil, who was driven by Pat Berry for his wife Traci, stopped the clock in a lifetime-best 1:56.4 while 'Valentino' scored in a lifetime-best 1:56 for Yannick Gingras and John Urbanski.
Racing resumes Saturday at 6:20 p.m. The featured action includes a pair of $50,000 eliminations for The Meadowlands Pace as well as two $250,000 Graduate Series Finals.
(Meadowlands)