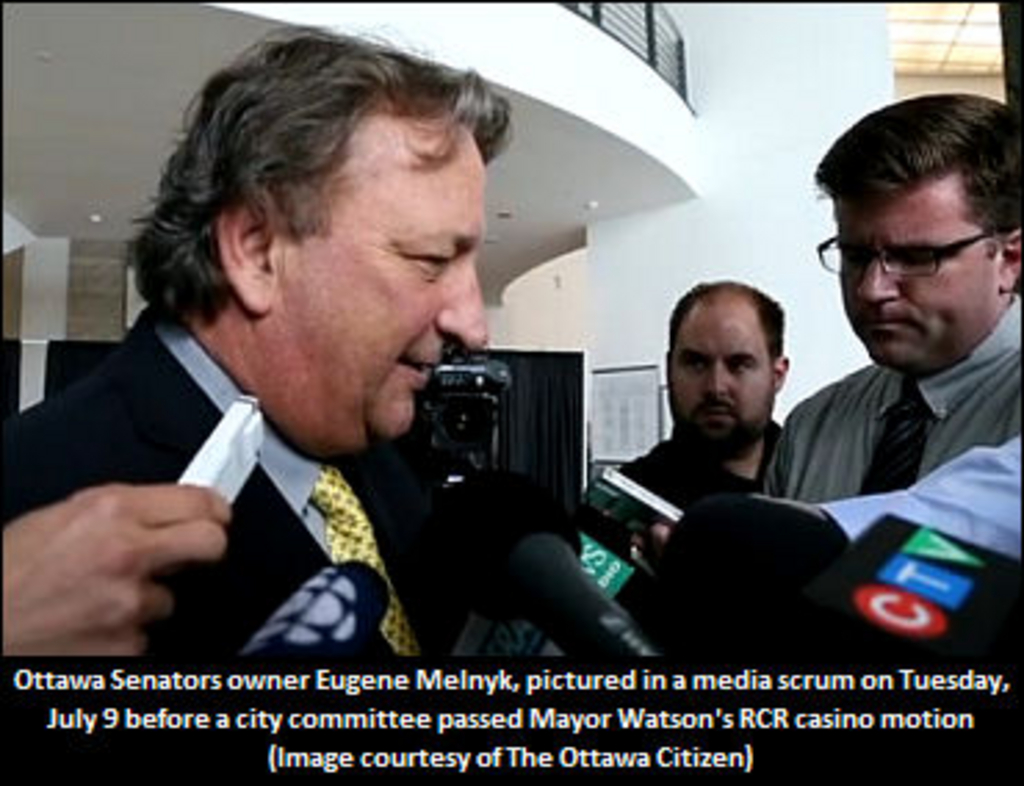 Published:
July 10, 2013 12:24 pm EDT

On Tuesday, July 9 in Ottawa, the city's Finance and Economic Development Committee voted in favour of a motion brought forth by Mayor Jim Watson that calls for the Rideau Carleton Raceway to be the only acceptable location for casino expansion in the area. Ottawa Senators and thoroughbred racehorse owner Eugene Melnyk was in attendance at the meeting and aired his frustration regarding the process.
A report by metronews.ca explains that members of the committee voted 10-1 in favour of Mayor Watson's motion. The motion still has to be voted on by city council.
Melnyk has been against the course of action Mayor Watson has taken in recent weeks regarding the Ottawa-area casino issue. Mayor Watson had initially been a proponent of bringing both a casino to downtown Ottawa and a 'satellite' casino to the Rideau Carleton Raceway. When Mayor Watson learned that gaming wouldn't be expanded at RCR if a casino came to downtown Ottawa, he took the downtown option off the table and left the raceway as the only option, as per his motion.
Word of Mayor Watson's new position on the casino issue has not sat well with Melnyk. The Ottawa Senators owner has publicly voiced his displeasure with the situation in the weeks since the announcement of Mayor Watson's motion. Melnyk has said that he and his group have been working on a plan to bring a casino to the lands which house Scotiabank Place, the site of the Senators' home games, for seven years. He has spoken out against what he calls Mayor Watson's 'sole-sourcing' on the casino issue.
Melnyk had recently stated that he was moving on from his Ottawa gaming ambitions, although it has been reported that a lawyer representing Capital Sports and Entertainment --- the Ottawa Senators' ownership group --- has stated that the partnership could take the City of Ottawa to court over the casino-expansion issue. Melnyk had previously stated that he would have to re-examine his business interests in Ottawa if he could not land a casino.
A video by The Ottawa Citizen (which appears below) contains footage from a media scrum Melnyk held with reporters on Tuesday prior to the committee passing Mayor Watson's RCR motion.
(With files from the CBC, metronews.ca and The Ottawa Citizen)