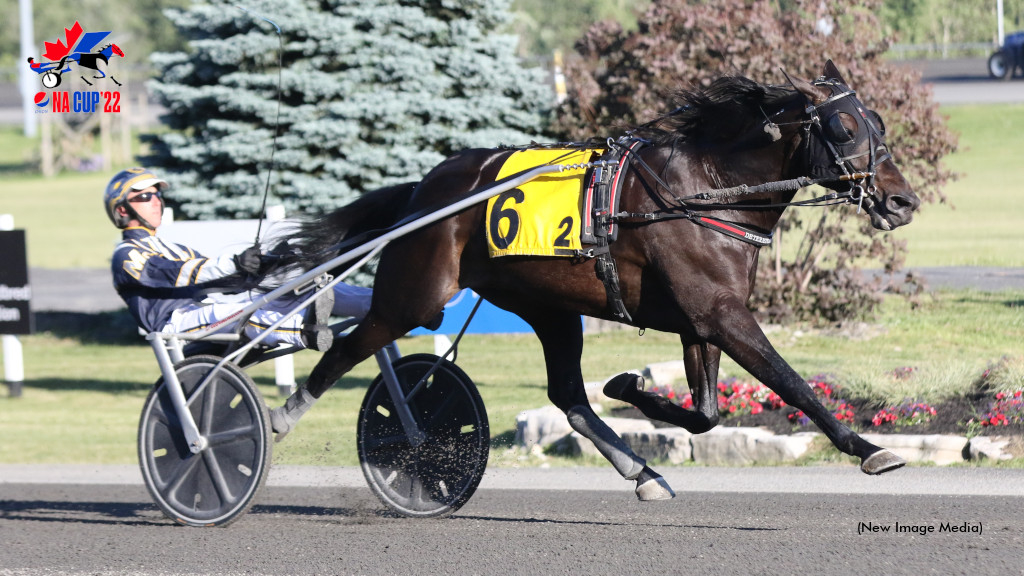 Published:
July 1, 2022 12:36 pm EDT
Forbidden Trade has won the Hambletonian, a Horse of the Year Award, and divisional honours every year except at age four when he was injured. Yet, for all his accomplishments, the six-year-old male trotter remains somewhat under the radar.
For example, Forbidden Trade was the favourite only three times in his past 16 races. He won seven and finished second twice. The first race during that stretch was his victory at odds of 7-1 in the Crawford Farms Open Trot at The Meadowlands a year ago. On Saturday (July 2), he returns to the Big M looking to win the $147,000 event for older trotters again.
Of course, he will not be the favourite, an honour expected to fall to world-record-setter Ecurie D DK. It will mark the 22nd time in 23 career Grand Circuit starts that Forbidden Trade will not be the bettor's top choice. 
"There is so little flash to him that I do think he is under-appreciated at times," said Bob McClure, Forbidden Trade's regular driver. "He really is a great horse. You look at his résumé, and you look at how everything is stacked up, and sometimes I feel like you really don't appreciate how great he's been.
"I think it's just because he's so consistent and dependable."
Forbidden Trade was the 2019 Hambletonian winner, an O'Brien Award divisional champ at ages two and three, and the O'Brien Award Horse of the Year in 2019. After being limited to five races at four because of a coffin bone injury, he returned last year and captured the Dan Patch Award for top older male trotter.
Over the past 53 years, Mack Lobell is the only other horse with a Hambletonian victory (1987), three divisional titles (Dan Patch Awards at two, three, and four), and Horse of the Year recognition (twice, in 1987 and 1988). 
Forbidden Trade has won 24 of 50 career races and earned more than $2.1 million for trainer Luc Blais and owner Serge Godin's Determination stable. In addition to the Hambletonian and Crawford, his wins include last year's TVG Series Open Trot championship and the Caesars Trotting Classic. He also is a two-time Ontario Sires Stakes champion.
He was runner-up in the Yonkers Trot and Goodtimes Stakes in 2019, Hambletonian Maturity in 2020, and Maple Leaf Trot and Allerage Open Trot in 2021.
"Even his losses are noteworthy," McClure said. "There have been some big ones that he's just missed out on."
Forbidden Trade will bring a three-race win streak to the Crawford Farms Open Trot. McClure and the stallion will start from post one and are 9-2 on the morning line.
Ecurie D DK, who is making his first start since winning the Arthur J. Cutler Memorial in a world-record 1:49.1 at The Meadowlands in his seasonal debut on May 21, is the 9-5 favourite for trainer-driver Ake Svanstedt. The six-year-old stallion is unbeaten in three races since arriving in the U.S. from Europe last year. Maxie Lee Memorial winner Lovedbythemasses is the 7-2 second choice in the seven-horse field.
"It's going to be an exciting race," McClure said. "Obviously, Ecurie D is going to be the horse to beat, but they run the races for a reason. At least Forbidden Trade has got a good post to work from, and hopefully he can give him a run or get a big piece of it. It just seems like he's got a knack for the big nights and the big stages and always comes through on them."
McClure has driven Forbidden Trade in all but eight of the horse's career starts.
"For me, he's been the horse of a lifetime," he said. "Obviously, we're always going to be tied together because of the Hambletonian.
"When I was driving him at two, I didn't appreciate how great he was. At three, he was the type of horse that no matter where I got him away, he was never in a bad spot. Whether it was first up, on the front, third over; he could overcome any trip. He was just such an easy horse to drive, and he still is. He truly is push-button. It really adds to his character."
After returning from his injury last year, Forbidden Trade closed his 14-start campaign by hitting the board in six of his final seven races, winning three and finishing second twice. 
"It definitely took a little time, but once he got back, it was like he never missed a beat," McClure said. "He showed up against the top older trotters in North America last year and I think he will do the same this year."
In addition to the Crawford Farms Open Trot, Saturday's card at The Meadowlands includes the $131,250 Six Pack Mares Trot, $143,000 Perfect Sting Mares Pace, and two divisions of the Roll With Joe Open Pace.
Atlanta is the slight 7-5 morning-line favourite over Bella Bellini, at 8-5, in the Six Pack. Test Of Faith is the 2-1 choice in the Perfect Sting despite post ten while Charlie May gets the 9-5 nod in the $98,000 first division of the Roll With Joe and Bulldog Hanover gets the same in the $99,500 second division.
Racing begins at 6:20 p.m. (EDT) at The Meadowlands. TrackMaster past performances for all Meadowlands cards can be found at the track's website.
(USTA)