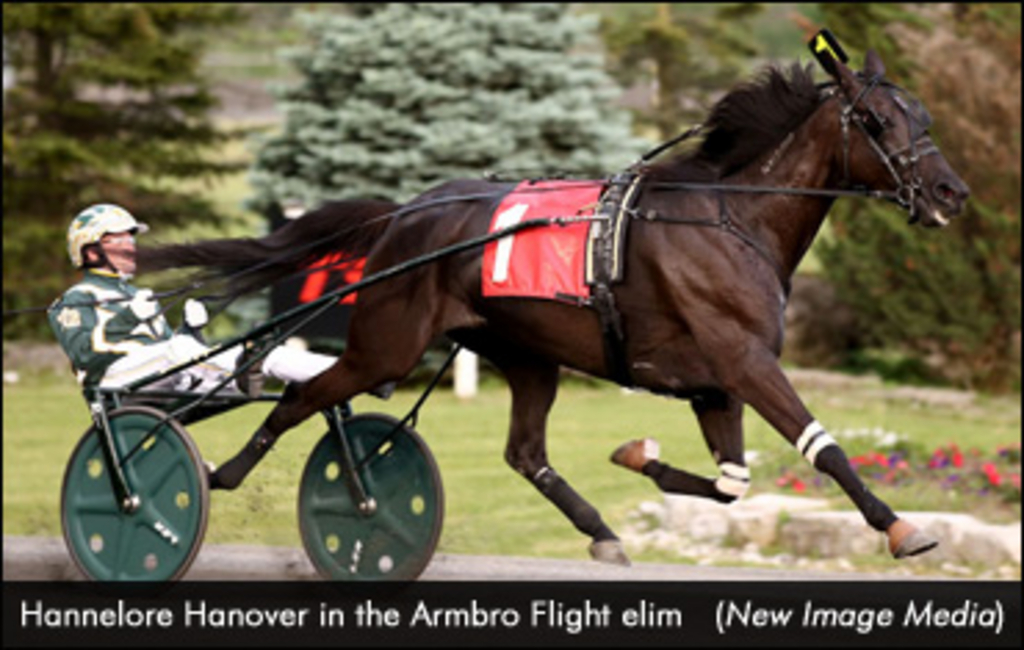 Published:
June 9, 2017 08:36 pm EDT

The fields are set for the finals of the Armbro Flight Stakes and Goodtimes Trot, which will be part of Pepsi North America Cup Night next Saturday, June 17.
Mohawk Racetrack hosted eliminations for the pair of trotting stakes events on Friday night (June 9), with the top five finishers in each race advancing to the finals.
Defending Armbro Flight champion Hannelore Hanover was an easy 1:52.2 winner in the first of two $35,000 eliminations for older trotting mares with driver Yannick Gingras summing up the race succinctly: "She's back to her old self and it was a Sunday stroll."
Emoticon Hanover trotted out to an early four-length lead through a :27.2 quarter, but O'Brien Award winner Hannelore Hanover swept up from third to take over command on the way to the half-mile mark in :56. The heavy 1-9 favourite cruised past three-quarters in 1:24.4 and won by almost three lengths in 1:52.2 with Emoticon Hanover (Sylvain Filion) chasing from the pocket down the stretch. Renegade Magic (Trevor Henry) held off Ready Any Time (Jack Moiseyev) for third-place while Kestrel (Scott Zeron) finished fifth to earn a spot in the stakes final.
The $1.5 million career earner, who won the Armbro Flight in a 1:51 world record performance last year at Mohawk, is two-for-three to start her five-year-old campaign after scoring in 1:52.4 in the Miss Versatility Series on May 22 at the Campbellville, Ont. oval.
"The first start [this year], she was ok. Last [time] when she raced here, she was really good and she was even better tonight," said Gingras.
The Swan For All-High Sobriety mare is owned by trainer Ron Burke's Burke Racing Stable LLC, Weaver Bruscemi LLC, Frank Baldachino, and J And T Silva Stables LLC.
Catch-driver Louis-Philippe Roy worked out a perfect pocket trip aboard Charmed Life to win the second elimination in 1:53.1 for the Rene Allard stable.
Roy left from post five with the even-money co-favourite Charmed Life to secure a two-hole trip behind two-time O'Brien Award winner Caprice Hill, who carved out fractions of :27.2, :56.4 and was challenged by Broadway Donna to three-quarters in 1:25.3. However, Roy maneuvered Charmed Life out three-wide down the lane and charged by the duelling leaders in deep stretch to score the one-length victory in 1:53.1. Broadway Donna (David Miller) finished second ahead of Caprice Hill (Doug McNair), while Flowers N Songs (Randy Waples) and Majestic Presence (Chris Christoforou) completed the top five finish order.
"I talked with Rene before the race and he said she might be a little nervous so try to keep her calm during post parade, but I think it was me that was more nervous than her because I didn't know her at all and driving her the first time in elims for a big race like that," laughed Roy when asked about his first impressions of the $1.2 million-earning mare.
"I thought I wouldn't have no room [in the stretch] so I tried to pull her back a little bit to be able to switch three-wide and she just responded so well. Sometimes when you pull them back a little bit at that time in the race they won't go, but I had so much horse that she just went by when she had room."
Charmed Life, who defeated Hannelore Hanover in the Miami Valley Distaff last month, won for the fourth time in seven starts this season. The seven-year-old Majestic Son-Christina M mare is owned by Allard Racing Inc., Yves Sarrazin and VIP Internet Stable LLC.
In the first of two $30,000 Goodtimes eliminations for three-year-old male trotters, International Moni circled a field of nine to win his season's debut in 1:54 flat with Scott Zeron aboard for trainer Frank Antonacci.
Zeron tipped the trailing post nine starter International Moni into the outer flow down the backstretch and launched the colt out wide in front of the grandstand to score the 14-1 upset. His final quarter was clocked in :27.1.
Owned and bred by the Moni Maker Stable, the Love You-Moni Maker colt was a Grand Circuit stakes winner at two and earned eight top-three finishes from 12 starts and $191,763 in purses.
"Even at the end of last year and the beginning of this year, he was my Hambo hopeful for this year," said Zeron. "Today was his first start. He was very, very handy. He's the easiest horse in the world to drive so it was just about having him finish strong at the wire and to do what he did tonight was not unexpected, but to be in the position I was and to finish like he did it was really nice to see."
Runner-up Guardian Angel As (Brett Miller) overtook early leaver Jake (Sylvain Filion) at the half in :56.3 and fought off Southwind Woody (Yannick Gingras) past three-quarters in 1:25.1 before being collared by the late-rallying International Moni approaching the wire. Jake finished third, with 4-5 favourite Seven And Seven (David Miller) closing off cover for fourth. Southwind Woody was fifth.
Zeron, sporting new driving colours, explained his new look after the race: "The Antonaccis own a lot of Thoroughbreds and they like that the jockeys wear their own colours -- it feels like it represents the owners and the trainers -- and they wanted me to try it and I don't say no to anything new. They were nice enough to let me do it here, and it's funny, he wants to be aerodynamic and he wants everything skin tight where, almost like a luge, you want every advantage you can have and we ended up coming from last to first and winning by a nose so maybe he was right."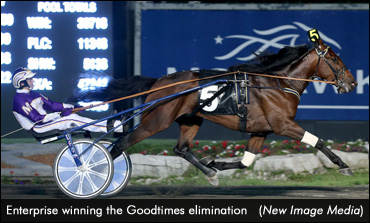 The undefeated Marcus Melander trainee Enterprise went wire-to-wire to win the final elimination of the night in 1:53.1 with driver David Miller along for the ride.
The Chapter Seven-Shes Gone Again colt established the lead from post five and set fractions of :27.4, :56.4 and 1:25.1 before opening up two lengths en route to the 1:53.1 triumph. Awol Hanover (James MacDonald) followed the 1-2 favourite in second-place with Shake It Off Lindy (Brett Miller), O'Brien Award winner Mass Production (Rick Zeron) and first-up Southwind Cobra (Yannick Gingras) earning the remaining spots in the final.
"I didn't have any information, just what I'd seen on the program, but he scored down good and he felt very strong the whole way," said Miller, who subbed-in with Tim Tetrick unable to make the colt's Canadian debut due to an expired passport.
"Nobody really pushed him out of the gate and he relaxed the second quarter and the third quarter he did lean in a bit, but nothing too serious. But he was strong through the stretch."
A one-time starter at age two, Enterprise is now three-for-three this year and has earned $42,450 for owner Courant Inc.
In regular racing action, Windsun Revenge earned his second straight victory in the $34,000 Preferred Trot. Scott Zeron drove the Kadabra-Oaklea Polly gelding to the 1:52.3 victory for trainer Jeff Durham and co-owner Robert Van Camp.
Fields for the stakes finals:
$253,000 Armbro Flight Stakes
1. Flowers N Songs
2. Kestrel
3. Charmed Life
4. Hannelore Hanover
5. Majestic Presence
6. Renegade Magic
7. Broadway Donna
8. Emoticon Hanover
9. Caprice Hill
10. Ready Any Time
AE1. Lady Ping
$251,000 Goodtimes Trot
1. Shake It Off Lindy
2. International Moni
3. Jake
4. Enterprise
5. Southwind Woody
6. Seven And Seven
7. Mass Production
8. Southwind Cobra
9. Awol Hanover
10. Guardian Angel As
AE1. Mansive
To view Friday's harness racing results, click on the following link: Friday Results - Mohawk Racetrack.
For the official judges' report from Friday's card, click the following link: Judges' Report - Mohawk - June 9.