Published:
June 8, 2011 10:17 am EDT
Tigers Too Good --- at least he was on June 7 at Monticello Raceway during his $19,934 division of the New York Sire Stakes for three-year-old trotting colts and geldings.
The Conway Hall colt, driven by David Miller, equalled the track record for sophomore trotters originally set by Napoleon and Stephane Bouchard on June 11, 2008.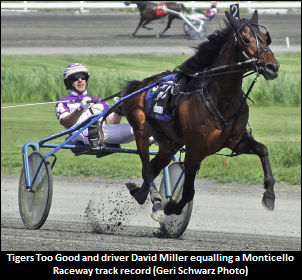 Miller sent Tigers Too Good to the lead from Post 2 and they showed the way the entire mile. The betting favourite in the contest, Turtle Express (driven by Stephane Bouchard), moved into second position nearing the three quarters and was within striking distance of the leader. However, when the two trotters rounded the final turn, Miller lifted the lines on Tigers Too Much and the colt kicked home with a :28:2 final quarter to score a three-length triumph. Turtle Express finished second. Order By Texas (Jason Bartlett) was third.
Tigers Too Good is co-owned by his trainer, Joe Holloway.
In the winner's circle, when Dave Miller was told that his colt equalled the track record for three-year-olds, he said, "Wow, really? I'm impressed. A lot of good horses have gone over this racetrack. I had no idea a track record was within reach. He did it all by himself."
In all, the NYSS was divided into nine $20,000 divisions, with a bevy of other colts turning in sub-two minute miles. Other winners that shaded two minutes in victory included Dream Lake (1:58:4) Keenan (1:57:3) and Whitewater Rapids (1:59:4).
(With files from Monticello)