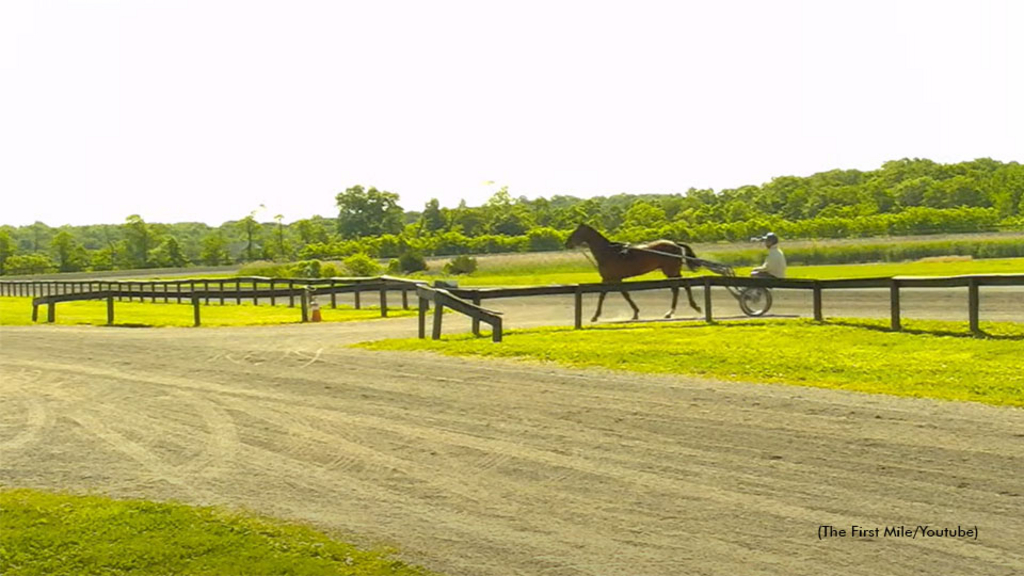 Published:
June 6, 2022 02:40 pm EDT
Gaitway Farm hosted a 14-race qualifying session on Monday morning (June 6) in New Jersey featuring 11 races for debuting two-year-olds.
The qualifying session showcased many promising two-year-olds from the stable of North America's leading conditioner Ron Burke, who watched eight of his 26 trainees report home first during the action.
Ervin Hanover, a Captaintreacherous-Eloquent Grace colt that was a $115,000 Harrisburg yearling, was the fastest two-year-old winner of the morning for the Burke brigade with Joe Bongiorno in the bike. After following Sheer Terror through fractions of :29.2, :58.2 and 1:26.3, Ervin Hanover kicked home in :27.2 for the 1:54.1 victory. Finishing 1-1/4 lengths behind, Voukefalas closed for second, with Girldad third as Sheer Terror faded to the tail end of the quartet in the stretch. The winner is owned by Burke Racing Stable, Jandt Silva Stables, James Simpson and Weaver Bruscemi LLC.
Leading the pacing filly winners was the $400,000 yearling acquisition from the Lexington sale, Stop The Show, who closed from third in :27.2 for a 1:54.2 debut with Yannick Gingras aboard for Burke. The Sweet Lou-Come See The Show miss is owned by Brixton Medical Inc., Hatfield Stables and Marvin Katz. She beat Cantgetuoutamymind by a half-length, with My Hungry Girl third.
On the trot, the Burke-trained filly In Italian, a $750,000 Harrisburg yearling and full sister to world champion and $3 million earner Atlanta, stepped out in a 1:59 winning debut for owners Brad Grant and Howard Taylor. Gingras sent the Chapter Seven-Hemi Blue Chip filly from third to first after opening panels of :30.3 and 1:01.1 put up by stablemate Princess Caitlyn and cruised past three-quarters in 1:30.2 before sprinting home in :28.3 for the two-length triumph. Julie Miller trainees Network Extender and Sweet Tactics rounded out the top three.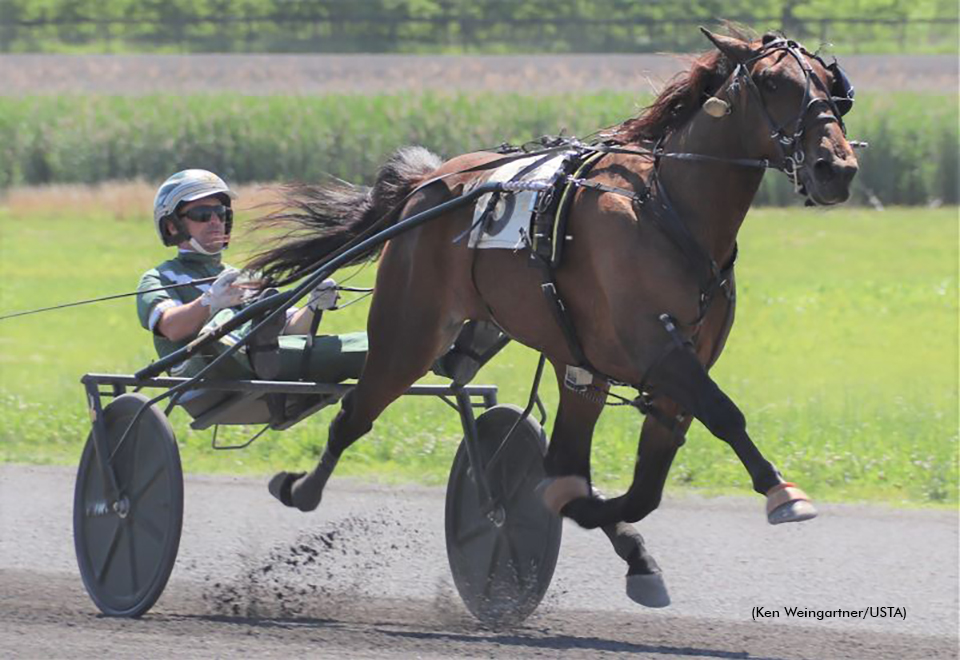 ​
In Italian winning her qualifying debut on June 6 at Gaitway Farm in rein to driver Yannick Gingras
"[In Italian] was very good," said Burke. "She gets better all the time. Every time we ask her to go faster, she goes faster. She is very much like her sister; I think that if she has a target, somebody to aim at, she's going to be even better.
"She's very professional, does everything right. She reminds me of her sister. I don't know if she has the speed yet that Atlanta has, but not too many do."
The Muscle Hill colt Celebrity Bambino also trotted his first charted mile in 1:59 flat for Gingras and Burke, sweeping around the early leader and eventual breaker Heart Of A Titan after the first quarter then drawing off by 13-1/2 lengths with back-to-back :28 panels at the end. Espresso was the best of the rest despite putting in some steps early on. The first foal out of the $500,000 earner Celebrity Ruth, Celebrity Bambino was a $120,000 yearling purchase from the Lexington Select Yearling Sale for Burke Racing Stable, Jandt Silva Stables, Knox Services Inc., and Phillip Collura.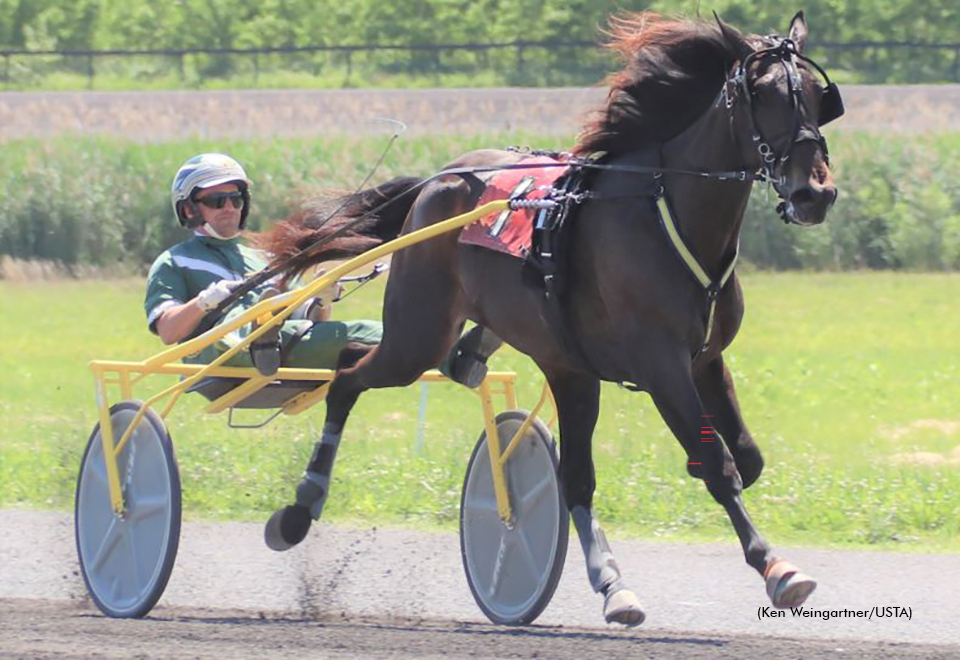 Celebrity Bambino, with Yannick Gingras in the bike, winning his qualifying debut on June 6 at Gaitway Farm
"We love [Celebrity Bambino]," said Burke. "He trained down like a killer. He seems like a top colt. We're very happy with him. He's just perfect. He does everything perfect. He really does."
The husband-wife, driver-trainer team of Andy and Julie Miller also watched their trotting filly Wind Chime score in 1:59, with a :27.4 sprint home from the pocket. The Father Patrick-Wind Stroll filly beat pacesetter Las Alturas by nearly seven lengths after following her through panels of :31.4, 1:02 and 1:31. Owned by Andy Miller Stable and Gty Stable along with breeders Walter Zent and Tony Holmes, she sold for $60,000 at the Lexington sale.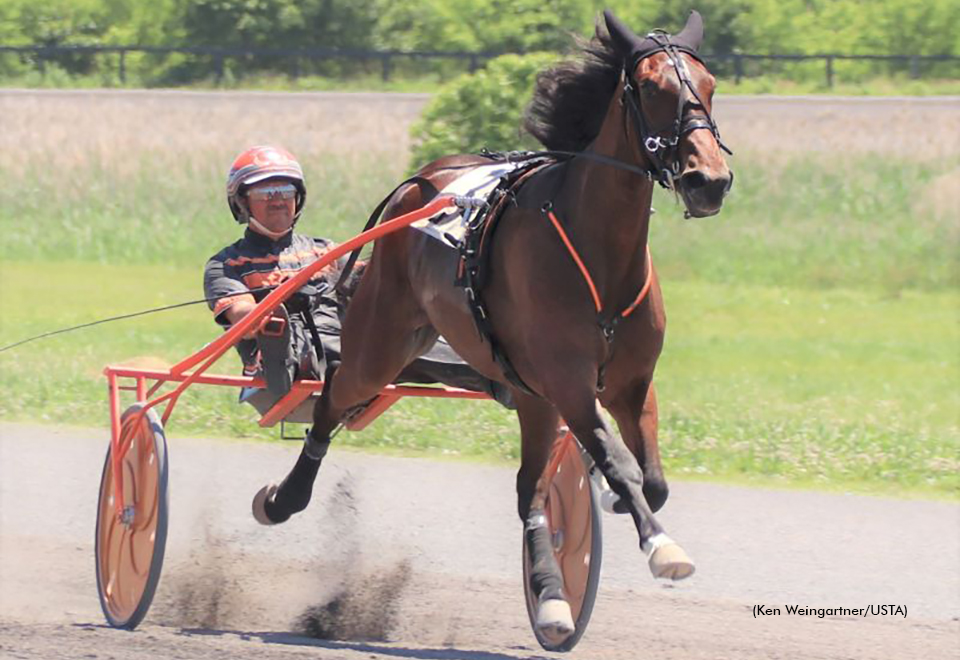 Wind Chime, driven by Andy Miller, winning her qualifying debut on June 6 at Gaitway Farm
Other two-year-old winners from the Burke stable included pacing fillies Esperanza Hanover (Sweet Lou-Emily R Hanover) in 1:56.1 and Hungry For Love (Stay Hungry-Lover Of Art) in 1:57.1; pacing colt Loubet (Sweet Lou-Atsallrite Hanover) in 1:57.2; and trotting colt Herodotus (Bar Hopping-Regal Woman) in 1:59.4.
Team Miller watched trotting filly Friends After Six (Tactical Landing-Bambino Supreme) score in 1:59.2 while pacing colt Ammo (Sweet Lou-Beach Gal), a half-brother to Governor's Cup winner Always A Miki, was a 1:56 winner for trainer Joe Holloway.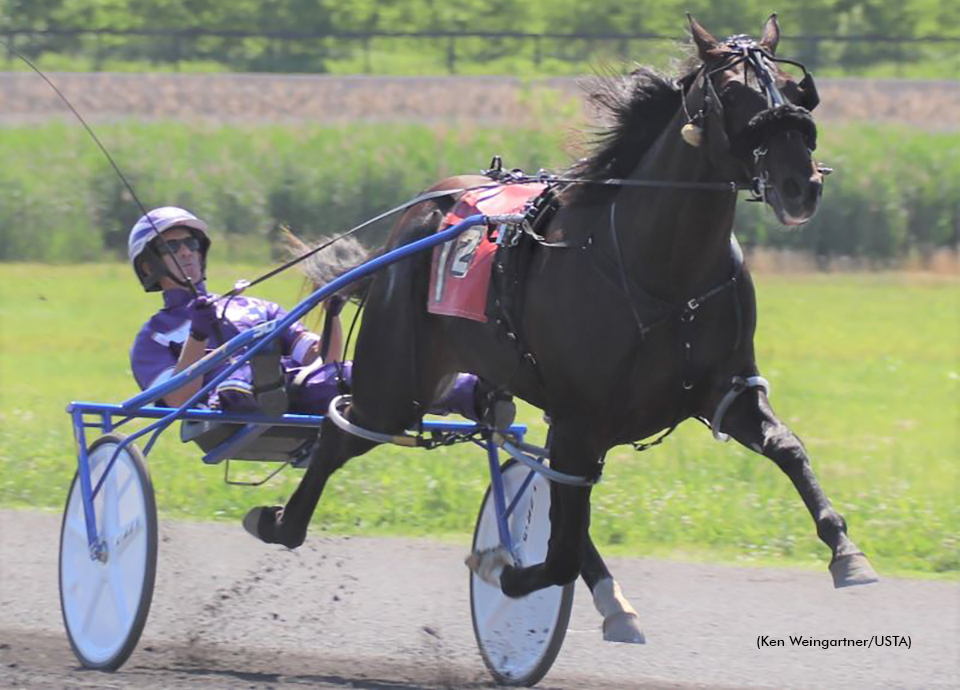 ​
Ammo, driven by David Miller, winning his qualifying debut on June 6 at Gaitway Farm
After the baby races, the undefeated Miller-trained sophomore trotting filly Date Night won her qualifier in 1:56.4 with a :27.3 final frame despite lagging 17 lengths at the quarter pole after an early miscue. Marvin Katz and Sam Goldband's homebred by Bar Hopping out of Nightsthatneverend capped off a perfect seven-race rookie season last year with back-to-back Grand Circuit wins at The Red Mile, including a 1:50.4 lifetime mark.
The fastest mile of the day was courtesy of the unraced three-year-old Huntsville colt All About The Hunt, who followed up on three Meadowlands qualifiers by leading every step of the way in a 1:51.3 mile with Tim Tetrick aboard for Burke.
North America Cup eligible River Ness closed out the morning session, closing from the back of a four-pack in :27.2 for a two-length victory in 1:55.1. Driven by David Miller, the Huntsville-Summertime Lea gelding was another winner for Burke and company.
The First Mile, presented by onGait and produced by 412 Communications, provided coverage of the qualifiers live from Gaitway Farm with harness racing media veteran and series producer James Witherite serving as lead commentator and Edison Hatter co-hosting. Replays of the live streams are available below.
The First Mile - Qualifiers 1-7
The First Mile - Qualifiers 8-14
(With quotes from USTA)