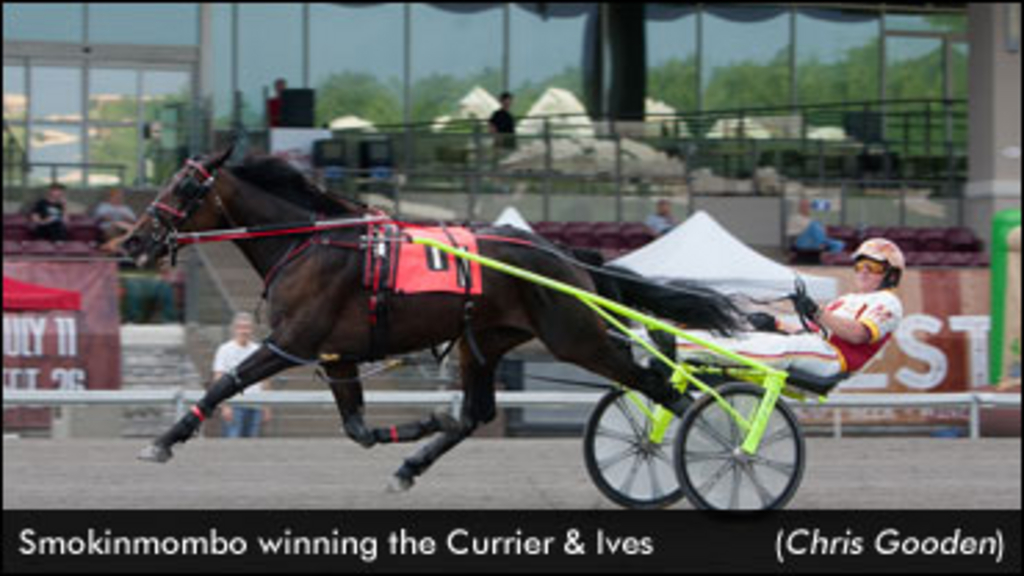 Published:
June 6, 2015 01:22 am EDT
Smokinmombo made the decisive move to the front past the quarter and sped to victory in 1:54.2 — a stakes record — in Friday's $94,000 Currier & Ives for three-year-old filly trotters at The Meadows. Smexi and Matter Hatter took the other splits.
The trio gave their sire, Explosive Matter, a Currier & Ives sweep.
Trainer Chris Beaver rigged Smokinmombo with hopples three starts back, and he said the new equipment has helped the daughter of Explosive Matter-Horizontal Mombo.
"The hopples have been real important," said Beaver, who owns the filly with Synerco Ventures and James Gallagher. "She made only one break last year, but she always was kind of out of rhythm when she'd come the last few steps of the mile. She has a humongous stride and the hopples rein in her gait a little bit."
Once on the lead, Smokinmombo drew off for Aaron Merriman and defeated By And By Hanover by seven and a quarter lengths, with Big Barb third. The time erased the old stakes mark of 1:54.4 held by Win Missy B.
"I staked her well, but not as well as I would have if I'd known how she would come on her first few starts," Beaver said. "But she is staked to the Hambletonian Oaks, the Kentucky Futurity and the Elegantimage. So there's plenty."
Smexi also opened a daylight lead before surrendering all but a half-length of it, scoring in 1:54.4. Winning driver Dave Palone said the issue never was in doubt.
"I let her sprint off at the head of stretch and then never worried," Palone said. "They never were going to get by her. She'll go every time you ask on her."
She Wore Red and Classical Annie completed the ticket.
Jimmy Takter trains the daughter of Explosive Matter-Sanna Hanover, who pushed her career bankroll to $432,637 (U.S.), for Christina Takter, John Fielding, Herb Liverman and Jim Fielding.
Matter Hatter added a Murphy blind left for the Currier & Ives and had little trouble disposing of the field after a quarter-pole move for Mike Wilder. She prevailed in 1:56, three and a quarter lengths better than Onda Di Mare. Blue Muse earned show.
"The last couple weeks she's been on the right line — she'd turn her head inside a little bit," said winning trainer Jeff Cox. "She seems better this way. We didn't over-stake her. She'll basically be in Pennsylvania again."
Pius Soehnlen campaigns Matter Hatter, a daughter of Explosive Matter-Queen Volo, who soared over $100,000 in career earnings.
Friday's program also featured three divisions of a $60,000 PA Stallion Series stake for sophomore colt and gelding pacers, which became a showcase for North America Cup eligible Jo Pas Well Said, who shattered the stakes record when he triumphed in 1:50.3 for Merriman, trainer Jim Campbell and owner Emposimato Stables. Only minutes before, UF Larry Alltheway had matched the stakes record of 1:51.2. RN Nate was second, three lengths in arrears, with Kwik Mac third.
"He's staked right up," Campbell said of the son of Well Said-So Ravishing, "but he's still a green horse. He's not ready to go in 'Grade 1' stakes. We have to pick our spots a little bit."
His record may have been fleeting, but trainer Kelly O'Donnell and owner Up Front Racing had to be pleased with UF Larry Alltheway's first victory this year in his fifth try.
"I thought a lot of this colt last year," winning driver Palone said of the Dragon Again-Varbo gelding. "He's just now starting to come into his own. It was one thing after another with him. I really think he'll turn the corner now."
Chaching Hanover duelled with the winner for the final quarter, but missed by a head. Firm It Up rallied for show.
Badiou Hanover, a Well Said-Blind Ambition gelding, was hammered down to 1-5 and justified the heavy support when he quarter-poled to the lead and scored in 1:51.3 for Andy Miller, trainer Julie Miller and owners Pinske Stables and Jim Simpson. Techtor Hanover's late rally fell a length short while Joe Hill completed the ticket.
"He's lazy on the front — he waits for horses a little bit," Andy Miller said. "But when he turned for home, he just took off. He does what he has to. He'll probably stay in the stallion series, but he is eligible for the Adios."
Saturday's special Belmont Day card at The Meadows features the $119,565 open division of the Currier & Ives as well as a $181,766 Pennsylvania Sires Stakes for sophomore colt and gelding pacers. First post is 11:25 a.m.
(With files from The Meadows)