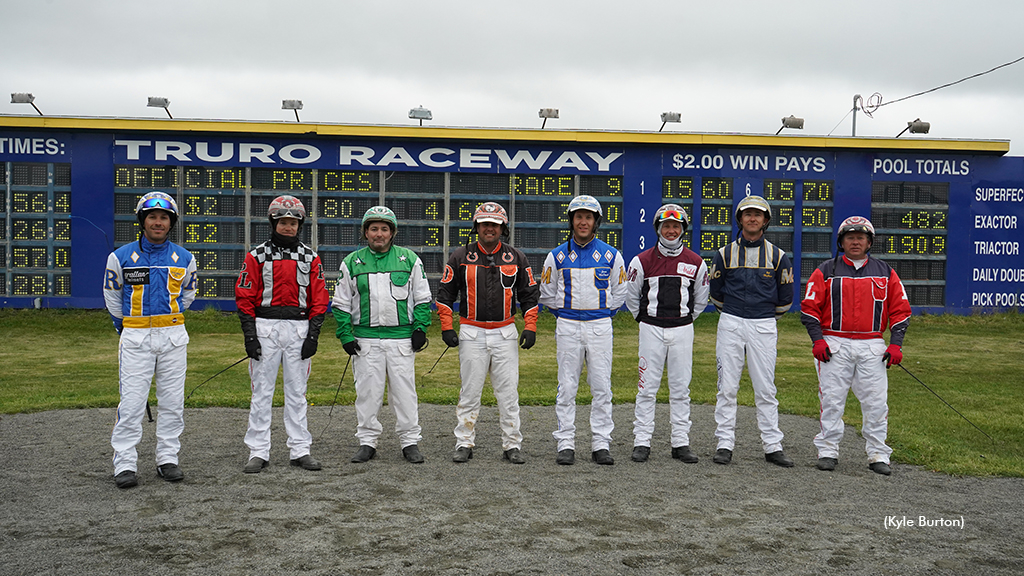 Published:
June 4, 2023 05:26 pm EDT
Truro Raceway hosted the Nova Scotia vs. Ontario Drivers Challenge on Sunday afternoon (June 4) with top drivers from both provinces facing off on track and helping the local community.
Team Ontario won the driving challenge with a final point total of 89 while Team Nova Scotia finished with 62 points.​
Louis-Philippe Roy bookended the nine-race challenge with a pair of victories for the Ontario drivers while teammate Doug McNair, added three more wins to pad their point total. 
Roy won his first Truro Raceway drive as he opened the program with Paul Treve's wire-to-wire winning mare Saulsbrook Flicka ($8.80). He later put the finishing touches on the title for Team Ontario with a blowout victory in the finale aboard Carrie Saunders trainee Lobel Bruiser ($6.80). With a familiar pedigree for his reinsman, the six-year-old Believeinbruiser-Dear Vicky gelding was a 1:56.4 winner by 18-1/4 lengths. Lobel Bruiser is a full brother to Ontario Sires Stakes graduate Second Bruiser, a pacer Roy drove last year at Woodbine Mohawk Park.
"He looks a little bit the same, but he was making breaks so you had to be careful with him," noted Roy. "That's what I did in the first turn, but after, he just towed me by himself and got me around."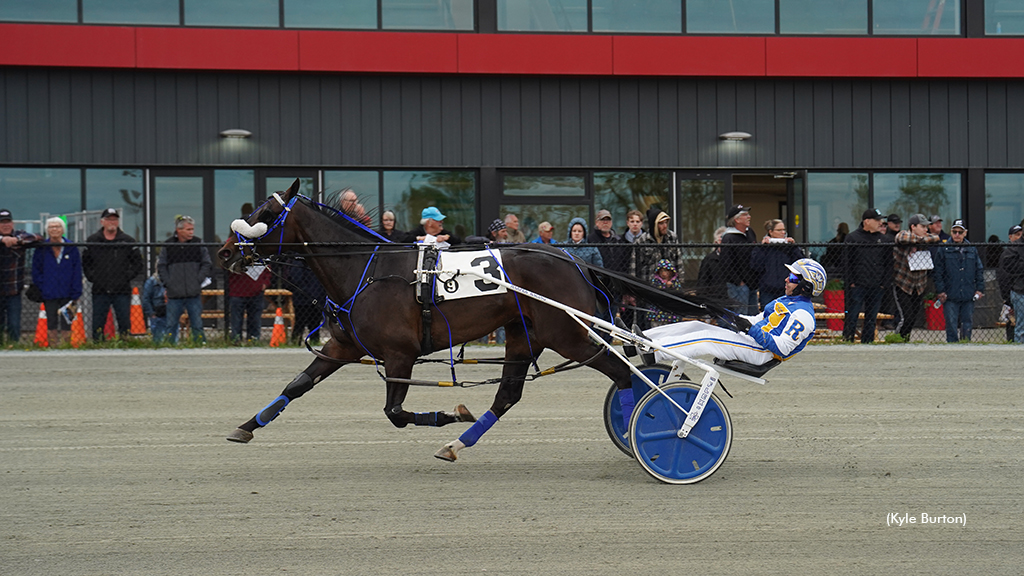 ​
McNair was the day's individual top point earner, accumulating 32 points for his team. Roy earned 24 points while James MacDonald (17) and Bob McClure (16) also made significant contributions to the team's victory.
Making a memorable return to Nova Scotia, McNair won three races for Team Ontario with Thebamwagon ($3.30) for trainer Josephe Greene, The Midnight Train ($8.80) for Darren Crowe and Vino Louie ($6.60) for Anthony Stymest. 
"I've never been out here [to Truro Raceway]," noted McNair. "I've been to Inverness a long time ago -- 20 years ago when I was about 12 years old -- and I got to warm one up out there and I thought it was the greatest thing ever back then. First time here. The weather's cooperating, it's a little cooler, but we need it out here for the wildfires."
McNair is no stranger to driving challenges and will represent Canada at this summer's World Driving Championship after winning the National Driving Championship last year at Century Mile in Alberta. 
He noted the main difference from competing in the NDC was the track size.
"You have to be a lot more aggressive here and it usually pays off," he said.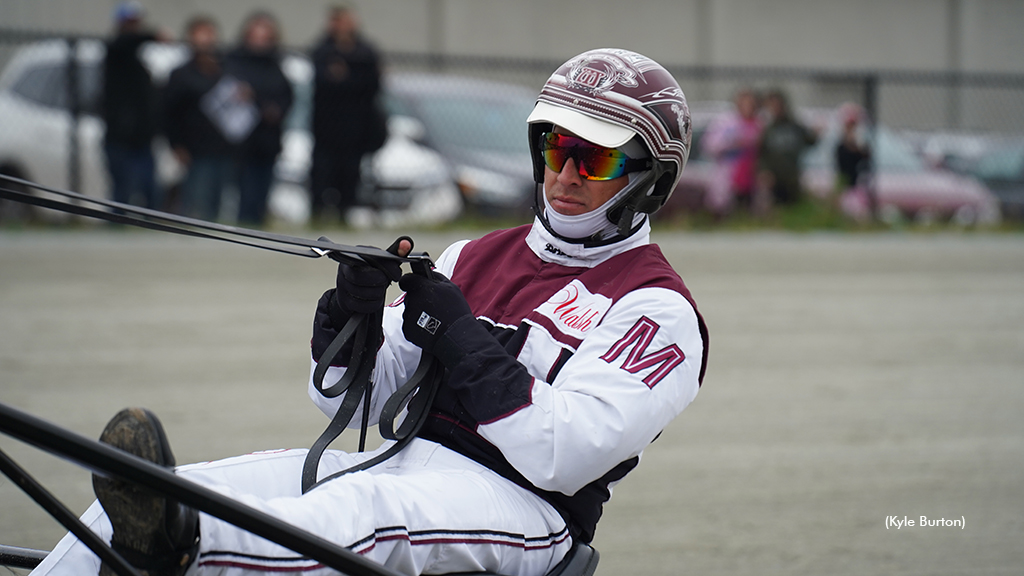 ​
Truro Raceway's leading reinsman Paul Langille anchored Team Nova Scotia and kept the local drivers in contention with a big four-win day, highlighted by a 13-1/2-length maiden-breaking romp with the George Rennison stable newcomer New Shooter ($17.80). The sophomore colt posted Sunday's fastest mile, stopping the clock in 1:56 flat.
Langille also won with his own stable's maiden-breaking sophomore colt Junes Boy ($3.50), Gary Cave's homebred Im A Miracle ($17) and the Darren Crowe trainee Delightful Wine ($4.30).
 
He earned 26 points, with the team's other points accumulated by Redmond Doucet (18), Mark Pezzarello (11) and Ernie Laffin (seven).
"It was definitely better than expected," said Langille. "When I looked at the program, I thought I had a couple shots, but that doesn't mean you're going to win the races. I thought I had three or four shots that could win, but some kind of surprised me a little."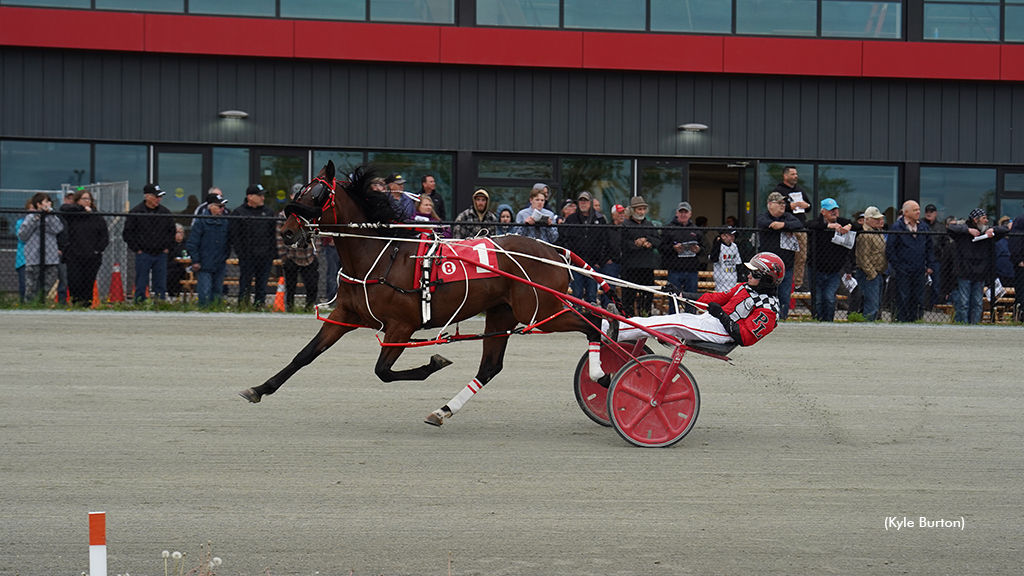 ​
The event, organized by Nova Scotia native Christina Saftic and presented by the Nova Scotia Harness Racing Industry Association, was also a fundraising event benefitting Kidsport, Nova Scotia. Proceeds from commemorative t-shirt sales, a 50/50 draw and a charity BBQ went to the organization that provides grants to help cover the costs of sport registration and equipment fees so that all kids aged 18 and under in Nova Scotia can play a season of sport.
A replay of the broadcast from Truro Raceway is available below. 
To view Sunday's harness racing results, click the following link: Sunday Results - Truro Raceway.