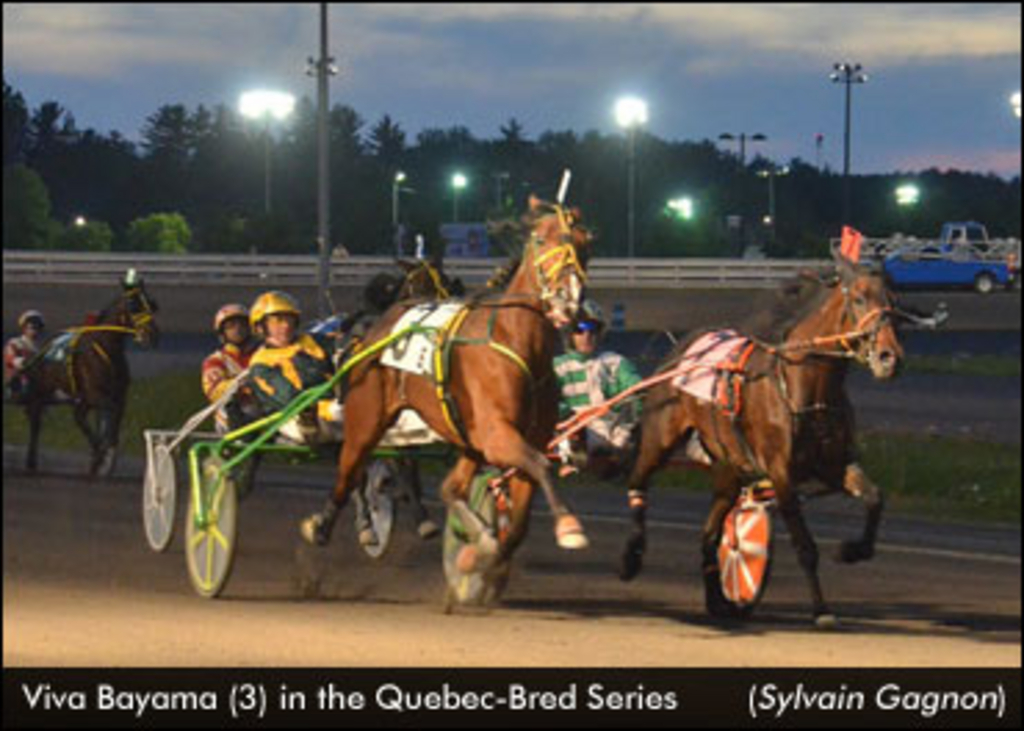 Published:
June 4, 2015 12:55 am EDT
Maximuscle, along with Andovers Touch and Viva Bayama, were all return winners in the third and final leg of the $125,000 Quebec-Bred Series for trotters held Wednesday at the Hippodrome 3R.
Maximuscle was such an overwhelming favourite that he was allowed to compete but was barred from wagering in the $6,500 third race division for four and five-year-old trotters.
Starting from the rail post position, Maximuscle and driver Mario Charron got away in third-place as Excel P V (Sylvain Fontaine) went to the lead early with SOS Masters Boy (Jocelyn Gendron) grabbing the two-hole spot to the opening quarter-mile in :28.3. But once the field settled down, Charron sent Maximuscle right to the lead before the half-mile marker in :59.1, then held the field at bay to the three-quarters in 1:29.2 and breezed home to win by five and one-half lengths in 1:59.3. SOS Masters Boy was able to rally past Excel P V for second-place as did Offson for third. As the "official" pari-mutuel winner of the race with Maximuscle barred from betting, SOS Masters Boy paid $23.00 to win.
Maximuscle, the four-year-old gelded son of Angus Hall, posted his second straight win to stay unbeaten so far in 2015 for trainer Maxime Velaye and owner/breeder Ecurie Provoquante of Mirabel, Que.
In the first race division for older horses, Andovers Touch and driver Stephane Pouliot took the lead away from George S P (Stephane Brosseau) after an opening quarter mile in :29.4 and then cruised the rest of the way to win by one and one-half lengths in 2:00.3. George S P held for second-place with SOS Ticket Master (Gaetan Lamy) finishing third after a valiant first-over effort at the half-mile pole.
Andovers Touch earned his second straight win and third victory this year in 14 starts for trainer Dany Fontaine for owner/breeder Ecurie Gaetan Bono Inc. of Montreal, Que. He paid just $2.40 to win.
Viva Bayama once again showed her great ability to race on the outside and she once again was "parked the mile" but still was able to win the Quebec-Bred Series third leg for trotting mares, contested as race six.
It was not a "walk in the park" for the four-year-old mare by Muscle Mass as driver Denis St Pierre let his steed sit on the outside in third-place as Canbec Kangourou (Jocelyn Gendron) led the field from the start through fractions of :29.3, 1:01 and 1:29.4 but could not hold off Viva Bayama, who came on in the stretch to win by a quarter-length in 2:00.1. Canbec Kangourou held for second-place with Ocean Mist Beauty (Stephane Brosseau) third.
Viva Bayama posted her second straight win and sixth victory in nine starts this year for trainer Sebastien Giroux and co-owners Richard Dinelle and Andre St Laurent. She paid $4.50 to win.
The eight top point-earners throughout the three-week long series will now return on Sunday, June 14 for their respective $35,000 finals. This Sunday live racing resumes at 1:30 p.m. with the final round of the Quebec-Bred Series for four and five-year-old pacers.
To view Wednesday's harness racing results, click on the following link: Wednesday Results - Hippodrome 3R.
(With files from QJC)