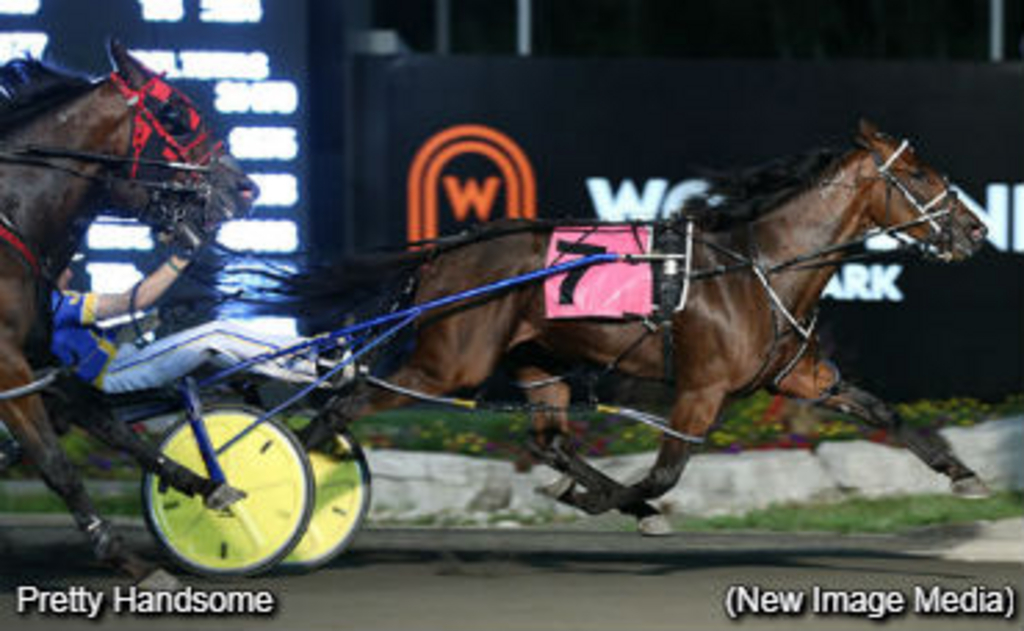 Published:
June 30, 2018 01:38 am EDT

Sophomore pacing colt Pretty Handsome has earned top honours in five of his six Grassroots outings over the last two seasons, but none were as impressive as Friday evening's 1:50.1 clocking at Woodbine Mohawk Park.
Starting from Post 7 the fan favourite went straight to the front and reeled off fractions of :27.2, :56.1 and 1:23.3 before battling down the stretch to a three-quarter length victory over hard-closing Avalon Hanover and Yacht Seelster. The 1:50.1 mile lowered Pretty Handsome's personal best — set in his June 1 Grassroots win at Woodbine Mohawk Park — by two full seconds.
"Those hot humid days, no wind, they like to go fast," said trainer Andrew McCabe with a chuckle. ""He just keeps getting better that horse."
Noting that driver Jonathan Drury never pulled the gelding's ear plugs, McCabe added that the toughness Pretty Handsome displayed in the stretch has developed through his six starts this season.
"He's learned that, I believe, at three. Now that he's in an open bridle he can see them coming at him," explained the Guelph Eramosa resident. "Last year I had him a little bit more closed up. He saw the odd thing on the track and I just didn't want him to make a mistake in that regards. Now that he can see, if he's on the front, see them coming to him, he's got some fight to him."
The 2017 two-year-old Grassroots champion, Pretty Handsome now boasts a sophomore record of four wins in six starts for earnings of $28,705, giving owners Glenview Livestock Ltd of Wallenstein, Ontario a two season total of $84,905. Friday's effort put Pretty Handsome in a two-way tie for top spot in the Grassroots standings and has likely earned the Mach Three son a start at the Gold Series level.
JM Jack Of Hearts also scored his second straight Grassroots win on Friday, giving him a share of the lead in the Grassroots point race alongside Pretty Handsome, and driver Trevor Henry thinks he too has earned a shot at the Gold Series colts on July 22.
"I think they should try the Gold with him. He is at the top of his game right now," said Henry, who piloted JM Jack Of Hearts to the win for trainer Isabelle Darveau of Flamborough and owner Jason Redmond of Smithville, Ontario. "He can race from the front, the back, it doesn't matter."
Starting from Post 8 on Friday, Henry opted for a pocket trip behind his co-favourite Western Passage, who posted fractions of :27.1, :56 and 1:24.3. In the stretch Henry squeezed JM Jack Of Hearts out of the pocket and the Shadow Play gelding sailed away to a three and one-quarter length victory in 1:52.1. Atomic Seelster closed for second and Lucky Sport was third.
The win gives JM Jack Of Hearts a record of four wins and two seconds in six starts this season for earnings of $41,325.
Shadow Of Lindy earned his first-ever Grassroots victory with a tour up the outer lane in the $19,500 second division. In rein to Jody Jamieson, Shadow Of Lindy got away fifth from Post 5 and watched as Shadow Moon and Denver Seelster traded blows through a :27.1 quarter and :55.3 half. Tipping off the rail going past the half Shadow Of Lindy stalked up the outside, reaching the front by the 1:24.2 three-quarters and cruising home to a two-length victory in 1:52.3. Pokerface Bluechip and Shadow Moon finished second and third, giving sire Shadow Play a sweep of the top three spots.
"I was very happy with the way he raced. He made a strong first-over move and kept going," said owner-trainer Jack Darling of Cambridge, Ontario. "I was a little concerned because he hadn't raced for just under a month. Luckily he is a good training colt and was ready enough for this race."
Shadow Of Lindy, who was a $110,000 purchase out of the 2016 Harrisburg Yearling Sale, had made his last start in the June 1 Grassroots season opener where he finished third. Through 16 starts this season he has tallied three wins, three seconds, two thirds and $44,762.
The other Grassroots division was captured by Stock, who sailed along on the front end to a seven length victory in 1:51.4. My Teen Idol and Declan Seelster rounded out the top three behind the fan favourite.
Louis Philippe Roy piloted Stock to the win for trainer Dany Fontaine, owner-breeder Sotirios Anastasopoulos of Sainte-Therese and Ecurie Gaetan Bono Inc. of Montreal, Quebec. The win was the Sportswriter son's first of his sophomore campaign, which he started with a seventh-place finish at the Gold Series level.
Both the Grassroots and the Gold Series colts will make their third start at Rideau Carleton Raceway on July 22.
Next on Woodbine Mohawk Park's Ontario Sires Stakes schedule is the first two-year-old event of the season. The Campbellville oval will host the two-year-old pacing fillies in their Gold Series debut on Monday, July 9.
Friday evening's program also featured a $14,000 event for two-year-old pacers, and when the dust settled it was Do Ya Think stopping the teletimer in 1:54.1 for the duo of driver Trevor Henry and trainer Bob McIntosh.
The son of Ponder-See You L A got away third before popping off the rail and marching to the lead as the field entered the backstretch. Exacliber Seelster put up the opening quarter in :28.2, but it was Do Ya Think who rushed to the lead and proceeded to hang up middle splits of :58.3 and 1:26.4. A :27.2 closing panel was enough to earn the homebred the win by 1-1/2 lengths over Keystone Prestige. Third money went to Exacliber Seelster.
Robert McIntosh Stables Inc, C S X Stables and Al McIntosh Holdings Inc share ownership on the freshman.
(With files from O.S.S.)
To view results for Friday's card of harness racing, click the following link: Friday Results – Woodbine Mohawk Park.