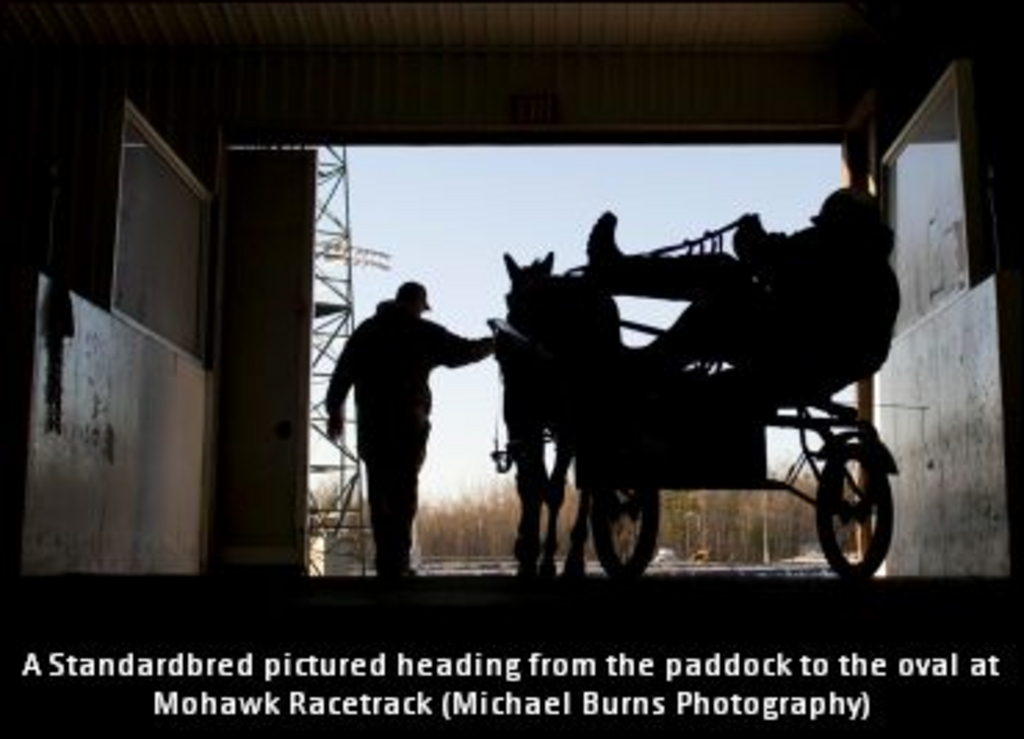 Published:
June 3, 2016 12:30 pm EDT
Two-year-old qualifying races took centre stage Friday morning (June 3), as four fields of juveniles kicked off Mohawk Racetrack's 10-dash qualifying session under perfect conditions.
The 'baby races' were carded as Races 1 through 4 on the card, which featured a 'fast' track with no variant.
Race 1 saw the Rene Allard-owned and Amy MacDonald-trained Broadway Maija post a gate-to-wire victory in 2:02.4 for driver Jody Jamieson. The full sister to millionaire Pilgrims Taj started from Post 2 and cut the fractions in :31.1, :1:03.4 and 1:34.3. Broadway Maija kicked home in :28.1 and posted a nine and a half-length margin of victory. The Broadway Hall filly was purchased for $15,000 as a yearling last November at the Harrisburg sale.
Trainer Amy MacDonald clicked again in Race 2, as Rose Run Speedster trotted home off a pocket ride for driver James MacDonald. The duo started from Post 4, sat second through the fractions (:31.2, :1:03.3, 1:25.1) and closed with a speedy 27-second final quarter. The win time was 2:02.3 and the margin of victory was nine lengths. The brown Windsong Espoir colt is owned by Rene Allard and Anthony MacDonald and was purchased last fall at the Harrisburg sale for $14,000. Rose Run Speedster is the first foal out of the unraced Deweycheatumnhowe mare Padam Hall.
Race 3 proved to be much tighter than the first two, as Fashion Writer hung on for a neck victory in what was a gate-to-wire effort. Fashion Writer was bred by Stephen Gillard, who co-owns with Marilyn Gillard (both of whom are from Tavistock, Ont.). Stephen was in the sulky for the mile. He and the Sportswriter filly started from Post 4 and cut the fractions in :30.4, 1:02.4 and 1:32. They had maintained a three-length lead heading into the stretch, but Southwind Geo (driven by Trevor Henry) challenged late from the backfield. Fashion Writer utilized every bit of her 28-second final quarter to fend off Southwind Geo in the 2:00 mile. Fashion Writer is the first foal out of the Your Nemesis mare Call Me Yours, who paced her way to 29 wins and $406,000 in purses over her 106-race career.
The final two-year-old qualifier of the morning (Race 4) saw the Carl Jamieson-owned, trained and driven Windsong Napolean make a two-move effort for a neck victory in 1:58.4. Jamieson and the Art Major colt left from Post 6 and tripped the opening quarter in :32.1. The bay relented the lead from there and took a two-hole trip through the middle fractions (:1:01.1 and 1:31) and into the lane. Jamieson asked his mount late, and Windsong Napolean responded with a quick :27.1 final quarter to get up when it mattered most. Windsong Napolean was bred by Charalambos Christoforou and Bill Loyens. Jamieson owns along with Tom Kyron. Windsong Napolean is the ninth foal out of the Precious Bunny mare Bunny Dearest, who also produced Lincoln Parke ($633,000), Bunny In The Bank ($443,000) and Dana Dearest ($107,000).
To view the harness racing results from the Friday qualifying session at Mohawk, click the following link: Friday Results – Mohawk Racetrack (Qualifying).