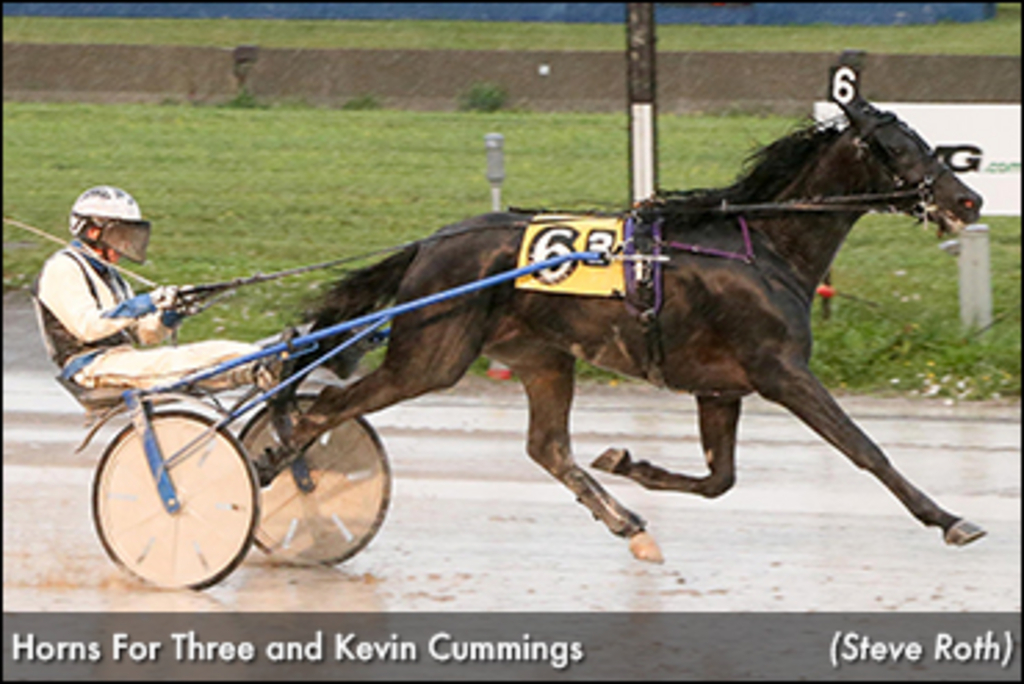 Published:
June 27, 2018 08:31 pm EDT
Mother Nature didn't cooperate at all with the two-year-old trotting colts and geldings that contested the New York Sire Stakes on Wednesday night (June 27) at Buffalo Raceway, although three were able to overcome the 'sloppy' conditions to post victories.
Horns For Three ($3.40) was the most impressive of the trio of winners in the $37,000 (approx.) divisions with a 2:02.4 mile, by far the fastest in the Sire Stakes. Certify ($10.80) captured his leg in 2:05.2 while Xcuseme ($36.00) was triumphant with a 2:06.3 tour of the Buffalo Raceway half-mile oval.
The times were well off the Buffalo Raceway track records: 1:58.4 for freshman colts, established by Money Macintosh in 2016, and 2:01.2 for geldings, set in 2013 by The Lindy Treaty.
With a steady rain falling, Horns For Three settled down at the start and dropped into the three-hole as Rap Sheet took the lead to the quarter pole in :31. Just before the half, driver Kevin Cummings pulled Horns For Three first-over and took over command. Reaching the stretch in front, Horns For Three trotted smartly to the wire as Jake Gs Champion (Scott Zeron) couldn't get any closer than 1-3/4 lengths. Crazyforlovinyou (Jim Morrill Jr.) took the show position.
"He ran out a bit on the turns, but otherwise he did really well," Cummings said of Horns For Three. He added, "It was a great mile for the sloppy conditions. I showed him the whip in the stretch but never used it. He did it with ease."
Co-owned by Thomas Pollack and Jeffrey Cullipher, Horns For Three (Credit Winner-Swoosh Hanover) is trained by Edward Hart.
In the opener, Certify battled with Charlieman for the lead to the opening marker, but once reaching the top, he never looked back in posting a half-length decision over Thunder (Jason Bartlett. Charlieman (Dan Daley) ended up in third.
Certify slogged through splits of :32, 1:04 and 1:36.1, and had enough left in the tank to hold off the late bid by Thunder.
Owned and trained by Earl Sauve, it was the first victory in two starts for Certify (Credit Winner-Good Intentions).
The last division saw five trotters break stride at the start, thus scattering the field. Xcuseme (John Stark Jr.) inherited a 10-length lead at the quarter pole while Our White Knight (Bartlett) and Jnr Express (John MacDonald) remained on gait and fought to get back into contention.
Xcuseme, who set splits of :32.1, 1:05.1 and 1:36.4, dug in late and won by a half length as Our White Knight and Jnr Express put in game efforts but finished second and third respectively.
Trainer Stark co-owns Xcuseme (RC Royalty-The Cuse) with Thomas McTygue, David Smith and James Gianucci.
In the $15,000 Excelsior A Series, Praying Angel ($6.40) won the first division for Morrill in 2:06.1 and Reel Of Fortune ($12.00) captured the second leg in 2:07.2 for driver Phil Fluet. Speeding Moose ($7.80) registered victory in the lone $6,400 Excelsior B Series event, as Dan Daley steered him to a 2:11.3 win.
Racing will resume on Friday evening (June 29) at 5 p.m. with a 10-race program scheduled. There's a $3,578 carryover in the Pick-5, which begins in the second race.
For more information, including the latest news, upcoming promotions, simulcast schedule, race replays, results and entries, go to www.buffaloraceway.com.
(Buffalo Raceway)