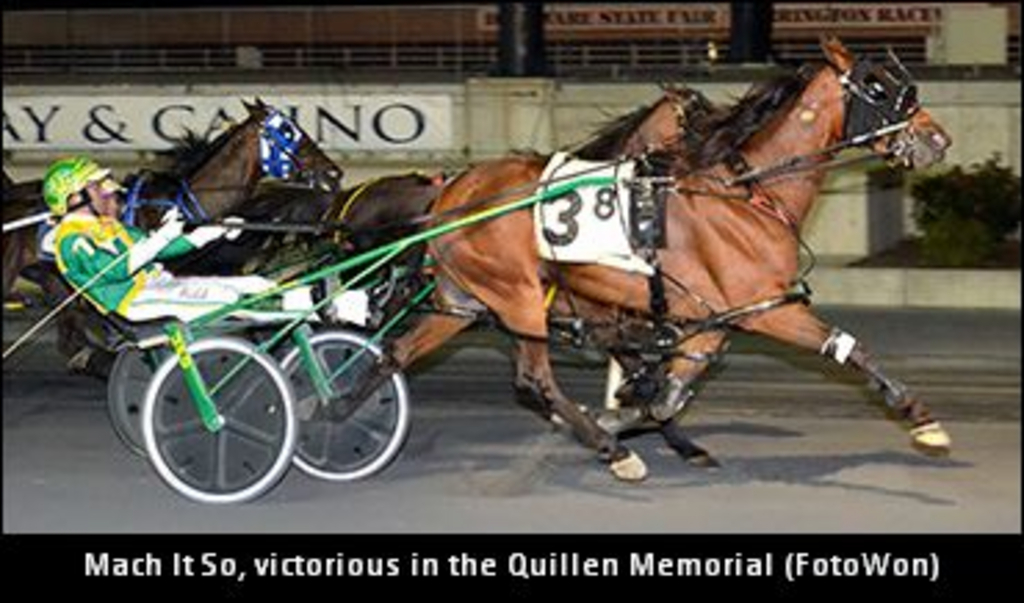 Published:
June 27, 2017 05:05 pm EDT
He might not be the same beast he was in the past, but Mach It So still has a little King Kong in him.
Mach It So, a seven-year-old gelding with 36 career wins and $1.81 million in earnings, will face eight foes in Saturday's $500,000 Ben Franklin Stakes for older male pacers at The Downs at Mohegan Sun Pocono. Trained by Jeff Bamond Jr. for owner Bamond Racing, Mach It So will start from Post 5 with driver Tim Tetrick and is 12-1 on the morning line.
"He's kind of under the radar," said Bamond Jr., who with his father has owned Mach It So since September 2012. "I guess I'd rather be under the radar and making $2 million than everyone talking about you and not doing anything. I'll take it. He's not flashy, but he gets the job done."
When Mach It So was younger, then-trainer Nifty Norman said the horse wasn't the biggest or strongest, but thought he was King Kong. It's a description that has stuck with Mach It So.
"I always remember that quote," Bamond said. "He doesn't look like that much, but he kind of still has that to him, which is kind of cool. Around here, he thinks he's the king of everything. He's a cool horse.
"He'll always try. He always gives you an effort. Whether he's good enough or not, he doesn't pack it in. He'll always give you a shot."
The Franklin is one of four stakes finals Saturday at Pocono, with the $500,000 Earl Beal Jr. for three-year-old trotters, $500,000 Max C. Hempt for three-year-old male pacers and $300,000 James M. Lynch Memorial for three-year-old female pacers.
Ariana G, the Dan Patch Award-winning filly who is three-for-three this season, is the morning line favourite in the Beal as she looks to take down eight male rivals; North America Cup champion Fear The Dragon and stablemate Downbytheseaside are the top choices in the Hempt while the top four finishers in the Fan Hanover Stakes – Bettors Up, Agent Q, Tequila Monday and Idyllic Beach – are ready for a rematch in the Lynch.
Mel Mara, who is a nose from being undefeated this year in four starts, is the 5-2 morning line choice in the Franklin. Mel Mara, Keystone Velocity and Dealt A Winner were elimination winners last weekend.
Mach It So finished third in the elimination won by Keystone Velocity, but was beaten by only a half-length.
"I thought he raced well," Bamond said. "He drew good for the final. He's kind of a trip horse; I don't think he's going to cut the mile and win. Right in the middle, it seems like you can do whatever you want. It'll be an interesting race.
"These finals sometimes get crazy. Hopefully they mix it up a little bit."
Mach It So's biggest career victory came in the 2015 William R. Haughton Memorial, where he defeated a field that included Foiled Again and State Treasurer. He also won the 2015 Bobby Quillen Memorial and finished second in the 2016 Quillen, behind Wiggle It Jiggleit. He was second in both the 2015 and 2016 TVG Free For All Series championships, losing last year to Always B Miki, and was third in the 2015 Breeders Crown.
This season Mach It So has won two of 11 races and hit the board a total of seven times, with his two victories coming in his last four starts.
"I think it took him a little bit longer to get going than he normally does, but I think he's getting good at the right time," Bamond said. "Hopefully Saturday is the best time."
Racing at Pocono will begin at 6:30 p.m. Saturday. The night's stakes finals are Races 9 through 12.
The field for the Ben Franklin (Race 11) appears below.
PP-Horse-Driver-Trainer-Line
1 – Keystone Velocity – Simon Allard – Rene Allard – 3/1
2 – Mel Mara – Corey Callahan – Dylan Davis – 5/2
3 – All Bets Off – Matt Kakaley – Ron Burke – 4/1
4 – Rockin Ron – Yannick Gingras – Ron Burke – 6/1
5 – Mach It So – Tim Tetrick – Jeff Bamond Jr. – 12/1
6 – Rock N Roll World – Brian Sears – Jeff Cullipher – 20/1
7 – Dealt A Winner – David Miller – Mark Silva – 5/1
8 – Boston Red Rocks – Brett Miller – Steve Elliott – 10/1
9 – Shamballa – Scott Zeron – Rick Zeron – 15/1
---
This story courtesy of Harness Racing Communications, a division of the U.S. Trotting Association. For more information, visit www.ustrotting.com.