Published:
June 26, 2017 04:26 pm EDT
XBTV, The Stronach Group's digital horse racing and handicapping network, received three honours at the 38thAnnual Telly Awards for its coverage of the inaugural $12 Million Pegasus World Cup Invitational, which took place Saturday, January 28, 2017 at Gulfstream Park, one of Florida's newest entertainment destination centers.
XBTV provided live on-site coverage of the Pegasus World Cup Invitational as well as exclusive handicapping videos, workout reports and interviews during the lead up to the big race. In providing this content, XBTV became the definitive source of information for the Pegasus World Cup Invitational and Gulfstream Park.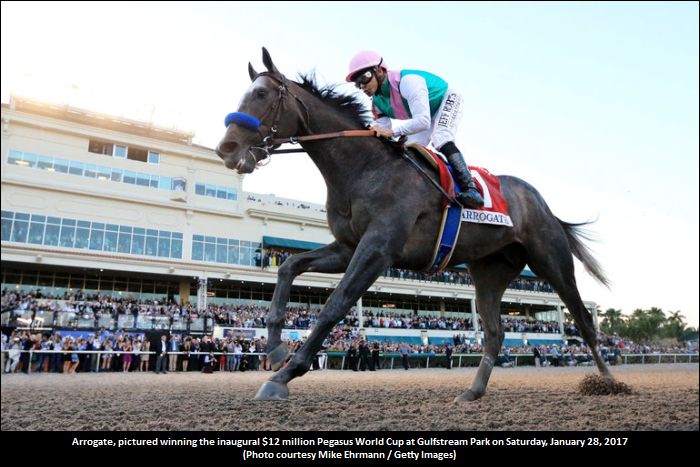 XBTV was awarded a Telly Award for its live coverage of the event along with two more Telly Awards for its production of Debating the Pegasus World Cup show, which also aired January 27, 2017.
Debating the Pegasus World Cup was available as a 'Video on Demand' segment at XBTV.com and presented viewers with wagering recommendations for the Pegasus World Cup horse race. The show starred XBTV's team of betting experts – Laffit Pincay, Jeff Siegel, Millie Ball, Aaron Vercruysse and Zoe Cadman.
"The Stronach Group, along with its subsidiary XBTV, is committed to growing and supporting live broadcast horse racing in North America," said Belinda Stronach, chairman and president of The Stronach Group. "We're incredibly honoured to be recognized by the Telly Awards for our coverage of the Pegasus World Cup Invitational as we strive to bring our sport to the next generation of fans."
"A vital part of the organization's commitment to live horse racing is the growth and expansion of the state-of-the-art XBTV Studios in Los Angeles California," said Scott Daruty, XBTV president. "XBTV brings race fans and handicappers closer to the sport than ever before by giving viewers behind the scenes video access to workout reports, trainer and jockey interviews and handicapping analysis for racing experts."
The inaugural Pegasus World Cup Invitational is the world's richest Thoroughbred horse race, generating more than $40 million in worldwide wagering, a record at southern Florida's prestigious Gulfstream Park. The race, which required the owners of 12 horses to purchase an entry fee of $1 million, was the first of its kind and gained attention and praise in both the horse racing and gaming industries. The 2018 Pegasus World Cup Invitational will have an increased purse of $16 million.
The Telly Awards are regarded as the premier honour for the best in TV and Cable, Digital and Streaming and Non-Broadcast Productions. They receive more than 13,000 submissions annually from all 50 states, as well as five continents. Other 2017 winners include ESPN, HBO, ABC, CBS, MLB, NASCAR and Disney. "We are extremely proud to once again recognize outstanding productions in the film and video industry," said Linda Day, executive director of the Telly Awards. "The quality of work submitted each season continues to exceed our expectations."
(With files from XBTV)