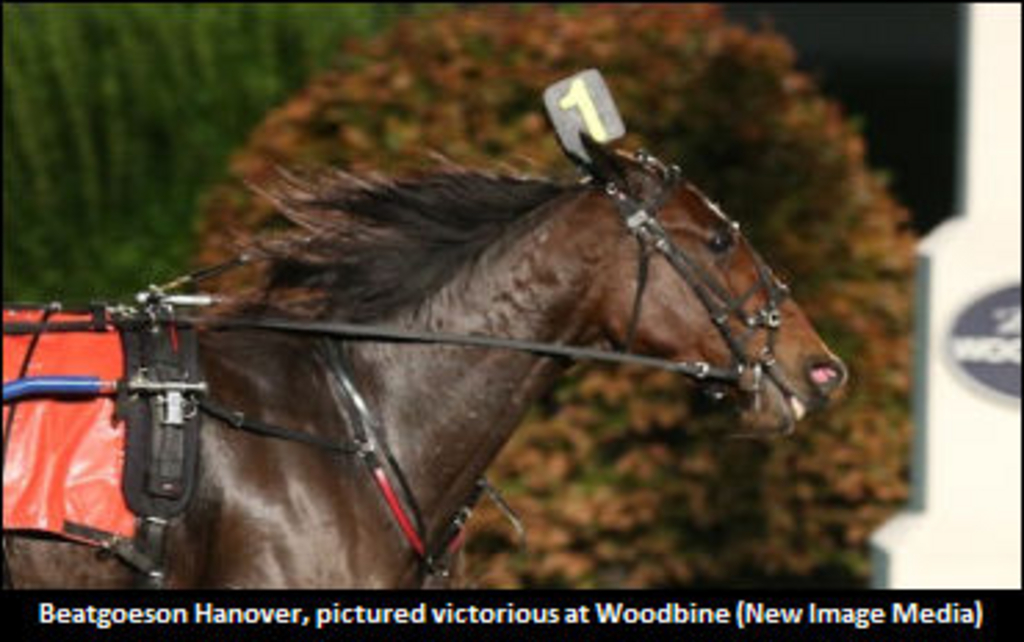 Published:
June 26, 2013 01:28 pm EDT
The track record for aged trotting mares at Mohawk Racetrack is 1:52, set in 2010 by the great Buck I St Pat. During qualifying action at the Campbellville, Ont. on Wednesday, June 26, Beatgoeson Hanover wasn't far from the speedy mark.
The five-year-old daughter of Andover Hall, took to the track for the second of the session's 11 dashes, and she was all business.
After starting from Post 2 for driver Rick Zeron and trainer Richard 'Nifty' Norman, Beatgoeson Hanover was first to the quarter pole in :28.1. The millionaire threw down another :28.1 panel as she charged down to the half in :56.2.
Beatgoeson Hanover sped along the final turn, and spun off three quarters in 1:24.4 before sealing the deal with a 28-second final panel. Her win time was a solid 1:52.4 and her margin of victory was nine lengths.
Another millionaire followed Beatgoeson Hanover in the next dash, as five-year-old The Panderosa gelding Alsace Hanover stepped out onto the track for Race 3.
With his trainer, Tony O'Sullivan at his lines, Alsace Hanover left from Post 2 and took a pocket ride through the fractions (:28.1, :57, 1:25.4), which were cut by Piston Broke (driven by Sylvain Filion).
Alsace Hanover made a move on Piston Broke in the lane and got up for a half-length victory over the pacesetter in 1:53.2.
Continuing to prep for the Hambletonian, the Dustin Jones-trained and Sylvain Filion-driven Wheeling N Dealin trotted to his third consecutive qualifying win of the season in Race 11.
After having started from Post 6, Filion worked Wheeling N Dealin, a three-year-old son of Cantab Hall, into the two-hole as Magic Will Work (Trevor Ritchie) cut the opening quarter in :30.1.
Wheeling N Dealin moved to the front in the second quarter and went on to click off the middle fractions in :58.3 and 1:26.4. The O'Brien Award winner cruised from there, as he came home with a 29-second final quarter mile to freeze the timer in 1:55.4. Wheeling N Dealin's margin of victory was two lengths.
To view the harness racing results for Wednesday's qualifying session at Mohawk, click the following link: Wednesday Results - Mohawk Racetrack (Qualifiers).