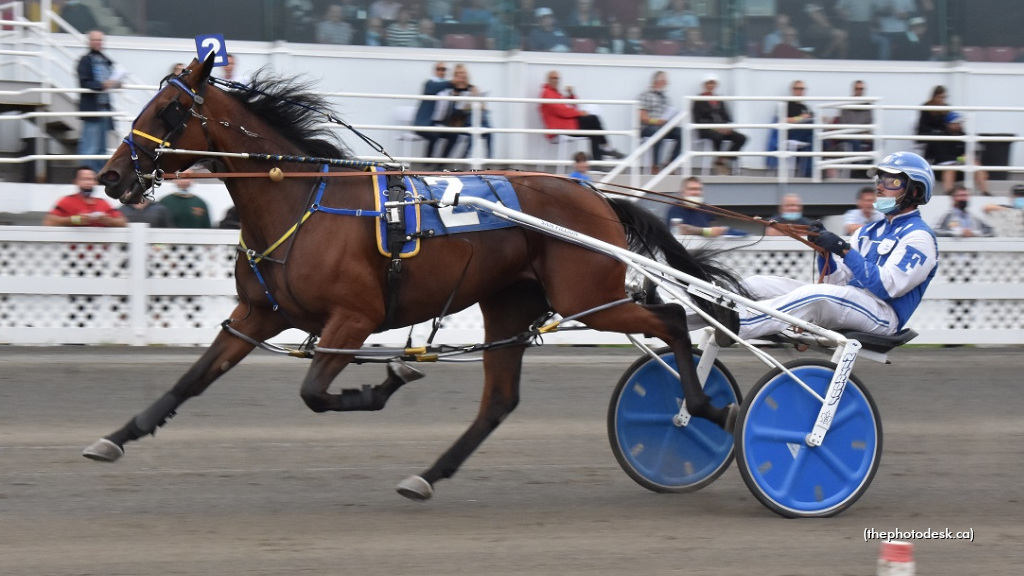 Published:
June 25, 2022 12:24 pm EDT
It may be his first time ever competing in a National Championship event, but driver Samuel Fillion is ready to take on seven rivals on Sunday (June 26) at Hippodrome 3R in the Quebec-Eastern Ontario Regional Driving Championship.
The winner of the competition, that will take place in races one through eight at 3R Sunday, will get to go to Century Mile in Alberta in November to compete for the right to represent Canada in the 2023 World Driving Championships in Italy.
Featured in the competition will be Marie-Claude Auger, Guy Gagnon, Ryan Guy and Stéphane Pouliot of Rideau Carleton Raceway; Pascal Bérubé, Stéphane Brosseau and Samuel Fillion for 3R; and Nick Boyd for Kawartha Downs.  The presence of a woman driver, Marie-Claude Auger, is a first for the regional championships.
Fillion, who is currently the third leading driver at Rideau Carleton Raceway, was a standout last season at Hippodrome 3R and is one of the promising young drivers in Canada.
"I'm really happy to be back at 3R," Fillion said. "And I think I have some good horses to drive in the competition."
The eight drivers will each compete in seven of the eight races in the competition. Each drive will start from a different post position in each race.
"This competition is big for me," Fillion added. "At 3R I will be with a lot of my friends, so they will be rooting for me."
Fillion drew well with the horses in his seven races. He starts in the second race with Stellar Feller (Post 2) who just missed winning two starts back by a nose. In the third race Fillion has to start from the outside in post seven but he will be driving 3R's Princess of Trot, Stella Alpha. She may be the lone filly in the race but she is coming off a 2:00.2 victory at 3R and has five wins in 10 starts this year. She has already beaten everyone in the field except for Libero Hanover.
In the fifth race Fillion has another possible winner in Sin City Shark (Post 4) and then in the sixth race he has another race favorite in Fancy Girl (Post 1) who has been second or third in her last four starts.
Rounding out the competition, Fillion drives Disneyman (Post 6) who is at morning line odds of 6-1, the highest odds horse he is driving in the competition. Then in the eighth and final race of the championship, Fillion has his third morning line favourite in D Gs De Vito (Post 5), who last week came first-over in the Preferred-Handicap Pace and was able to grind out a very impressive 1:57.4 victory.
"I will be very excited to drive against these good drivers," Fillion added. "I have driven against a number of them already, but now we are all in the same races all afternoon.
"And if I can win at least a race or two, it will be a great day," Fillion said. "I am just very proud to have been selected to compete in this competition. It is such a great honour."
Post time for the first race Sunday is 12:00 noon. To view Sunday's entries, click on one of the following links: Hippodrome 3R - Sunday Entries || Program Pages (courtesy TrackIT).
(with files from the Quebec Jockey Club)