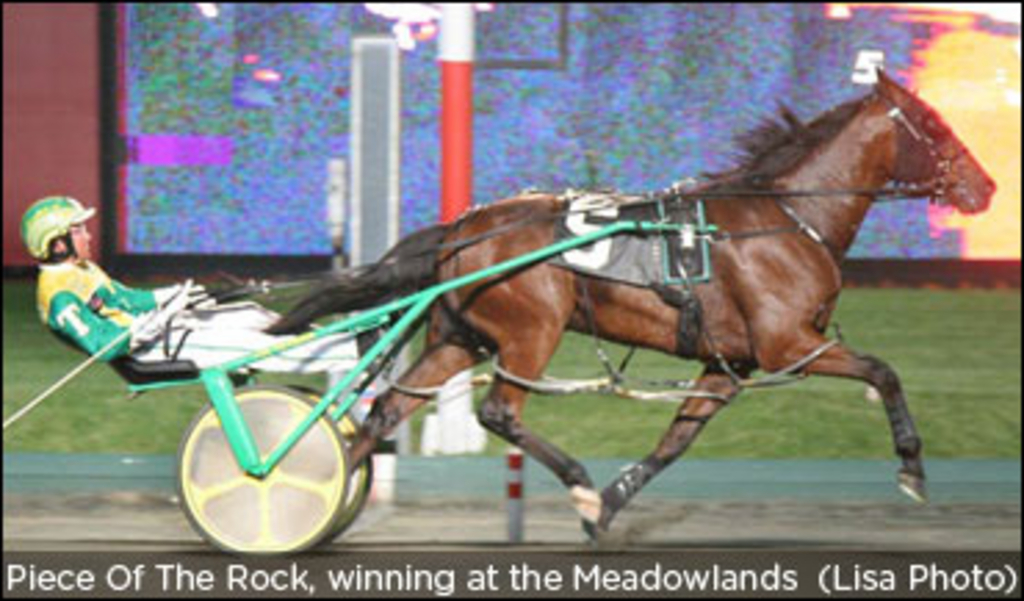 Published:
June 24, 2010 11:22 pm EDT

"This is what harness racing is all about. Anybody can realize this dream pretty quick and that's the beauty of harness racing in my mind,"
said O'Brien Award winning driver Paul MacDonell, who had a dream season back in 2008 winning the Pepsi North America Cup with Hall Of Famer Somebeachsomewhere.
The 27th edition of the North America Cup is giving both longtime and new participants the opportunity to experience the biggest thrill harness racing has to offer.
MacDonell will catch-drive Piece Of The Rock, veteran trainer Bob Young's first starter in Canada's richest harness race set for Saturday at Mohawk Racetrack. SBOA Mentoring Program graduates Jamie Trott of Orangeville and Frank Aloise of Brampton along with Brian Barton of Carlisle share ownership of the Rocknroll Hanover gelding.
"This is a big thrill to be in the NA Cup on home soil," said Young. "Brian Barton and I have had horses together for years, like Artimittateslife and some other good ones, and the two other partners, Jamie Trott and Frank Aloise, both started out in the SBOA's New Owners Program. So it's very exciting for all of us."
With Piece Of The Rock failing to break his maiden in seven starts at two on the WEG circuit, Young sent the gelding to the Meadowlands Racetrack in May for more racing experience, where picked up two wins in a pair of lower level conditioning races.
After a third-place finish in his New Jersey Classic elimination, Piece Of The Rock cut early fractions of :26.1 and :54.2 in the $500,000 final on June 12 before settling for fifth in a 1:49.1 mile (individually timed in 1:50.2).
"I was pleasantly surprised [after sitting behind him for the first time]," said MacDonell, who got the call to steer the gelding in his Cup elimination. "I really didn't know what to expect from the horse. I saw him race on TV at the Meadowlands the week prior in the New Jersey Classic and I was quite impressed with the race that he went. He raced hard and he was fifth but he was not far off. Being back on his home grounds where he's trained all his life, he was quite comfortable here on Saturday night."
Piece Of The Rock set the pace and finished third in his North America Cup elimination, which went in 1:49, as longshot We Will See and favourite One More Laugh collared him in the stretch.
Unlucky in Tuesday's post draw, Piece Of The Rock will have to overcome the curse of his assigned post position No. 10 in the final - Cup starters leaving from the outside position have never finished within the top three. Dragon Again (1998) and Artriver­derci (2007) posted the best results by a Post 10 starter with their fourth-place finishes.
"I think he likes to get out and get racing," said MacDonell. "It's going to be a little more difficult now with the 10-hole but he's got quick speed and I spoke to him once and he hit the racetrack immediately. I mean that's an asset that not many horses have. We'll play it by ear.
"It depends on who's inside and who's outside - that's a big factor. As it stands now, they're all inside of us so he's got a big chore ahead of him and we know that but we're going to show up and race."
To view the recap of the post position draw, click here.
Mohawk's 13-dash Saturday program has a first-race post time of 7:10 p.m. Post time for the 27th edition of the Cup (Race 7), the richest pacing event in the world, is 9:40 p.m., The Score Television Network will air a special one and one-half hour telecast nationally from 8:30 p.m. - 10:00 p.m. (ET).
To view free, printable program pages for Mohawk's Saturday card courtesy of TrackIT, click here.
To view SC's regular entries page for NA Cup night, click here.