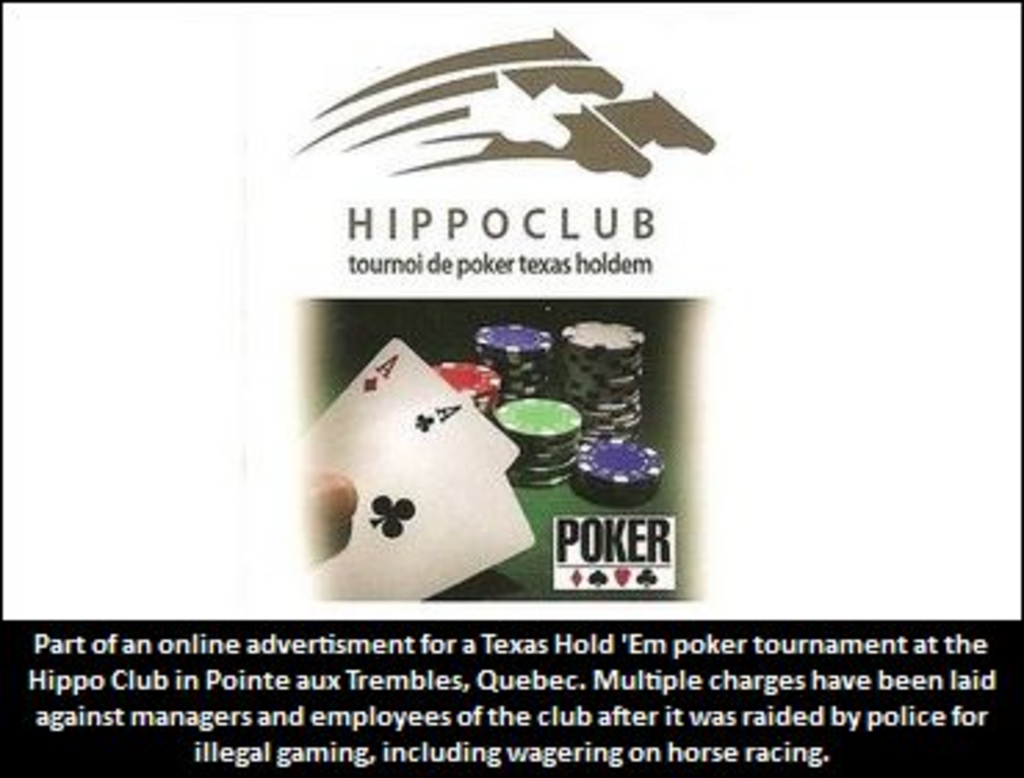 Published:
June 21, 2011 07:21 am EDT
According to a report, Quebec police raided the Hippo Club in Pointe aux Trembles on Friday, June 17 and have shut the facility down. Over one hundred customers were in the establishment at the time. Two managers and five employees have been arrested and charged
.
A report by regular standardbredcanada.ca contributor Paul Delean and Max Harrold in today's edition of the Montreal Gazette explains that Montreal police have yet to decide if any of the patrons will face charges, but the Hippo Club managers and employees are facing charges which include bookmaking, placing bets for others and operating an illegal gaming house.
The article states that the Hippo Club was one of many off-track wagering and gaming facilities operated by Quebec racetrack owner Attractions Hippiques, which went out of business two years ago.
The report also explains that patrons were allowed to play 'informal' poker games at the location and paid a $2 admission to get into the Hippo Club.
In regard to wagering on horse racing at the Hippo Club, those that made bets at the facility received printed receipts and collected their winnings at the club. The Hippo Club processed the wagers through a Horseplayer Interactive account, a legal form of online wagering in Canada.
"We were told it was legal," 69-year-old Normand Lebeau, a patron present during the raid, told Delean. "If the bets go to the tracks why wouldn't they be?"
The Quebec Jockey Club, which has taken over the operation of horse racing in the province, is very aware of the vacuum that was produced when legal off-track locations ceased their operations in Quebec. They are currently working on rolling out more legal off-track locations for customers in the province.
"We're very careful not to do anything antagonistic," Quebec Jockey Club President Tony Infilise was quoted as saying. "We don't want anything that is against the law taking place."
Last week during an exclusive interview with Norm Borg of Trot Radio, Infilise explained that his Quebec Jockey Club is opening up legal off-track wagering locations also known as HPI parlours.
"After a lot of work and research we're planning to open what we call HPI parlours," Infilise told Borg. "We opened one last June in Quebec City, it's been very successful. We plan to open in the major markets here during the rest of this year and over the course of the summer a number of HPI parlours where it's similar to an OTB but you must have a HPI account in order to wager."
To listen to Borg's interview with Infilise on Trot Radio, click here.
To read the Montreal Gazette article in its entirety, click here.
Live racing kicked off this past weekend at Hippodrome de Quebec with a great crowd and solid wagering numbers. Infilise has commented on the terrific start to the exciting Hippodrome de Quebec racing season. To read more, click here.
(With files from the Montreal Gazette)