Published:
June 20, 2012 06:59 pm EDT

In honour of Queen's Plate week, multiple Hall of Fame jockey Sandy Hawley, along with executives from Woodbine Entertainment Group (WEG), joined Tim Babcock, Director, Listed Issuer Services, TSX Venture Exchange, to open the Toronto Stock Exchange, Wednesday morning.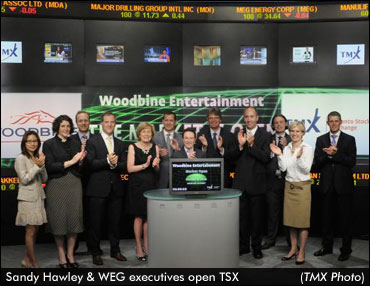 The 153rd running of the Queen's Plate, North America's oldest continuously-run stakes race, will be contested this Sunday, June 24 at Woodbine Racetrack.
"On behalf of Woodbine Entertainment Group and the Queen's Plate, it was an honour to open the TSX," said Hawley.
Hawley, who captured the Queen's Plate on a record four occasions, enjoyed a remarkable career that spanned 31 years, garnering 6,450 wins. His final victory came on October 18, 2008 at Santa Anita Park, when Hawley, at the age of 59, steered Tribal Chief to victory in a Living Legends Race.
The veteran rider was inducted into the Canadian Racing Hall of Fame in 1986, the National Museum of Racing and Hall of Fame in 1992, and Canada's Sports Hall of Fame in 1998. After his retirement from racing, Hawley began a new career as a public relations ambassador for WEG and is currently an on air host for in-house programming and Bet Night Live on The Score.
Hawley resides in Pickering, Ont. with his wife, Lisa, and sons, Bradley and Russell. His Plate winners are Almoner (1970), Kennedy Road (1971), L'Enjoleur (1975) and Regal Embrace (1978).
(WEG)