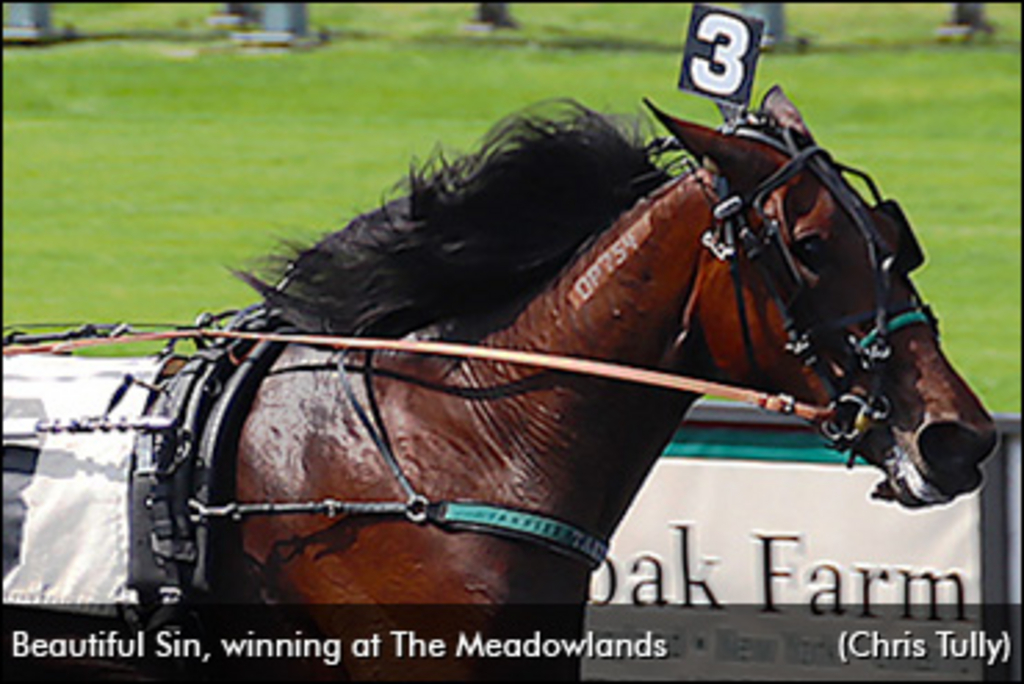 Published:
June 2, 2018 12:57 pm EDT
It's the start of June. Trotters are trotting in 1:55, pacers are faster than 1:54. And these are just the two-year-olds in their first ever charted lines.
The 2018 edition of Breakfast With The Babies (BWTB), sponsored by Jules Siegel's Fashion Farms, kicked off on a perfect Saturday morning at The Meadowlands. The skies were clear, the breeze slight and the temperature a comfortable 75 degrees.
As has been the case since BWTB began, Hall of Fame trainer Jimmy Takter sent out the first winner of the season. This year it was the highest priced yearling of the 2017 sales season at $480,000, Beautiful Sin.
In a short field of four, Yannick Gingras settled Beautiful Sin in second early as Isolde (Mattias Melander) took the field by the quarter in :29, then brushed her to the front by the :58.4 half. After a rated 30-second third split Gingras let the filly roll a bit through a :28.3 final quarter and she widened out to win by more than six lengths in 1:57.2.
Lennart Agren's SRF Stable owns Beautiful Sin (by Muscle Hill from Sina, bred by The Moon Goddesses, Paula Gural and Monica Bencal) and if this morning's performance is any indication, she was a bargain.
The Takter / Gingras duo came right back in Race 2 with Whispering Oaks and the filly becomes the very first winner for first-crop sire Father Patrick. She led all the way, closing out her 1:58 mile with a :29 final quarter and won well within herself over Starita (David Miller), by another eagerly anticipated first crop sire in Trixton, who broke early and recovered nicely to be second. Brixton Medical, Herb Liverman and RAW Equine, Inc paid $100,000 at the Lexington Selcted Yearling Sale to breeders Marvin Katz, Al Libfeld and Sam Goldband for Whispering Oaks last fall.
When Greenshoe, the $330,000 Father Patrick colt from world champion Designed To Be, cruised around the oval in 1:55 looking like he was jogging and eliciting "Wows" from the veteran observers and various experts in attendance this morning, the young sire's legend was begun.
Trainer-driver Marcus Melander let Greenshoe go right to the top from post four though even fractions with Hudson River (another Father Patrick colt driven by Takter) following closely by the 1:27.2 three panels. When Melander gave his colt the green light he accelerated while continuing to move easily and put some air between himself and his closest rival. It was a very good 1:55. Anders Strom owns the Katz/Libfeld-bred Greenshoe via his nom de course of Courant Inc.
This year's freshman trotters are a particularly precocious lot as in the very next race Jimmy Takter exposed a lovely Muscle Hill colt named Dont Let Him with a start to finish 1:55 mile, home in :27.4. He was tracked throughout by Gimpanzee (Melander) who made a menacing move in the stretch but could not head Takter's colt. Dont Let Him is a Brittany bred, was sold for $80,000 at the Lexington sale and is owned by that nursery along with Christina Takter, John Fielding and Herb Liverman.
The highest-priced yearling ever sold in Sweden at $325,000 (USD) is here in the US racing for Courant Inc., and the Muscle Hill colt Green Manalishi S was a winner at first asking for Mattias Melander in 1:57. Taking the lead just past the quarter, Green Manalishi cruised through easy numbers then dug in nicely when Gerris Trix (Takter) ranged up alongside mid-stretch with a :28.4 end to the mile.
Colt pacers took the stage with the sixth race with first-crop sires Captaintreacherous and Sweet Lou both represented. Ray Schnittker put his "Captain" colt Latissimus Hanover on the lead and set a fair pace through a 1:26.2 three quarters. Following in the pocket was (who else) Jimmy Takter with his Sweet Lou - Blood Diamond colt Blood Money, fanning out as they straightened up and forged past by a length through the :27.2 end to the 1:53.4 mile. Zero Tolerance (D. Miller) split that pair to be second. Adam Bowden's Diamond Creek Farm bred and owns the colt as Diamond Creek Racing.
Diamond Creek came right back with another imposing homebred in Blacklight, trained by Takter and driven by Gingras who was a 1:56.2 winner. He's a big colt by Somebeachsomewhere from the champion mare I Luv The Nitelife and handled the assignment like a veteran.
Qualifying pacers picked up with the eighth race where speedy stakes winner Dealt A Winner held off a very good three-year-old in O'Brien Award winner Stay Hungry. In what amounted to a match race, Brett Miller cut the mile with Dealt A Winner while Doug McNair sat pocketed with Stay Hungry and when they crossed the wire in 1:49.1 after a :26.3 stretch duel it was Dealt A Winner who was hungrier, holding off the swift sophomore. Mark Silva trains Dealt A Winner for Jeff Snyder.
Fourth Dimension is right at the top of the Road To The Hambletonian and he looked the part today, winning a hard fought stretch battle over the good four-year-old mare Dream Baby Dream (David Miller) in 1:53.3 for Brian Sears. Fourth Dimension closed out a nice day for the Melander barn and moves on to the sophomore classics for owner Courant, Inc.
For the charts from Saturday morning's qualifying session, click one of the following links:
► Saturday Baby Races - Meadowlands
► Saturday Qualifiers - Meadowlands
Live harness racing continues tonight at The Meadowlands with a 7:15 p.m. first race post time and the Jerseyfest Food Truck Mash-up leading the promotions.
(with files from The Meadowlands)