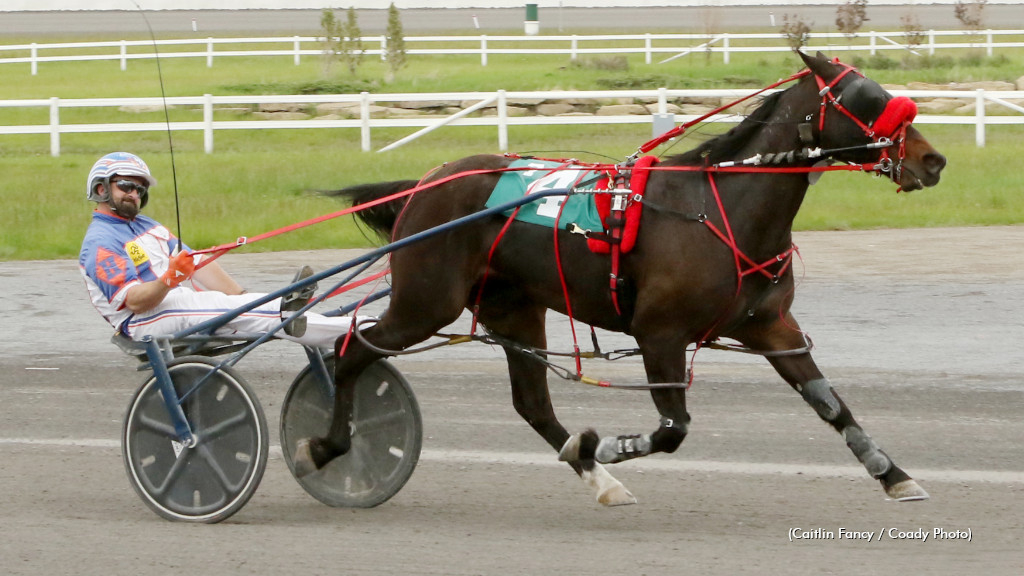 Published:
June 19, 2022 07:35 pm EDT
Alberta native Mike Hennessy secured the opportunity to represent Western Canada in winning the 2022 Western Regional Driving Championship at Century Downs on Sunday (June 19).
Hennessy, a resident of Lacombe, Alta., won two of the seven races in the qualifying contest, scoring a minor upset with Harold Haining trainee HF Patrick ($10.70) in Leg 3 and a romp in Leg 6 with Marissa Kleinsasser pupil Naked Burner ($4.70). With two second-place and fourth-place finishes to boot, Hennessy ended the contest with an insurmountable lead coming into the last race and took home the hardware with 62 points.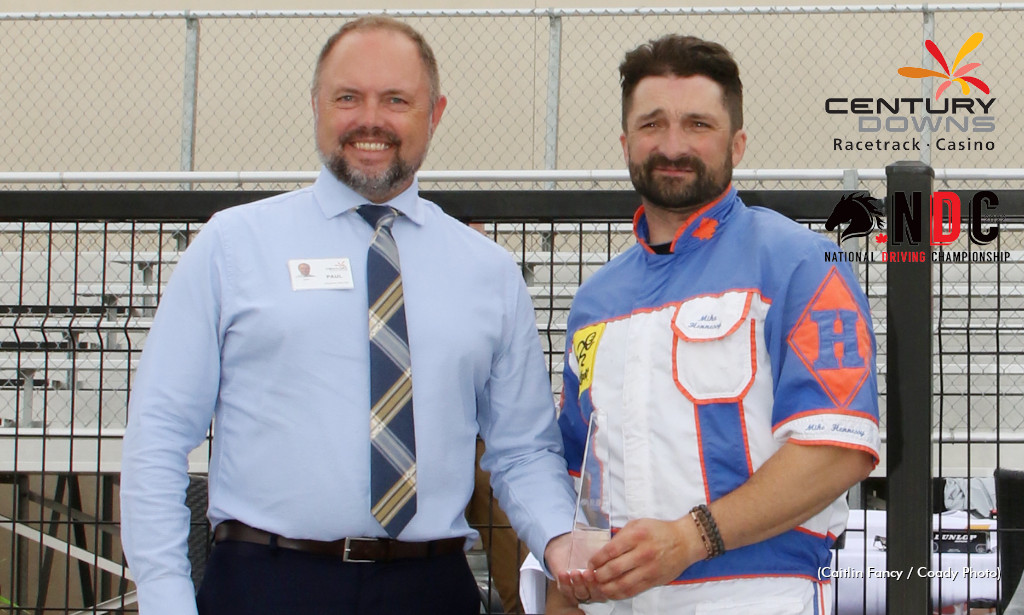 Paul Ryneveld, Managing Director of Racing at Century Downs and a Director of Standardbred Canada, with 2022 Western Regional Driving Champion Mike Hennessy​
"It's awesome. You always come out here to have fun, but when you win, it makes everything a little better," Hennessy said with a laugh. 
On the heels of breaking the 1,000-win milestone, Hennessy has driven horses in Western Canada and along its circuits for nearly 20 years. He enjoyed a career year in 2019 with $881,803 in purses earned and 136 wins, which ranks second to his 2017 season where he won 142 races. 
Phil Giesbrecht, the current leading driver at Century Downs with 39 wins on the season, broke a second-place tie in the final leg to earn the final berth into the National Driving Championship. Giesbrecht, who is stationed in Fort Saskatchewan, Alta., had just one win on the day with the Brandon Campbell trainee Lost Control ($5.60), but racked enough points to sit tied with Dave Kelly coming into the final leg. A third-place finish with Shark Week, slipping through a late seam at the inside, and a seventh-place finish by Kelly earned Giesbrecht the runner-up spot with 50 points in total.
"I had a couple campaigners that helped push me through, and I'm glad they did," Giesbrecht said. I just want to thank everybody for putting their horses in, it was great. A lot of fun. Thank God the weather stayed the way it was, because you know what it's like when it can rain here."
Giesbrecht, who started his driving career racing on the Manitoba fairs in 2007, moves to the National Driving Championship in a year where he currently holds an all-time personal best driving average of .419 from 285 starts. He has won over 1,000 races in his 15-year career and earned just over $6 million in purses. 
The winner and runner-up will join the top two finishers of the three other regional qualifiers at the 2022 National Driving Championship at Century Mile on Thursday, Nov. 24 for an opportunity to represent Canada in the 2023 World Driving Championship in Italy. 
Ontario Regional Driving Championship winner Louis-Philippe Roy and runner-up Doug McNair qualified in May at The Raceway at Western Fair District. The Quebec / Eastern Ontario Regional is next on Sunday, June 26 at Hippodrome 3R followed by the Atlantic Regional on Saturday, July 30 at Red Shores Racetrack & Casino at the Charlottetown Driving Park.
The final leaderboard for the Western Regional Driving Championship is as follows:
Mike Hennessy (Alta.) - 62 points
Phil Giesbrecht (Alta.) - 50
Dave Kelly (Alta.) - 45 (tie)
Rod Therres (B.C.) - 45 (tie) 
Glenn Le Drew (Man./Sask.) - 45 (tie)
Brandon Campbell (B.C.) - 31
Kelly Hoerdt (Alta.) - 30
Scott Knight (B.C.) - 19
Recaps of the individual legs from the 2022 Western Regional Driving Championship are below:
WRDC LEG 1
Driver Rod Therres opened the Western Regional Driving Championship with even-money favourite Midnight Mover ($4.30) looping early leaver Subzero (Phil Giesbrecht) to the lead in front of the grandstand the first time during a :55.3 half. Therres then kept the David Lamont-trained sophomore colt to task as he drew off to win in a career-best 1:54.3. Chuck You Farlie (Mike Hennessy) closed within four lengths to finish second. No Collusion (Dave Kelly) re-rallied to finish third after making a break on the final turn but was placed seventh after a judges inquiry for causing interference to Prairie Pursuit (Glenn Le Drew) and Juliogetthestretch (Brandon Campbell) while off stride. Prairie Pursuit edged out Subzero in a photo for fourth and inherited third prize due to the placing of No Collusion.
WRDC LEG 2
After poor racing luck in the opening leg, Dave Kelly dominated the second race of the tournament with the Kelly Crump-trained mare Blue Star Mystic ($2.90) leading all the way through panels of :29.2, :58.1 and 1:26.2 en route to a two-length victory in 1:55.1 as the heavy 2-5 favourite. Pocket-pursuer Miso Classy (Glenn Le Drew) won the race for place over Hurry Home, who finished third and kept Rod Therres atop the leaderboard (20 points). Kelly moved into a tie for second-place in the point standings with Le Drew (15 points).
WRDC LEG 3
Sitting fourth in the standings heading into the third leg, driver Mike Hennessy struck with 4-1 second choice HF Patrick ($10.70) leading him to the winner's circle and the top of the leaderboard (27 points). The Harold Haining trainee was out to a quick lead and protected rail position in a :28.3 first-quarter tussle with Go On Bow Bow (Glenn Le Drew), who eventually took a tuck into the pocket spot. After a second quarter breather to the half in :59.2, HF Patrick reached three-quarters in 1:29.4 and was beginning to get away on the field, widening by as much as six lengths down the stretch for the 2:00.1 victory. JK Jelly Bean (Dave Kelly) shot through late for second, finishing four lengths behind the winner at the wire, while even-money favourite Instant Wynn (Phil Giesbrecht) was third over Go On Bow Bow.
WRDC LEG 4 
Rod Therres was back in the spotlight and one point off the lead after driving Solid Silver ($6.30) to a wire-to-wire victory in the fourth leg. The Logan Gillis trainee carved out fractions of :28.1, :57.4 and 1:25.4 en route to a new lifetime mark of 1:54.1 while keeping 8-5 favourite Keepsgettingbettor (Mike Hennessy) at bay throughout the mile. Solid Silver won by five lengths, with Keepsgettingbettor holding off second-over Carro B Bunsen (Glenn Le Drew) in a photo for place. Hennessy remained atop the leaderboard, 37-36 over Therres. 
WRDC LEG 5
Phil Giesbrecht moved into contention in the Western Regional, steering 9-5 co-favourite Lost Control ($5.60) to a 1:57.3 victory in the fifth leg of the tournament. With the front end beginning to collapse after early action to the half :57.4, four-year-old pacing mare Lost Control followed Drive Away (Dave Kelly) three-wide on the backstretch and went on to win by four lengths over that rival. B Special finished third for Brandon Campbell, who trains the winner. Giesbrecht moved to fourth-place in the standings (33 points), sitting behind Kelly and Rod Therres (tied for second with 39 points) and leader Mike Hennessy (42 points). 
WRDC LEG 6
Piloting the 6-5 favourite, Mike Hennessy secured a second-over spot with Naked Burner ($4.70) through early fractions of :27.4 and :57.2 before pulling the trigger. He flung the Marissa Kleinsasser trainee three high and swooped to an open lead as the field towered well behind him by three-quarters in 1:26.2. Through the stretch, Naked Burner coasted under minimal pressure to a facile win in 1:56.4 with Phanatical Maniac and Phil Giesbrecht charging from off the speed and down the center for second. Snoop De Lion and Glenn Le Drew snagged third and Marlons Magic, driven by Brandon Campbell, took fourth.
WRDC LEG 7
Kelly Hoerdt, winner of the 2018 Western Regional Drivers Championship, avoided a shutout on the afternoon with a powerhouse performance by his pacing star Codename Cigar Box ($4.10) in the $13,500 featured pace on the afternoon. The four-year-old Custard The Dragon gelding grabbed the front from post 8 to a :28.1 first quarter and did not see another horse from there. The Hoerdt trainee coasted to a :56.4 half and to three-quarters in 1:24.4 in progress to a 1:53.4 victory in hand. Crackle N Burn and driver Glenn Le Drew stormed home to snag second from Phil Giesbrecht and Shark Week sneaking up a seam at the pylons, while Outlaw Gunsablazin and Mike Hennessy settled for fourth off a first-over trip.
To view Sunday's harness racing results, click the following link: Sunday Results - Century Downs.