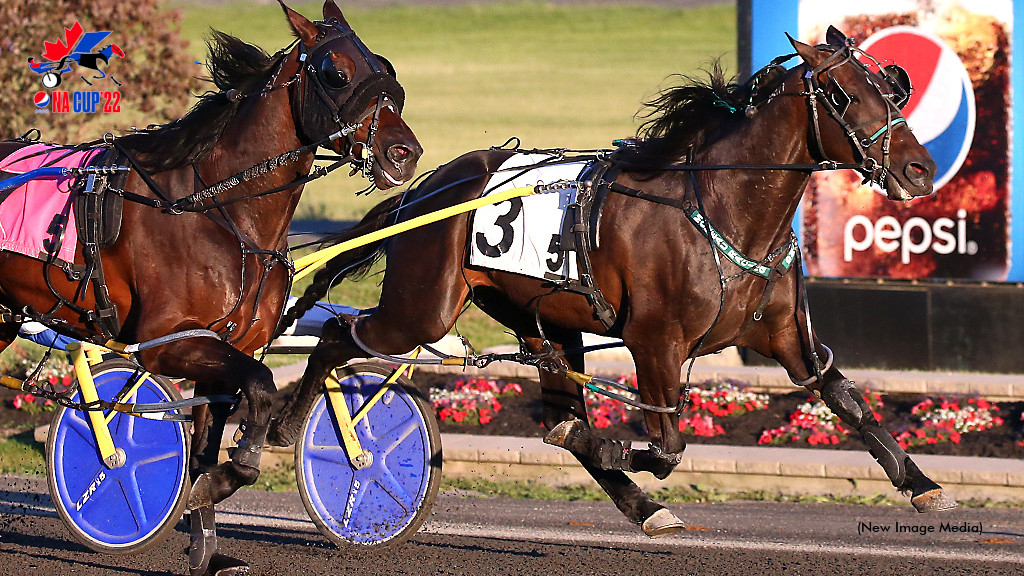 Published:
June 18, 2022 08:15 pm EDT
Two years ago, Jimmy Freight scored one of the biggest victories of his career in beating McWicked in the Mohawk Gold Cup. Now facing defending champ Allywag Hanover in the 2022 edition, Jimmy Freight — in his first full season back on track — held to win again in the $100,000 Mohawk Gold Cup on Saturday (June 18) at Woodbine Mohawk Park.
Wheels On Fire and Poseidon Seelster sprinted from the outermost posts to clock a first quarter in :26 before Linedrive Hanover moved for the lead out of third with Allywag Hanover and Jimmy Freight following suit. Allywag Hanover swept to pocket Linedrive Hanover to a :53.2 half as Jimmy Freight pressed forward, but remained parked as the tempo remained heated around the final turn.
Jimmy Freight edged a length better than Allywag Hanover to three-quarters in 1:20.1 as Linedrive Hanover angled toward the center of the track coming into the stretch. Allywag Hanover lost ground while Linedrive Hanover dug into Jimmy Freight through the final eighth, inching closer to the lead but was denied victory by a nose at the end of a career best 1:48 mile by the seven-year-old Sportswriter stallion. Allywag Hanover settled for third and Warrawee Vital rallied for fourth.
"I knew there were going to be a bunch of leavers trying to get position," winning driver Louis-Philippe Roy said after the race. "When I was on Todd [McCarthy]'s helmet, I was guessing if the tempo was going to slow down a bit; if he was going to rush to the front. At that point I wanted to follow because I thought... the turn wasn't always [Allywag Hanover's] best place to pace fast, so I thought if I could put a bit of pressure on him, that would've been the best place. But there were a bunch of good horses, so you can't build your strategy on beating one horse. Jimmy just wanted to win."
Adriano Sorella owns Jimmy Freight, the now 32-time winner from 72 outings with $1,806,125 earned, as he continues a campaign off a near two-year absence from performing only stallion duties.
"It was a little slow at the beginning, but we knew he was special. He's big and he was coming back strong, so we were excited about it. He's got five or six races [coming up] in the U.S., so we have some decisions to make. He's been a little bit 'studdy'; he's a little bit of a different horse when he's on the trailer, so we have to baby him a bit."
Richard Moreau conditions Jimmy Freight, who returned $4.50 to win.
As part of the 2022 Pepsi North America Cup undercard, a number of stakes and open class events were contested. Recaps of the evening's other stakes are available below:
For the results from the 2022 Pepsi North America Cup night card of harness racing, click the following link: Saturday Results - Woodbine Mohawk Park.