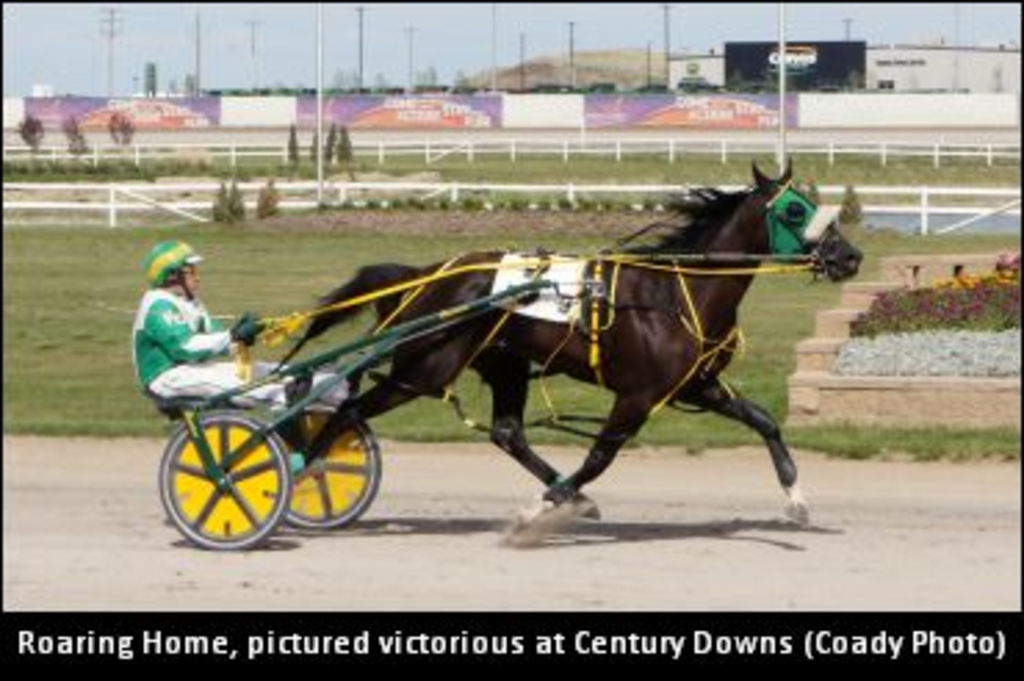 Published:
June 18, 2018 12:15 pm EDT
Industry participants often scan through harness racing programs in Alberta and come across the name 'Doris McDougall.' Although some may not know her, McDougall has been one of Keith Clark's longstanding supporters.
"I think she and her late husband, Bob, have been with me for better than 20 years," Clark recently told Horse Racing Alberta. She's invested in a lot of horses that I've had over the years and some of them have done really well."
The list includes Blue Star Treasure, who earned roughly $370,000 while in their hands. The list also includes Travelin On, who was one of the stars of the Alberta scene in the mid-1990s. The partnership acquired him in 1995 during his three-year-old campaign. Scan further down the list and you will see the name First Class Horse, who received horse of the year honours in Alberta in 2015 and won just about every stakes event for which he was eligible that year.
"And we've had some good mares over the years," Doris told HRA. "Fiddles Hot won several stakes for us in the early '90s, and we still have Best Promise, who is now a broodmare. I could give you some more names, but I'd have to run around and look at some of the pictures and some of the trophies I have in my house."
The partnership, which now includes Doris, Clark, and John Hind, appears to have another rising star by the name of Roaring Home. The three-year-old filly recently romped to a four-length win in the final of the Alberta Princess (she covered her mile in 1:55.3). The same partnership also owns Ginger Beer, who finished sixth in the same race.
"I've enjoyed it over the years, very much," Doris explained. "Bob and I started out with Keith and I've stayed with him in the years since Bob passed in 1997. I don't usually go to the sales, but I read the catalogues beforehand, and when Keith calls and asks if I want anything, I've done my homework. Usually I have about a dozen horses with him, but it's a business. They have to pay their way. I'm not in it just to say I love it."
In that regard, she thinks very much like Keith Clark. The opportunity to sell First Class Horse as a four-year-old was too good to pass up. Both of them realized that racing him at the Open level in Alberta wasn't going to be as lucrative as selling him to a larger racing jurisdiction. First Class Horse is still racing in Pennsylvania and in New York and has banked more than $425,000 in career purse earnings.
Meanwhile, another partnership is paying a nice dividend for driver-trainer, Jamie Gray. Earlier this year, ASHA Executive Director Fred Gillis brought together two first-time investors in the industry, Geoff Smith of Edmonton and Natasha Peiskar of Calgary. They recently made it to the winner's circle, as Exit Smiling captured the final of the Alberta Plainsman. Not even a cold wet day could dampen their spirits.
"I had Exit Smiling and Yankee Up in the final, so I was pleased about that," Gray explained. "I decided I'd drive Exit Smiling because he's a little more difficult to handle. I'm the only one who has driven both of them, so I had to make a choice. I had named Jim Marino to drive Yankee Up, but he booked off and I put Dave Kelly on him. I don't know what happened. I do know Yankee Up got a cheque for a fifth-place finish. So at least both of them are in the top eight for Super Finals after the first leg of qualifying. That's the goal for both of them this year – to be in the championship final on November 17th."
Next up for both sexes is the Alberta Diamond for the fillies and the Alberta Marksman for the colts and geldings. Both events are scheduled for mid July. The final round of qualifying will be the Alberta Marquis for the girls and the Alberta Maverick for the boys at the end of October.
(Peter Watts / thehorses.com)