Published:
June 18, 2012 12:57 am EDT
Lifesarealbeach became the first Somebeachsomewhere baby to start in a pari-mutuel race on Sunday afternoon and she won her debut.
Freshmen Pennsylvania-breds made their county fair debuts on Sunday at the Erie County Fairgrounds in Wattsburg, Pennsylvania, the final day of a two-day Sire Stake meet.
Roger Hammer dominated the nine-race card, posting five wins as a driver, including four horses from his own stable.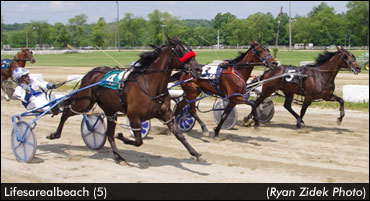 Among his winners was Lifesarealbeach in the first of three $4,100 divisions for freshman filly pacers. Hammer found his way to the winner's circle despite a rough trip. RT Redyourrights and driver Bobby Rougeaux cut the mile, while Hammer had a second tier start with Lifesarealbeach. Hammer tipped early, but Rougeaux parked him for the rest of the mile. In the end, three horses were lined up across the track in a photo for win, and Hammer prevailed in 2:08.3 over the 'good' surface rated five seconds slow. Hammer bred and owns the Somebeachsomewhere filly out of the Real Artist mare R N Artist, who romped to a 10 length 2:00 win in her qualifier over a sloppy track at Harrah's Philadelphia just five days ago.
Ohio-based invader Shesalilfireball, a daughter of Allamerican Native, won the second freshman filly pace event in 2:10.4. Robert Grover owns and trains, while Chris Shaw earned the winning drive. The final division winner was Real Desire miss Caviart Ginger and driver Brady Brown in 2:10.4. Clyde, Jason and Marilyn Bresnahan, along with Debbra Kerr, own the winner, while Jason Bresnahan trains.
The day started with two $5,948 divisions of the two-year-old colt trot, and BSMaximummoondream went wire-to-wire in 2:11.4 to capture the opener. Dave Brickell drove and co-owns the son of Bedford County along with trainer Sue Brickell. In the second division, Andover Hall son Albany House scored in 2:14.4 for trainer-driver Hammer, who co-owns with the Ervin Miller Stable.
Filly trotters were up next, with two $5,936 splits. Lindyofalifetime, by Cantab Hall, gave the Dunn Stable and trainer Boots Dunn their first win of the day, while Hammer picked up the winning catch-drive. Lindyofalifetime scored in 2:14.3. In the second group, only one horse managed to stay flat for the mile, Solicitation, by Tom Ridge. The filly won in 2:12.1 by open lengths for Hammer, who also trains and owns in partnership with Todd Schadel.
Two $6,055 splits of the freshman colt pace ended the day, and Jungle Of Terror, by Western Terror, overcame a second-tier start to win the first division in 2:07.3. Steve Schoeffel trains and drove for owners Steve Lander, Kathy and Virginia Schoeffel. Hammer then won the final race of the day behind another one of his own horses, Falcons Breeze. The Nuclear Breeze colt covered the mile in 2:08.1.
Standardbred Canada and the PA Fair Harness Horsemen's Association sends out get well wishes to driver Winston Lineweaver. Shortly after guiding Roe Is Me to a second place finish in the first race, Lineweaver suffered a medical emergency and was rushed to Saint Vincent Medical Center in Erie, Pennsylvania. At last report the Virginia native, a longtime fixture on the PA Fair Circuit, was alert and his condition was stable. He is expected to remain overnight for additional testing.
(With files from PA Fair Harness Horsemen's Association)