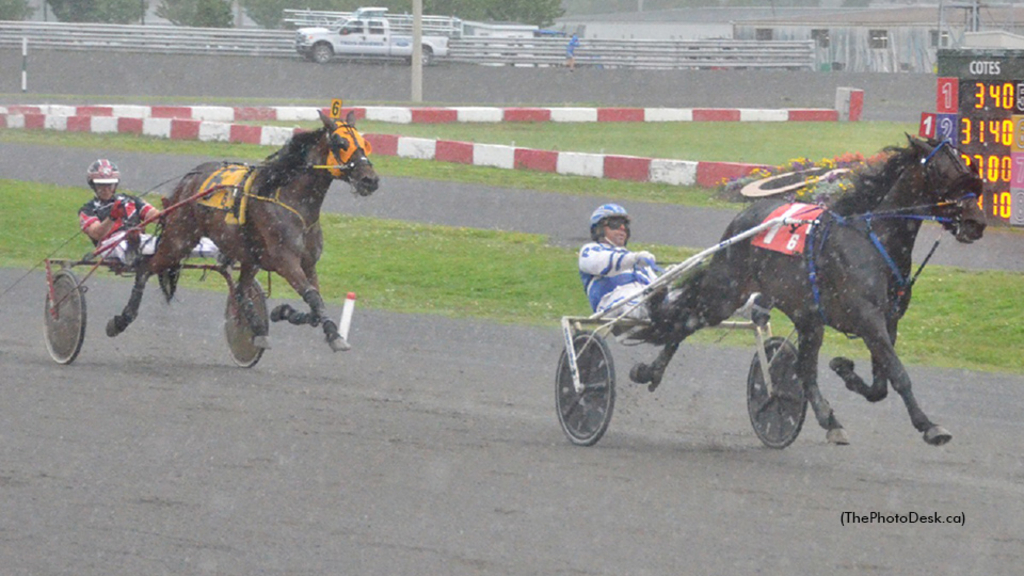 Published:
June 17, 2022 07:30 pm EDT
The lone three-year-old filly in the field, Stella Alpha and driver Pascal Berube stole the show in the $6,000 Preferred 2 & 3 Handicap Trot at Hippodrome 3R on Friday, June 17.
In the sixth race feature, Stella Alpha, part of the 3-5 favoured entry, left for Berube and took the lead away from Hetties Magic (Jocelyn Gendron) by the first quarter in :29.
It was all Stella Alpha on the front end as she cut the mile to the half in :59. Then the skies opened up and a torrid rain storm came down as the field reached the three-quarters in 1:29.3 with Stella Alpha up by three lengths.
In the stretch, Stella Alpha did not mind the rain as she went on to win by 3-1/4 lengths in 2:00.2. P C Heisenberg (Marie-Claude Auger) was second with Bonfire Bash (Robert Shepherd) third.
Stella Alpha has now won half of her 10 starts this year. The daughter of Royalty For Life is trained by Sylvain Tremblay and the Quebec-Bred champion from 2021 was bred and is owned by Ecurie Alpha. She paid $3.40 to win.
The highest win payout of Hippodrome 3R's season took place in the fifth race pace when Sagali and driver Jocelyn Gendron won a three-horse photo by a nose at odds of 53-1 in 2:01.2.
The win was his first in 10 starts this year for Sagali and she paid $109.70 to win. The prior record win price this season was $60.60 set by Lady My Luck (Francis Picard) on May 8, 2022.
The race started off with a three-way battle for the lead with Prettydiva (Berube) on the early lead with race favourite Stellar Feller (Stephane Brosseau) first-over and Notaword N (Jessica Turenne) three-wide to the first quarter in :27.2. Stellar Fella made the lead, but Notaword N was still parked out first-over as they went by the half-mile in :57. Meanwhile, while all this was going on up front, Gagnon and Sagali sat fourth saving ground.
Past the three-quarters in 1:28.1, Stellar Feller was still on top, but Prettydiva was three-wide at that point and Candid Cameron (Daniel Delisle) four-wide.
As they came down the stretch, Gendron found room with Sagali and just got up at the wire. Stellar Feller was second with Notaword N third. The time of the mile was 2:01.2.
Sagali, a five-year-old Shanghai Phil mare, is trained and owned by Pierre Piedalue of St-Alexandre, Que.
Track Notes: Driver Pascal Berube led the day scoring four winners in the eight races. Trainers Serge Nadeau and Eric Milot each had training doubles. The first two-year-old to make a pari-mutuel start in 2022 in Quebec was C Un Bon Deal (Wheeling N Dealin) in the first race trot Friday at H3R. Bred, owned and driven by Jerome Lombart of Bromont, Que., C Un Bon Deal started from the rail and stayed trotting the entire mile, passing three horses to finish sixth, race timed in 2:03.4. He went off at odds of 37-1. Live harness racing resumes on Sunday at H3R starting at 12 noon, featuring Preferred events for both the mares and horses on the pace.
To view Friday's harness racing results, click on the following link: Friday Results - Hippodrome 3R.
(With files from Quebec Jockey Club)