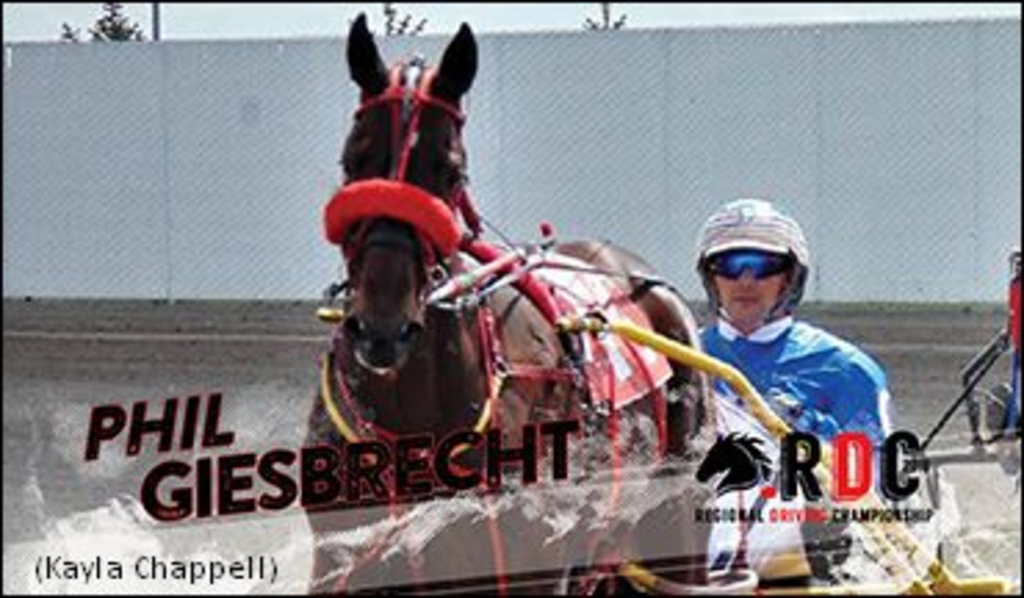 Published:
June 17, 2018 10:33 pm EDT
Five days before the 2016 Western Driving Regional Driving Championship, competitor Phil Giesbrecht was forced to withdraw after sustaining a broken ankle in a training accident. The 29-year-old horseman from St. Malo, Man. had to settle for assisting Tim Lawson from Century Downs with colour commentating for that 2016 event.
This year, he is once again one of the eight drivers who qualified for the Western Regional and is eager to compete for one of the two spots in the National Driving Championship.
"I was extremely disappointed," he reflected on the 2016 event. "It was always a dream of mine. So I'm being extra careful this year and really looking forward to it!"
Giesbrecht joins Paul Davies, Jamie Gray, Kelly Hoerdt, Dave Hudon, David Kelly, Jim Marino and Mitch Rey in this year's event.
"It's a great mix of veterans and up-and-coming drivers. It's going to be extremely competitive," Giesbrecht reflected. "We are all driving well right now, so it should be a fun-filled afternoon."
Now in his 12th season of driving, the resident of Fort Saskatchewan, Alta. has 703 driving wins and over $3.8 million in purse earnings to date in his career.
In addition to driving, Giesbrecht trains a stable of eight horses, just north of Edmonton at Gerry Hudon's farm. Icy Blue Scooter, a $16,000 claimer, is his top horse. When he's not working with the horses, he tries to find time to golf, play hockey or spend time with the family at the lake.
Initially mentored in horsemanship by his late grandfather, Sylvio Fillion, Giesbrecht now turns to his future father-in-law Gerry Hudon for advice. Phil drives all of Gerry's horses and attests that he's learnt so much from him in the past three years. "He's been a great supporter of my career. I also look up to Keith Clark. I often drive for him so I've learnt a lot from him as well."
Giesbrecht was on hand for the first leg of the 2017 World Driving Championship which Century hosted.
"It was an incredible experience. I thought Century Downs did an awesome job hosting the event. It was so different seeing all the different driving styles. Overall, it was a very exciting experience. The talent shown on that day was unreal!"
Phil is hoping 2018 will be a big year. On a personal note, he and Jocelyn Hudon (Gerry's daughter) will be married on July 7 and that's something he's really looking forward to. That and qualifying for the NDC would make it a great year!
The Western Regional Driving Championship takes place on Saturday, June 23 at Century Downs Racetrack & Casino and racing starts at 1:15 p.m (MDT).
The eight drivers will participate in eight competition races. Each race will have a field of eight and each driver will drive from every post position.
Drivers will receive points based on their finishing position and the top two drivers from the nine-race competition will join six other drivers at the 2018 National Driving Championship (NDC) at Grand River Raceway.
The winner of the 2018 NDC will have the opportunity to represent Canada in the WDC, and join 2017 World Driving Champion, James MacDonald, in the 2019 WDC in Sweden.
Here are the locations and dates for the three remaining regional events (in chronological order):
► Western Regional (Includes drivers from British Columbia, Alberta, Manitoba)
Century Downs — Saturday, June 23
► Atlantic Regional (Includes drivers from New Brunswick, Nova Scotia, Prince Edward Island)
Truro Raceway — Friday, June 29
► Québec / Eastern Ontario Regional (Includes drivers that compete regularly at Kawartha Downs and Rideau Carleton Raceway in addition to Hippodrome 3R)
Kawartha Downs — Saturday, June 30
Trevor Henry and Louis-Philippe Roy finished first and second in the Ontario Regional Driving Championship, hosted on Wednesday, May 16 at The Raceway at Western Fair District, and advance to the NDC.