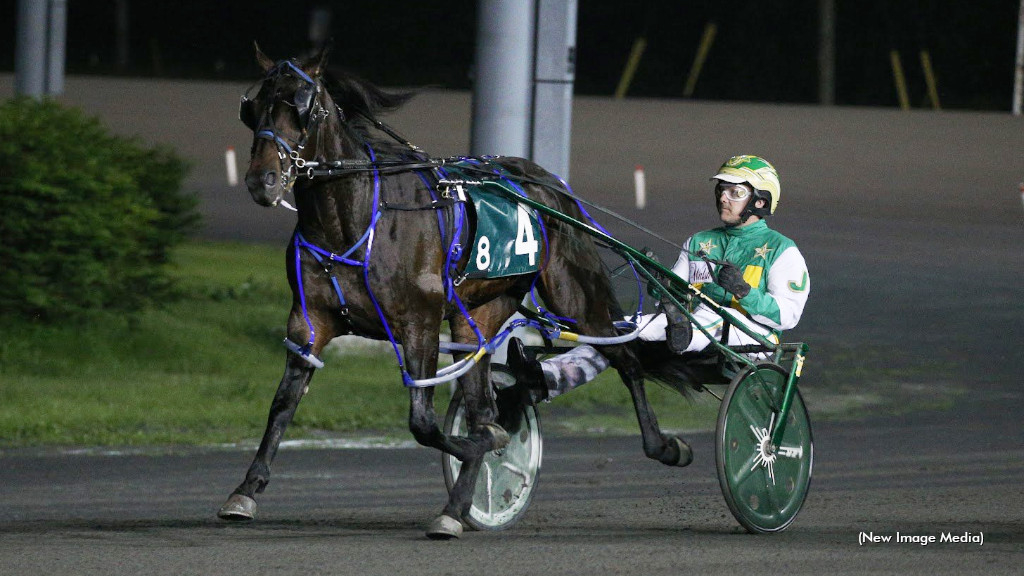 Published:
June 16, 2022 11:56 pm EDT
The owners of pacing colt Ron took a chance on racing their sophomore against the sport's best, and an extremely strong performance in his 2022 Pepsi North America Cup elimination validated the faith of his connections to give them their first shot at a million-dollar purse.
Purchased by Wilma & Jim MacKenzie in Timonium for $26,000, Ron (Sportswriter - Doubelieveinmagic) made 14 starts as a freshman last season, concluding his season with four straight wins for trainer James 'Friday' Dean including a sweep of the Ontario Sired Harvest Series. Ron won his sophomore debut in early May, then qualified for the SBOA Final where he made a break in the stretch for driver Jody Jamieson.
"He raced good in his first start, got a first-up trip in his SBOA elim and then in the final he just got all out of gear halfway down the lane," Dean told Trot Insider after Tuesday's Pepsi North America Cup post draw at Woodbine Mohawk Park where the colt received post three. "His feet were pinching him a little bit so we changed the shoeing and requalified him. Jody said he was a lot more comfortable. He seems to like the flip-flops he's got on now."
Dean's statement on Ron's shoeing comes after a parked-the-route fourth last Saturday to qualify for the final, closing in :26.4 despite never seeing the rail to finish three lengths back of winner Beach Glass.
"He raced hard to get into the final...it's not like he just slipped in there or that, he had to show some guts the other night. He seems like he came out of it fine and I'm happy with the draw."
While impressed with his colt's performance, Dean fully acknowledged that a different trip this Saturday would most surely be necessary to provide a similar finish position. 
"I like the post draw and hopefully we get a bit of a tidier trip. We're going to have to. We can't race like we did last week and be with them at the end. Hopefully we get a decent trip and he gives us a top effort."
No stranger to million-dollar races, Friday makes his return to the Pepsi North America Cup on Saturday (June 18) with Ron after finishing third in 2011 with Big Jim — his best finish in three Cup attempts (and a race, coincidentally, won by driver Jody Jamieson with Up The Credit for his second Cup title). The affable horseman admitted there's less pressure than in some of those previous years, and he's thrilled to provide this opportunity to owners Wilma & Jim MacKenzie.
"This makes it a lot more special," said Dean with a smile. "Wilma & Jim have been around a long time, they've paid their dues and it's quite thrilling for them to get this horse in — as it is for me. I'm known Wilma & Jim for over 40 years, and they're special people. They're every trainer's dream owner."
To watch and listen to the full interview, click the play button below.
To view Saturday's entries, click one of the following links:
2022 Pepsi North America Cup card — Entries || Program Pages (courtesy of TrackIT).