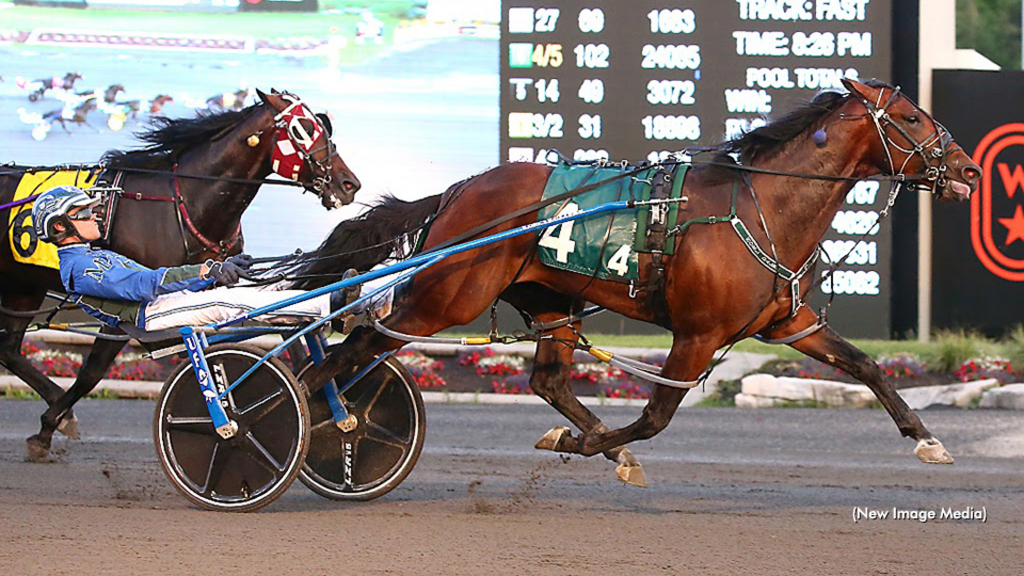 Published:
June 15, 2022 07:25 pm EDT
For the second time in three years, owner John Fodera will watch three of his horses compete in the $1 million Pepsi North America Cup at Woodbine Mohawk Park.
In 2020, Fodera was among the owners of the Tony Alagna-trained trio of Capt Midnight, Captain Barbossa, and Captain Kirk. On Saturday, he will again have a horse trained by Alagna, I Did It Myway, but also one from the stable of trainer Noel Daley, morning-line favourite Pebble Beach, as well as trainer Brian Brown, Night Hawk.
Pebble Beach is 8-5 on the morning line, starting from post five with Todd McCarthy in the sulky. Night Hawk, starting from post seven with David Miller, is the 7-2 third choice while I Did It Myway, leaving from post two with Andy McCarthy, is 8-1.
The three finalists were among a mere handful of three-year-old male pacers eligible to the North America Cup owned by Fodera.
"It is amazing," Fodera said. "I've been blessed all the way through my time in harness racing. You think that at some time it's going to level off, and it just seems to keep going in a very good direction. I'm very happy."
Fodera has owned horses for more than 60 years since claiming his first horse at the age of 16 for $2,500 at Freehold Raceway. His successes include one previous win in the North America Cup, with Tell All in 2007, as well as a Hambletonian with Ramona Hill in 2020, multiple Breeders Crowns, and a record-tying three triumphs in the Little Brown Jug.
But it doesn't matter at what level Fodera's horses are competing, he simply enjoys the game.
"All my horses are equal when they're in a race," said Fodera, who is the president of St. Peter's Boys High School on Staten Island, where he previously worked as a teacher and principal. "People say that's impossible, but I'm a fanatic enjoying-the-race type of person. People think I'm crazy, but that's the way I am."
Fodera owns his three North America Cup contenders with a variety of different partners.
The group with Pebble Beach is Patricia Stable, Joe Sbrocco, Country Club Acres, and Laexpressfoderadeovolente. Night Hawk is Leeman Lombardo Stable, Sbrocco, In The Gym Partners, and Acadia Farms while I Did It Myway is Country Club Acres, Sbrocco, Don Latore, and Alagna and Fodera Racing.
One constant among the three horses is Sbrocco, who is the breeder of I Did It Myway and also shares ownership of a fourth North America Cup starter, Ario Hanover. Fodera and Sbrocco, an Ohio resident who also is a previous winner of the Cup, have been friends for at least 20 years despite living in different parts of the country.
"It's not a business-type thing, it's really a social relationship with Joe," Fodera said. "I'd say three or four days don't go by, even when it's non-racing time, that Joe and I don't talk. If it's non-racing time, it's sales time. If it's not sales time, we both have a house in Florida in Delray Beach so we're out socially for dinner. It's really a 52-week experience with Joe."
North America Cup morning-line choice Pebble Beach, who has hit the board in all 14 of his career races, winning nine, enters the event's final off a win in one of the two eliminations last week. He triumphed by 1-1/2 lengths over Night Hawk in 1:49.4. Beach Glass took the other elim by three-quarters of a length over I Did It Myway in 1:51.
"I think (Pebble Beach) will be a strong betting favourite in there," Fodera said. "But as we all know in the horse racing business it will depend on a variety of factors. We'll see how the speed bias is that night, the track condition, how it sets up. When you're going for that kind of money there could be a lot of action up front. But with our post positions, we know we are in position to get into the race with all three of those colts."
As for a perfect outcome Saturday for Fodera and his fellow partners and friends, he presented a most-diplomatic idea.
"Being lucky enough to win at all would be phenomenal in itself," Fodera said. "I respect all three trainers equally, and with different partners, they're all good friends, and we've always been close. For me, nothing could be better than a triple dead heat. I'm rooting for all three."
To view Saturday's entries, click one of the following links:
2022 Pepsi North America Cup card — Entries || Program Pages (courtesy of TrackIT).
(USTA)