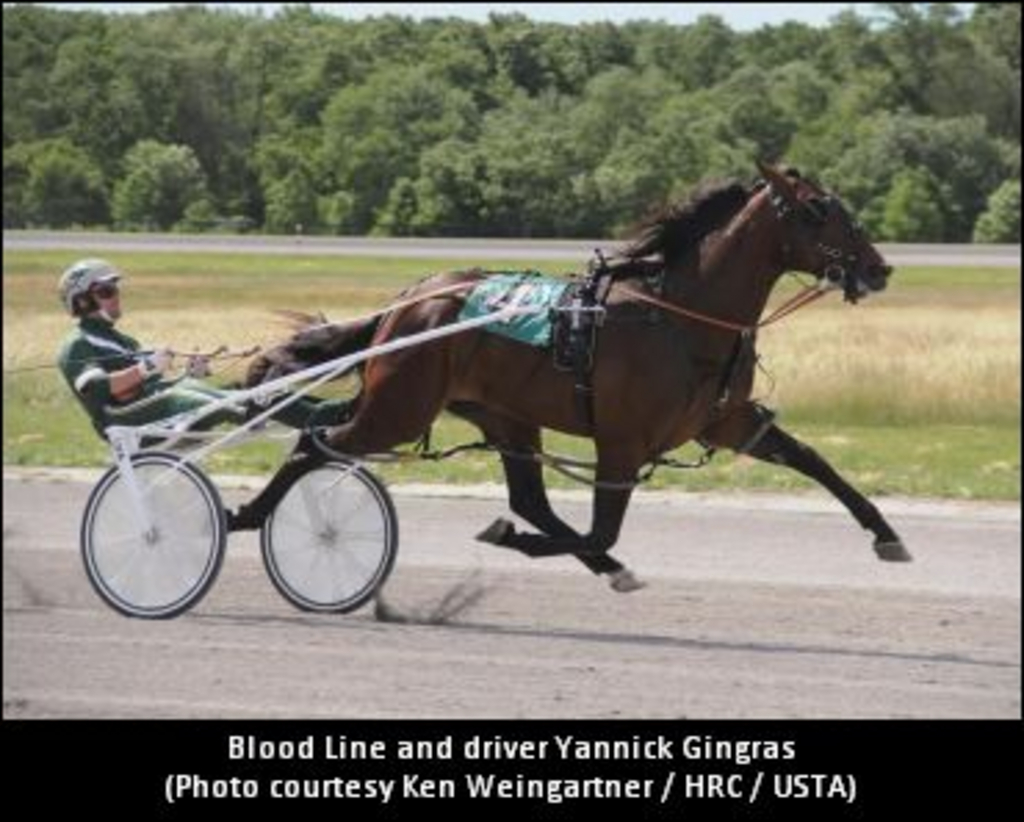 Published:
June 13, 2016 04:05 pm EDT
When male pacer Blood Line kicked off Monday's qualifiers for two-year-olds at Gaitway Farm with a sharp 1:54.2 win on a 60-degree morning with a gusty breeze, it certainly got the attention of his trainer, Jimmy Takter.
"That's a serious mile today," Takter said after watching Yannick Gingras guide Blood Line to victory in his career debut. "I would say that's like a (1:) 52-and-a-piece mile. You're not going to see too many go faster than him today."
As it turned out, no mile went faster among the two-year-olds in their nine qualifiers, and only three older horses posted a quicker clocking in the day's remaining seven qualifiers.
Blood Line, a son of Somebeachsomewhere out of the mare Blood Diamond, was bred by Diamond Creek Farm and J&T Silva Stables and is now owned by Diamond Creek Racing. He is a full brother to stakes-winner Blood Brother and his family includes millionaires Western Terror, If I Can Dream, Artiscape, and Delinquent Account.
"He's a little goofy," Takter said. "He's a fast horse and he's got a lot of strength. We have him staked up good, so we know he's got the ability. He's a little bit like his brother, though; not the sharpest knife in the drawer. But he can go."
Blood Line won by one and three-quarter lengths over the Ron Burke-trained Major Key (Art Major-Capri Hanover).
Gingras drove two more two-year-old winners, both from Burke's stable. The first was female trotter Waffle Cone and the second was male trotter Deacon Tony.
Waffle Cone (Muscle Hill-Sugar Cone) won by four lengths over Takter's Bridal Suite (Cantab Hall-Starlet Rules) in 2:00.3. Waffle Cone was purchased for $50,000 at the Standardbred Horse Sale and is owned by Burke Racing Stable, the partnership of Mark Weaver and Mike Bruscemi, Earl Smith, and Phil Collura. Her family includes Dan Patch Award-winner Pizza Dolce.
Deacon Tony (Muscle Hill-Blue Yonder) was second-placed-first when Trond Smedshammer's Mushana went off stride just prior to the finish line. Deacon Tony, timed in 2:02.1, was purchased for $85,000 at the Lexington Selected Sale and is owned by JT45, Deo Volente Farms, T L P Stable, and Malvern Burroughs. His family includes 2000 Hambletonian winner and O'Brien Horse of the Year Yankee Paco.
The stables of trainers Julie Miller and Aaron Lambert also produced two winners apiece.
Miller won with male pacer Dances Cruiser and female pacer Annacloy, while Lambert scored with male pacer Outrajus Blue Chip and female pacer Agent Q.
Dances Cruiser (Yankee Cruiser-Dances On The Wind) won by three-quarters of a length over Thefoolalwaysrocks (Always A Virgin-This Fool Rocks) in 1:57. He was driven by Fredi Herrera, who notched his first qualifier win after making his debut on the track a week ago. Dances Cruiser was bred by Pinske Stables, who also owns the colt. His family includes stakes-winner Btwnyurheartnmine.
"I feel good; very excited," Herrera said. "He's a nice horse. He's just young, but he qualified very good today."
Annacloy (Art Major-Lislea Phia) won by 5-1/4 lengths over Takter's St Helena (American Ideal-Arts Vintage) in 1:56.2. Driven by Andy Miller, it was Annacloy's second qualifier win in as many tries. She was purchased for $30,000 at the Standardbred Horse Sale and is owned by Andy Miller Stable, Ervin Miller Stable, and Paymaq Racing. Her dam was a multiple stakes-winner.
Lambert-driven Outrajus Blue Chip (Roll With Joe-Some Girls Do) won by three-quarters of a length over Miller's Flight Insurance (Art Official-Cruzin Angel) in 1:58.4. He sold for $10,000 at the Standardbred Horse Sale and is owned by Ron Coyne Stables, Blair Corbeil, and Lambert. His dam was a stakes-winner and the family also includes Dan Patch Award-winner Central Park West.
David Miller-driven Agent Q finished with a :27.2 final quarter-mile, equalling Outrajus Blue Chip's mark for the fastest of the day among the two-year-olds, to rally from the back of the pack and defeat Tony Alagna's Sweet Rockin Gia (Rockin Image-EJs Copperstone) by one and three-quarter lengths in 1:58.2. Agent Q (Western Terror-Teenage Paige) sold for $25,000 at the Standardbred Horse Sale and is owned by Martin Scharf, William Rochetti Jr., Tanya Rochetti, and Robert Muscara. Agent Q's family includes stakes-winner Paige Nicole Q.
Smedshammer won with female trotter Diva Dejarmbro (Dejarmbro-Nordic Nymph), who beat Robert Bresnahan Jr.'s Logans Lady (Explosive Matter-Bancroft Hall) by a neck in 2:01.3. Diva Dejarmbro, driven by Smedshammer, was purchased for $27,000 under the name Impressions First at the Ohio Selected Jug Sale and is owned by Purple Haze Stables.
Chris Ryder-trained and driven male pacer Tribal War (Rock N Roll Heaven-Mystical Gypsy) won the remaining qualifier for the two-year-olds, defeating John Dally (Somebeachsomewhere-Michelle My Gal) by a half-length in 1:55.3. Tribal War, purchased for $10,000 at the Standardbred Horse Sale, is owned by Diamond Creek Racing and Ryder. His family includes stakes-winners Load The Dice and The Catamount Kid.
"I was happy with him," Ryder said. "He's been training pretty decent on the farm. He was a little aggressive today, but that's no big deal. We're going to go to the sire stakes in New York with him. We have him staked. He's also eligible to the Metro Pace, but we'll see.
"We like him. He's very nice. He's out of the same family as a horse I had years ago, Load The Dice. He was OK, he just had the distinction of being the same year as (2005 Horse of the Year) Rocknroll Hanover."
---
This story courtesy of Harness Racing Communications, a division of the U.S. Trotting Association. For more information, visit www.ustrotting.com.