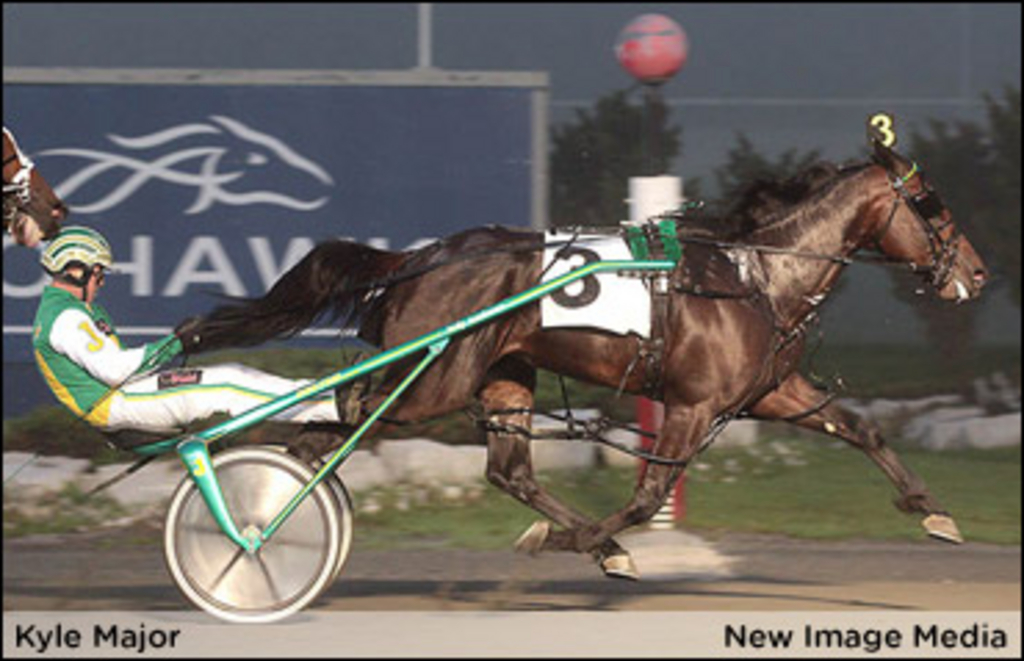 Published:
June 12, 2010 11:31 pm EDT

The Pepsi North America Cup picture became more murky after all three favourites faltered in Saturday's trio of Burlington Stakes divisions on a foggy night at Mohawk Racetrack
.
Kyle Major left sharply in the opening $100,000 split from post three and landed in third position through a first quarter in :27.1. Driver Jody Jamieson wasted no time in sending him to command in the second quarter and led through middle-half splits of :55 and 1:23.3.
As the field reached the top of the stretch, Kyle Major and longshot Twin B Warrior (Randy Waples), who had worked out a pocket trip, began to separate themselves from the rest of the field, which included the overwhelming favourite, Sportswriter (Mark MacDonald), who was caught behind dull cover on the final turn.
With a punishing :26.3 final quarter, Kyle Major easily held Twin B Warrior at bay with Dr Dreamy (Daniel Dube) rounding out the top three. Sportswriter was not able to hit the board and had to settle for fourth. The winner returned $9.10 in the mild upset.
"You know, he [Kyle Major] was lightly raced last year and he was third in the Breeders Crown in his only foray in the major stakes races," said Jamieson afterwards. "We're not going to tell everyone how good we are just yet. We want to win the North America Cup first and this is just the first step."
The victory was the fourth in seven tries this season for the son of Art Major - So Clear, who is trained by Shawn Robinson for owner Robert Hamather of Exeter, Ontario. The winner's share of the purse bumped his career bankroll to just over $238,000.
The second division was blown wide open approaching the half when heavily favoured Rock N Roll Heaven (Daniel Dube) made a surprising break in stride just as he had cleared to command. At that point, second choice Ideal Matters took over command for driver Dave Palone and cruised to an easy 1:50.1 tally.
Longshots Stonebridge Tonic (Doug McNair) and Mach Dreamer (Luc Ouellette) rounded out the top three. The winner returned $13.70 while the show ticket on the runner up was worth $138.10.
"I just wanted to nurse him [Ideal Matters] into the first turn and I thought I was in a good spot with Danny [Daniel Dube - driver of Rock N Roll Heaven] coming," said winning driver Palone. "It looked like when we headed to the half there that the timer might have flashed up and his colt just spooked sideways. My horse was handy enough to just get inside of him and he really finished strong. He's got a beautiful mouth and a great attitude, that colt of mine."
The son of Western Ideal - Art Matters has now won six of nine starts this season after going unraced at two. The victory improved the Mike Vanderkemp trainee's earnings to just over $134,000 for owners Brittany Farms, Adam Victor and Son Stable, Mel Hartman and Island View Partners.
The final division produced the biggest upset of the night as Keystone Raptor came flying out of the fog to score in 1:50.3 for driver Jack Moiseyev. The son of Astreos - Miss Rose got up in the final strides to nip fellow longshot B P Chimo (Sylvain Filion) with Aracache Hanover (Doug McNair) finishing third.
Keystone Raptor returned a whopping $81.10 to win while triggering a triactor worth $7,225.
"These are the toughest horses he's [Keystone Raptor] been against, this week and last," said Moiseyev. "You know when he gets a good trip he always has a good finish and tonight it worked out perfect for us. I think we'll give him a shot next week [in the Pepsi North America Cup eliminations]."
It was the first win of the season for the John Kopas trainee, who won twice while banking just over $190,000 last season for owners John Fielding, LLK Stable, Clay Horner and High Stakes Inc.
All three of tonight's winners are eligible to the eliminations for the $1.5 million Pepsi North America Cup, which come up next Saturday, June 19.
While the Burlington Stakes provided lots of upsets, there were no surprises in this week's edition of the $42,000 Open Pace.
The 3-5 favourite Bigtime Ball, driven by Paul MacDonell, shot to lead from Post 4 and put up a :25.4 opening quarter and half in :55.3 while the field followed in single-file alignment.
Major Hottie (Mark MacDonald) made the first over move from third en route to three-quarters in 1:23.3, but could get no where near the millionaire pacer, who was much the best winning in 1:50. The pocket-sitting Southwestern Dream (Daniel Dube) finished over a length behind with Ramegade Bruiser (Rick Zeron) third.
Bigtime Ball paid $3.40 to win. The six-year-old son of Presidential Ball-Keystone Trinidad, who has won half of his eight starts this season for earnings totaling $115,500, is owned and trained by Gord Irwin of Cobourg, Ontario.
To view Saturday's results, click here.
(With files from WEG)