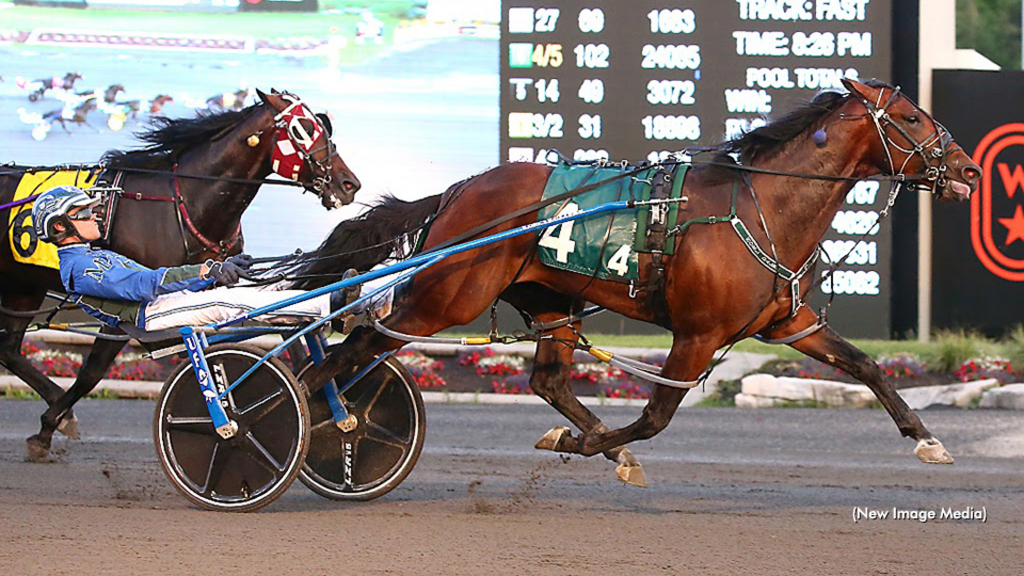 Published:
June 11, 2022 11:55 pm EDT
The 2022 Pepsi North America Cup has its set of finalists determined following a pair of $50,000 eliminations at Woodbine Mohawk Park on Saturday (June 11) with Pebble Beach emerging victorious in one and Beach Glass claiming the other.
Pebble Beach raced patiently in the first elimination as driver Todd McCarthy placed the odds-on choice in fourth to a :27 first quarter set by Market Based. Night Hawk then pulled out of third to press for the lead and soon cleared after a :55.1 half while McCarthy readied Pebble Beach for his attack. The Downbytheseaside colt edged first-over into the final turn, loomed toward Night Hawk by three-quarters in 1:23.1 and powered through the stretch mostly down the straight and narrow to post a 1-1/2-length win in 1:49.4. Night Hawk finished second, Max Max Hanover weaved through traffic for third and the remainder of the advancing spots were taken by Frozen Hanover and Kolby Two Step.
"That quite wasn't his go there on the front last week [winning the Somebeachsomewhere], but it worked out like that," Todd McCarthy said after winning the elimination. "I was really happy with the way that he did it. Even being first-over tonight – I was first-over a fair way out and was a little concerned about it, but he handled himself well and when I asked him at the top of the lane, he responded. He's a little dude; he's such a cool horse to be around and is a lot of fun to drive."
Winning his ninth race from 14 starts, Pebble Beach has now banked $431,750 for owners Patricia Stable, Joe Sbrocco, Country Club Acres Inc. and LAexpressfoderadeovolente. Noel Daley conditions the colt, who paid $3.90 to win.
Driver Yannick Gingras, acquiring the drive on Brent MacGrath pupil Beach Glass, fired for the lead and kept his charge to task to take the second Pepsi North America Cup elimination in 1:51.
Beach Glass overtook I Did It Myway to lead after a :26.3 first quarter and cruise under minimal pressure through middle fractions of :55.2 and 1:23.3. Spinning for home, the Somebeachsomewhere colt faced a pocket-popping challenge from I Did It Myway and held him at bay as he crept nearer to the finish to settle for second by three-quarter lengths. Ario Hanover hustled from last to take third with Ron and Fourever Boy rounding the finalists.
"He's a very green horse – Yannick said he was waiting on the horses a little bit and he had to shake him up, and we were feeling that was happening in the last couple of starts," trainer Brent MacGrath said after the race. "He really needed this race bad and he needed to get stretched out like he did there tonight and woken up a bit… he was good. Very good."
Collecting his fourth win from seven starts, Beach Glass has now earned $80,750 for owner/breeder Schooner II Stable. He paid $3.60 to win.
With the finalists in place, the field for the 2022 Pepsi North America Cup will receive their posts on Tuesday (June 14) in a special livestreamed draw hosted by Chad Rozema and Jason Portuondo. The draw is scheduled to take place at 12 p.m. (EDT).
To view Saturday's harness racing results, click the following link: Saturday Results – Woodbine Mohawk Park.