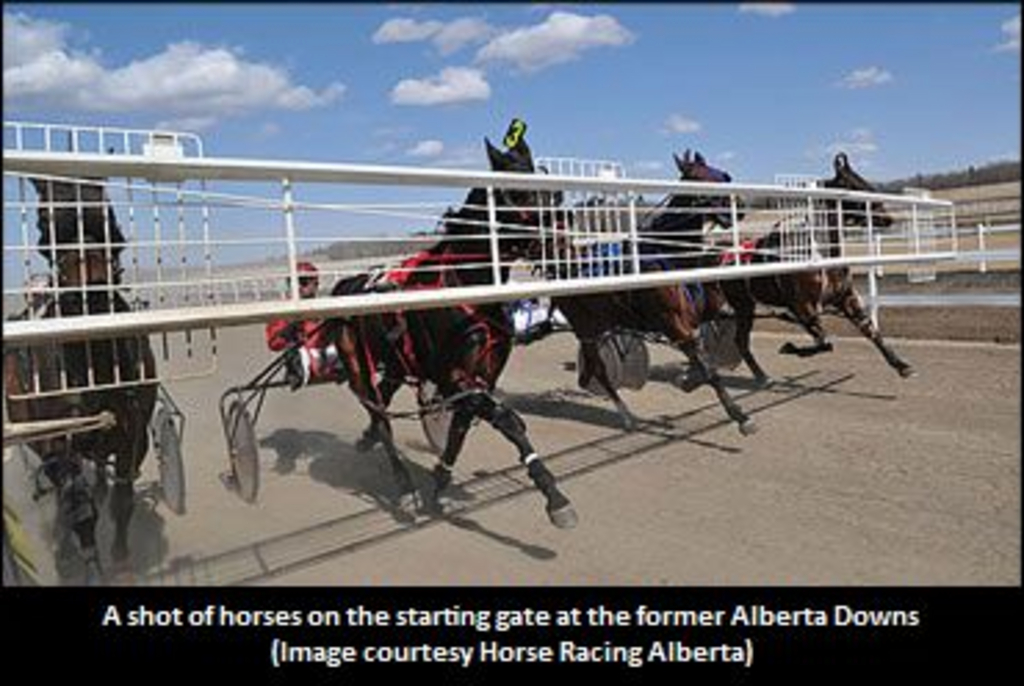 Published:
June 11, 2018 10:48 am EDT

Peter Watts recently drove out to Lacombe and spent a couple of hours with Kurt Belich and Ross Morrison – the men who now own and operate the Track on 2, and they have some pretty ambitious plans for the property. Fortunately for horse racing, the entrepreneurs want the sport and the business to have a presence in central Alberta.
"Ross and I both have ties to the business community here," Belich explained. "We have a unique facility for this part of the province and we're hoping to grow it as an entertainment venue, a gaming destination, and a place that offers something for everyone. We're open minded about what could take place here. We're already getting inquiries and we're still trying to get our buildings refurbished."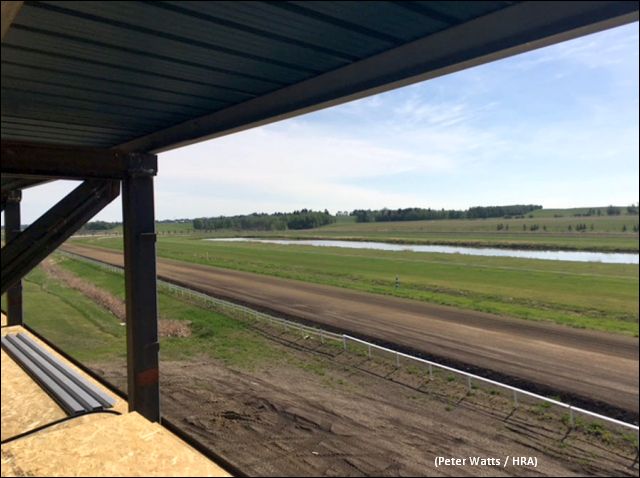 A shot of some of the progress that is being made at The Track on 2 (Image courtesy Peter Watts / HRA)
There are plans to add more space for stabling. At the moment, the facility can handle about 100 horses. There are plans to add some type of facility for horsemen. But the main emphasis right now is on the grandstand. Watts got a tour and saw what it will hopefully look like when the renovations are completed this summer.
"We've added washrooms on both floors," Belich noted. "We're putting in a kitchen on the ground level to service the building. There will be a full restaurant and bar on the main level. We'll have an all-purpose room on the second level and it will be the biggest room of its kind in the area. We're getting calls about whether we could handle things like weddings. We could do that. We're getting calls about community meetings. We could handle those, too."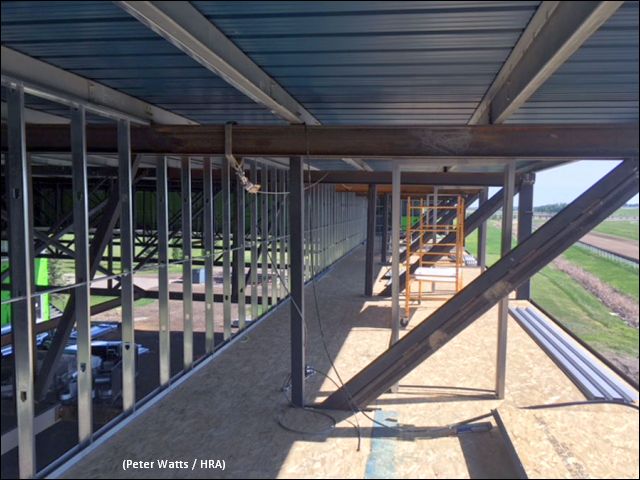 A shot of some of the progress that is being made at The Track on 2 (Image courtesy Peter Watts / HRA)
"We're adding a couple of private boxes along with space for racing officials. There will be a covered walkway out to the boxes which will sit under the roof and provide an excellent view of the racetrack. The whole place will have capable wi-fi service because in today's world that's really important.
"We're aiming to have the construction work done well before Labour Day. We'll have ten days of harness racing this fall. I want my staff in place and time to train them before we open.
"And then we're going to see what other events we can add to the mix. I'm going to go to the Millarville races on July 1, just to see how they handle a race day and a farmers market. That's another idea we're thinking about. Imagine if we could make this a place where area merchants want to be and what could happen if people in the area felt it was a destination for them."
From a racing perspective, it's a place both Shirley McLellan of Horse Racing Alberta and Fred Gillis of the Alberta Standardbred Horse Association think could become a fixture on the Alberta racing circuit. The ten days this fall will be a good test for a new facility, incorporating live racing and wagering, simulcasting, and, perhaps, some stabling. There will be a mixture of live tellers and machines spread out through the grandstand.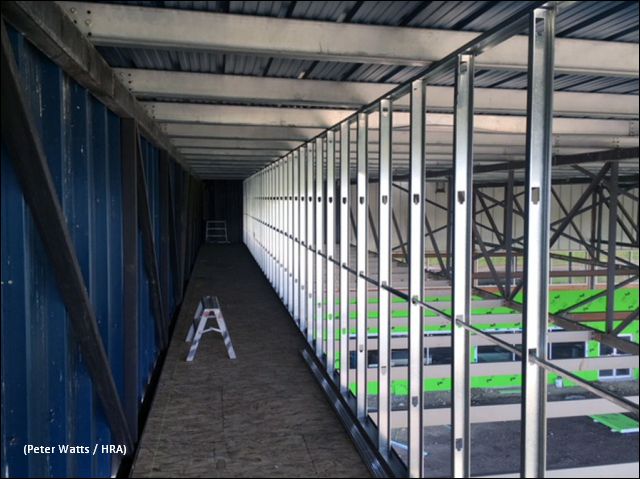 A shot of some of the progress that is being made at The Track on 2 (Image courtesy Peter Watts / HRA)
"I really applaud what they're doing," McLellan told Watts. "They've made a considerable investment even before they're open for business, and it's just nice to see the positive spin they've taken towards racing. We need more of that in this province. I'm impressed with their overall plan to be a top entertainment destination for the area and really pleased that they want horse racing and that they are prepared to do what needs to be done to accommodate both the sport and the business."
"Our board was unanimous in its support of Track on 2's application for racing dates for this fall," Gillis told Watts. "With Northlands racing Friday and Saturday evenings in September and October, We think we'll have enough horses to put on a show in Lacombe on Sundays. It's a reasonable commute, especially for those horsemen who have property in the area.
"We've now confirmed that our fall racing dates for November and December will be at Century Downs. It'll give us a total of 101 days for 2018, including a New Year's Eve card on Monday, December 31."
Now that 2018 scheduling is completed, it's hoped that planning can begin on a 2019 calendar that will include Century Mile, which is slated to open in the first quarter of 2019.
"It'll provide for a little stability for horsemen," both McLellan and Gillis told Watts. "It'll give horsemen a chance to plan their own lives a bit better than the scramble we've had the past few years."
(Peter Watts / thehorses.com)