Published:
June 10, 2012 03:54 pm EDT

Double millionaire pacing mare Dreamfair Eternal fanned three-wide around the final turn and surged to a 1:49 victory breaking her own divisional track record in the $184,000 Artiscape Pace on Sunday afternoon at Tioga Downs.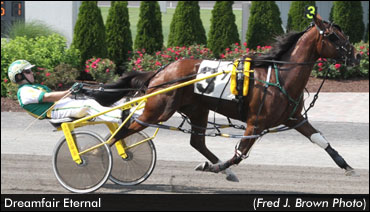 Dreamfair Eternal, who established the former track record of 1:49.4 in the 2010 edition of the Artiscape Pace (which was matched last year by Anndrovette), was driven to victory by Jody Jamieson for trainer Pat Fletcher and owner-breeder John Lamers of Ingersoll, Ont.
Rocklamation (Ron Pierce), Put On A Show (Brian Sears), and Anndrovette (Tim Tetrick) engaged in an early battle for the lead from the outer posts seven through nine during a :26.1 opening quarter while insider Dreamfair Eternal dropped back into sixth. Out three-wide off the gate, Anndrovette pressed on to take the lead before Put On A Show forged to the top and cleared in front of the grandstand.
Put On A Show proceeded to the half in :53.4 with Chancey Lady (David Miller) advancing first over and Dreamfair Eternal following her cover. Chancey Lady applied pressure to the leader as they approached three-quarters in 1:21. At that point, Dreamfair Eternal angled three-deep and swept to command off the turn en route to the one length victory in a career-best equalling 1:49 flat. Rocklamation finished second while Drop The Ball (Yannick Gingras) came on for third.
"That was great bunch of mares," commented Jamieson in the winner's circle. "There was a speed duel up front there for a bit. This mare, all she does is chase horses down and she just digs in. I said jokingly to Pat maybe we'll just roll her today with the rail, but he gave me a funny look so I changed my mind real quick and the trip couldn't have worked out any better.
"Chancey Lady got me as far as I needed," continued Canada's reigning Driver of the Year. "She's just a great mare. There's not many mares that could track her down from that trip. I just had to make sure I didn't move too early in the turn. I've been having a little trouble with her -- even at Mohawk -- on the turns, but Pat rectified those issues here and I can't say enough about this track. The track is as good as I've ever seen it, very speed favouring, but just an amazing surface today."
Dreamfair Eternal, a daughter of Camluck and J Cs Nathalie, paid $19.20 to win for the first time in four starts during her eight-year-old year. Lifetime, Canada's 2010 Horse of the Year has recorded 54 victories while amassing over $2.5 million in purse earnings.
Two races later, millionaire pacer Clear Vision got up in the nick of time to capture the co-featured $182,000 Bettors Delight in 1:48.2 for driver Matt Kakaley and trainer Ron Burke, who also co-owns as Burke Racing Stable LLC with Weaver Bruscemi LLC, The Panhellenic Stable Corp., and James Koran.
Bettor Sweet (John Campbell) charged to command from the center of the track and posted a sizzling :25.3 opening quarter with Foiled Again (Yannick Gingras) hot on his helmet and eventual breaker Rockincam (David Miller) in third.
The defending Bettors Delight champion carved out middle splits of :54 and 1:21.1 with Razzle Dazzle (Brian Sears) advancing first over before dropping into third and Clear Vision following his cover. But at the third quarter station, Foiled Again pulled the pocket and Clear Vision charged up three-wide.
Bettor Sweet, Foiled Again and Clear Vision battled down the stretch, but it was Clear Vision who got his nose to the wire first in a three-horse win photo to establish a new mark of 1:48.2. Foiled Again edged out Bettor Sweet for second place honours.
"He was very strong today," said Kakaley of the winner. "He's got a good late kick. He raced really good at London just missing Foiled Again [in the Molson Pace]. I didn't think I was going to blow by or anything, but I thought I had a good shot at it. I just wanted to get away in the middle and follow cover. That was the main plan all along so it worked out."
Clear Vision paid $6.10 to win as part of the four-horse Burke entry. The six-year-old Western Hanover-Artistic Vision gelding notched his third victory of the season in 11 starts and 19th lifetime while pushing his bankroll to over $1.1 million.
George Brennan guided New York Kitty (1:52.1) and Eighthunrdolarbill (1:51.1) to a pair of victories in the New York Sire Stakes for three-year-old filly pacers for trainer Casie Coleman while Jeff Gregory captured the other division with the Robert Riddle-conditioned Major Look (1:50.1).
Ok Commander, driven by Doug McNair and trained by his father Gregg, won the afternoon's Open Pace in 1:49.2.