Published:
May 9, 2018 01:08 pm EDT
Driver Dan Noble and trainer Dan Ater reigned supreme during the recently-concluded live meet at Miami Valley Raceway.
Miami Valley ended its 87-card 2018 meet on Monday (May 7) with higher average daily handle for the fifth consecutive year and the highest purse distribution (over $14 million) in its brief history.
The meet's leading driver was Dan Noble with 176 wins. Noble overtook defending champion Trace Tetrick (149) in the final month of the meet. Other top reinsmen during the meet were Chris Page (110), Jeremy Smith (99), Tyler Smith (96) and Kayne Kauffman (93). All six leading drivers steered their mounts to over $1 million in purse earnings.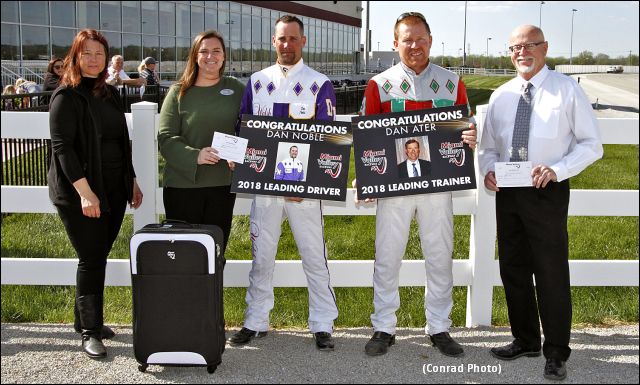 Leading driver Dan Noble and leading trainer Dan Ater (represented by his son, Kyle) were feted in the Miami Valley winner's circle on closing day by (L to R) Executive Director of the OHHA Renee Mancino, Racing Operations Manager Helen Carlo and Race Secretary Gregg Keidel (Conrad photo)
On the training side, veteran Ohio Hall Of Fame conditioner Dan Ater garnered his first MVR title by a single victory (39-38) over Nicole Stewart. With a UTR of .304, Ater's barn raced to $520,932 in purse earnings during the meet. Next in the standings were Tyler George, Bill Dailey, Jeff Brewer and Dan Noble. A total of 13 trainer stables earned over $200,000 at Miami Valley in 2018, while an additional 23 surpassed the $100,000 earnings plateau.
Miami Valley Raceway congratulates the winners and says thanks to all the 2018 participants that contributed so much to a very successful meet.
(Miami Valley Raceway)