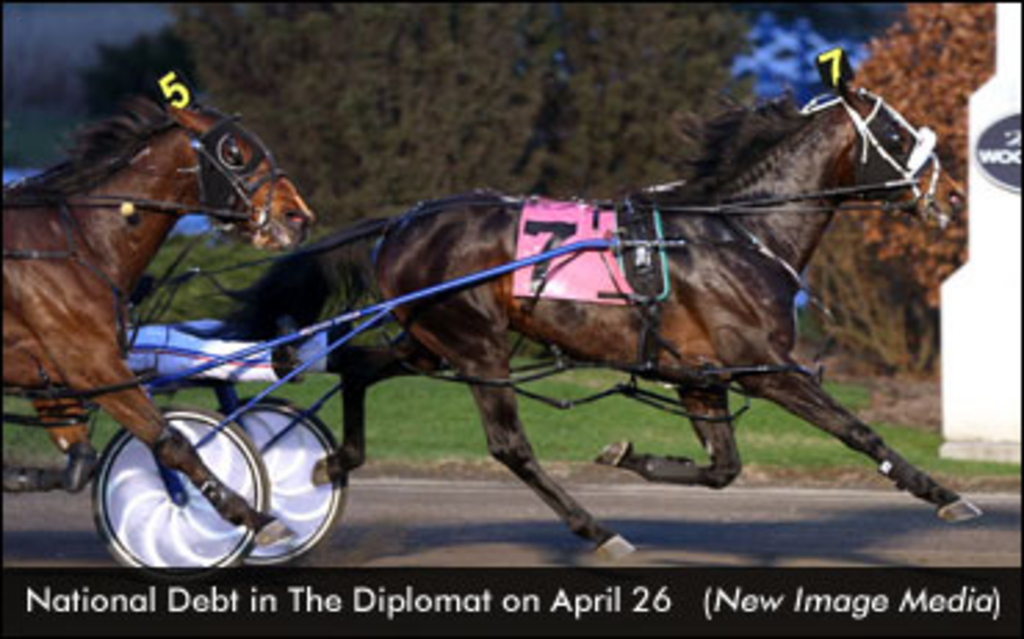 Published:
May 9, 2014 07:23 pm EDT
After tasting defeat for the first time in his career last week, National Debt will look to regain top form in this year's $59,800 edition of The Diplomat final, Saturday at Woodbine Racetrack.
The son of Allamerican Native posted seven straight victories to start off his career prior to finishing second in the second leg of The Diplomat on May 3.
"He scoped clean following the race and his blood came back really well," noted trainer Bob Young. "Although the track was deep, along with a big head wind, he got beat and now the pressure is off."
National Debt went a perfect four-for-four last year as a rookie racing in Alberta for O'Brien Award winning horseman Kelly Hoerdt, before completing the series sweep of the Buddy Gilmour for U.S.-based trainer Ron Coyne Jr.
He then captured the opening round of The Diplomat Series in comfortable fashion in his debut for Young, before faltering last week.
Alberta owners Hoerdt, Erna and Blair Corbeil, and their new partner, J&T Silva Stables, own the talented pacer, who has $75,750 in earnings along with a 1:50.3 speed badge.
Despite being defeated, Young still remains confident in his pupil.
"He's had a really good week and there are no issues," he said. "Maybe we'll look for a helmet this week and see what develops. My thoughts on him certainly haven't changed."
With the $1 million Pepsi North America Cup on the horizon, Young has the June 14th date marked on his calendar. National Debt is a top-ranked Cup eligible in Trot Magazine's 2014 Spring Book, assessed at odds of 18-1 as the ninth choice.
"We're going to do our part to have him at his best for this weekend," Young said. "After that he'll get a few weeks off and prepare for the Somebeachsomewhere Stakes, then it's the North America Cup. A lot of three-year-olds are qualified now and racing so we'll see what everyone is made of in the next couple of weeks."
In 37 editions of The Diplomat, only Tell All and Up The Credit have won the Diplomat final en route to a Pepsi North America Cup victory.
The Diplomat Series is for three-year-old pacers, who are non-winners of $100,000 in 2013.
This year's field will line up as follows:
1. Silverhill Shadow
2. Prince Clyde
3. Roger Mach Em
4. Big Surf
5. Somewhere In L A
6. Account Rollover
7. National Debt​
To view Saturday's harness racing entries, click on the following link: Saturday Entries - Woodbine Racetrack.
(With files from WEG)