Published:
May 8, 2012 04:49 pm EDT

It has happened before, strangely enough, but last week a drunk man made his way onto his local racetrack during off hours --- not with his horse, but his truck
.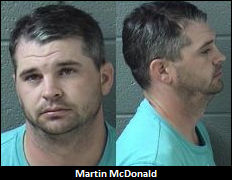 According to a report by the Odessa American, at 1:18 a.m. on Friday, May 4, a drunken 28-year-old, Martin McDonald, used his truck to ram through a barrier to get onto the course at New Mexico's Black Gold Casino racetrack.
The reason for the wildly dangerous endeavour? Well, according to the report, he wanted to see what it would be like to drive in NASCAR.
After being called, police came and eventually corralled the wannabe stock-car racer. The authorities initially attempted to detain McDonald, who apparently didn't want to brake for any pit stops. The police eventually blocked all of the exits from the track, which ultimately led to McDonald's apprehension.
"Nothing like this has happened. The casino's been open for several years and we've never had this type of issue out there before," Hobbs Police Department Officer Mike Stone was quoted as saying in a report by KSDK.com.
The Odessa American states that McDonald, who eventually passed out drunk in the back of one of the police cruisers, caused more than $25,000 damage to the track. KSDK.com reported that McDonald caused $40,000 in damages overall.
The situation is somewhat reminiscent of a July 2011 story from an unnamed raceway in Glenboro, Manitoba. In that instance, an unidentified drunk driver made his way onto the racetrack at 3:30 a.m. and ended up hitting an unidentified victim, sending the 25-year-old through the windshield of the Buick in question.
(With files from the Odessa American)