Published:
May 7, 2017 02:30 pm EDT
The Truro debut for former Ontario-based Goliath Reigns was a winning one, knocking off Nova Scotia kingpin Surrealist in the feature race as Truro Raceway kicked off its 2017 season.
Sent off as the betting choice in the $1,475 Winners Over, Goliath Reigns was hustled out early by driver Todd Trites and was on top through every call with fractions of :29.2, 1:00.3 and 1:30.4. Surrealist (Paul Langille) enjoyed a pocket trip throughout the mile and came out for the stretch drive but fell a half-length short in the 1:59.3 mile over the surface rated 'good'.
Distinctiv Rusty (George Rennison) finished third but was placed sixth for a pylon violation, moving up Heart And Soul (Clare MacDonald) to complete the triactor.
A nine-year-old son of Goliath Bayama - Tiger Reigns now owned by Dawn Ellis Abbott of Lower Onslow, N.S., Goliath Reigns notched his second win of the season -- his first coming in January at Western Fair. He now boasts 11 career tallies with earnings exceeding $82,000.
Goliath Reigns was featured in the Truro Daily in advance of the May 7 opener. The article reinforced the optimism surrounding the 2017 season at Truro.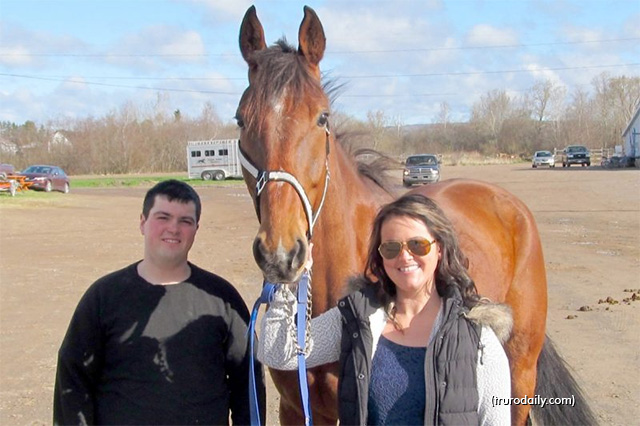 Groom Tristan MacLean, Goliath Reigns, owner-trainer Dawn Ellis
.
"We have several owners from the Halifax area who have returned to harness racing –- this is a positive spin," Truro's Diane Daniels told the Truro Daily. "It's really nice to see a resurgence in the love of the horse, this is great for the sport."
"We're working on securing major sponsors to try some of the initiatives which we want to do around the grounds," said Kelly MacEachen, NSPEC Complex Events Coordinator. "We're offering space in our grandstand during live race cards to people and charities wanting to fundraise. Looking ahead to Canada Day weekend, we'll be doing some special things, we'll be holding special events during our live race cards.
"Besides the veteran horsemen on the grounds we have an exciting group of young drivers, trainers and grooms now involved at Truro Raceway."
To view the results from Sunday's card at Truro, click the following link: Sunday Results - Truro Raceway.