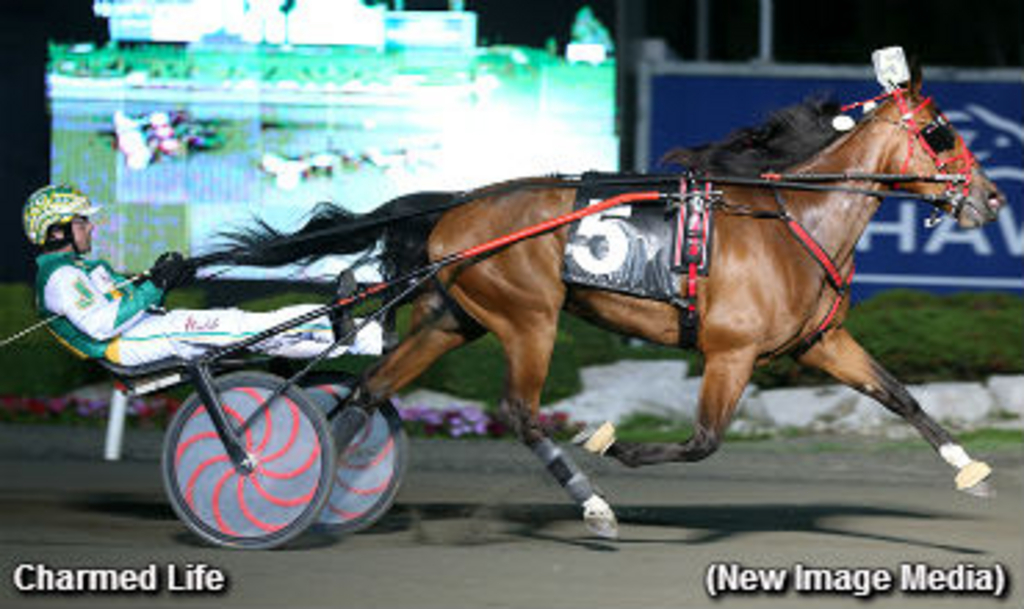 Published:
May 7, 2017 06:37 pm EDT

Charmed Life spoiled the coming-out party for defending Older Mare Trotter of the Year, Hannelore Hanover, with a half-length, 1:53.2 win in the $86,400 Miami Valley Distaff Sunday afternoon at Miami Valley Raceway.
Leaving from post seven, Charmed Life and driver Chris Page took back to sixth off the gate as Barn Girl (Aaron Merriman) went to the lead from post six. After the quarter-mile marker, reached in :28.1, track record holder Kestrel (Josh Sutton) tipped out and took the lead before the :56.3 half.
Past the grandstand for the first time, Hannelore Hanover (Yannick Gingras), the 1-5 favourite, began to make her move from fourth, but picked up cover from Churita (Trace Tetrick) from third. Churita challenged Kestrel to the three-quarters in 1:24.2, with Hannelore Hanover second-over and Charmed Life third-over.
"I was following the horse to beat, so I thought I was in a good spot," said Page. "The wind was a factor today and I was hoping she could overcome it."
In the stretch, Hannelore Hanover fanned three-wide around Churita with Charmed Life even further out. Charmed Life hit the wire first, followed by Hannelore Hanover, Churita, and Barn Girl.
"It was her first start of the year," said Yannick Gingras of Hannelore Hanover. "We qualified her pretty easy. Maybe she was a little short and maybe I could have qualified a little harder. It's a long season."
Trained by Rene Allard for co-owners Allard Racing, Yves Sarrazin, and VIP Internet Stables, the seven-year-old Charmed Life won for the third time in four starts in 2017. The win pushed the Majestic Son–Christina M mare's lifetime earnings past $1.1 million. She paid $21 to win.
"Rene said if I can just sit chilly, [she has] one run and will have a big kick on the end of it," Page said. "Boy, was he right!"
(Miami Valley Raceway)