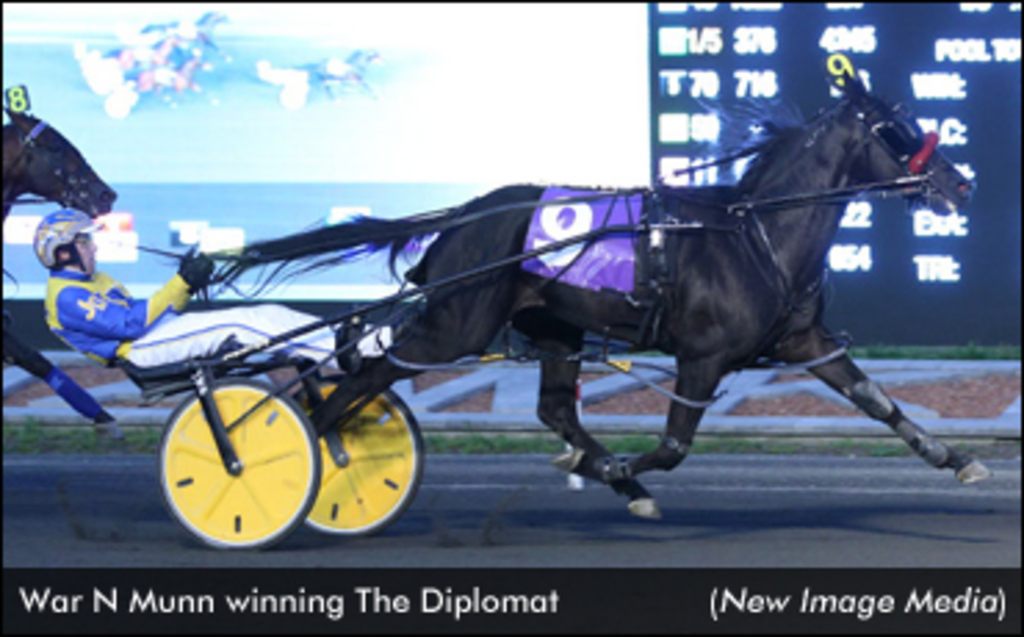 Published:
May 7, 2016 09:13 pm EDT

War N Munn overcame a parked trip from the outside post in the $57,600 final of The Diplomat to earn his third series title during an action-packed Saturday night (May 7) card of harness racing at Mohawk Racetrack.
Jonathan Drury worked out the winning trip aboard the three-year-old Stonebridge Regal colt for trainer Carmen Auciello and owner George Munniksma of Washington, New Jersey.
Drury had War N Munn positioned overland in seventh-place while Dreamfair Mesa (Anthony MacDonald) and Flaherty (Trevor Henry) forged to the front into a blazing :25.3 opening quarter. With the inner advantage on his rival (post five vs. post seven), Dreamfair Mesa secured the lead while Flaherty dropped into the pocket spot as they raced into the first turn.
However, Worthy Art (Chris Christoforou) went first over from fourth down the backstretch and cleared to command at the half in :54.3. Gerries Sport (Sylvain Filion), the 1-5 favourite, had followed his cover and moved up next alongside that foe as they raced by three-quarters in 1:22.
Meanwhile, War N Munn tracked the favourite and Drury launched him three-wide into the stretch. He took over the lead down the lane and drew two lengths clear for the career-best victory in 1:50.2 -- the fastest winning time on Canadian soil so far in 2016 for a sophomore male pacer. Shocking Image (Doug McNair) closed late to secure the runner-up honours over Worthy Art while Gerries Sport finished fourth.
Sent postward as the 9-2 second choice after winning his April 30 series division, War N Munn paid $11.50 to win. He has now won six of his 10 starts this year, including finals of The Count B, Youthful and now The Diplomat, banking over $100,000.
"He shows up every night, he comes to play and he's such a nice horse," said Auciello in a post-race interview. "I knew tonight with the nine-hole it was going to be tough, but JD [Jonathan Drury] couldn't have done a better job at working out the trip.
"JD played the hand he was dealt as good as he could. We knew if he left, he'd have to go :25 to make the front and that wouldn't be good. You take back to last and that's not going to work out. So he followed the right horse and it couldn't have worked out better."
Auciello also noted that he is seeing progress working with the colt, who was racing on the left line and hitting a knee in previous starts.
"He's still baring out a little bit, but we put a Murphy blind on the outside and that helped most of it and we got him off the knee so he's at his best right now," said the Stouffville, Ont. conditioner.
The Diplomat Series, which is for three-year-old pacing colts and geldings that are non-winners of $100,000 in 2015, included four North America Cup eligibles: Some Gold (fifth), Dreamfair Mesa (sixth), Inspiration View (seventh) and Flaherty (ninth). While War N Munn is not eligible for the Cup, he will compete in the Ontario Sires Stakes. The first Gold event is scheduled for May 27 at The Raceway at the Western Fair District.
"He's not the best on a half-mile track, but we'll do our best to get him around," said Auciello.
Three-year-old pacing fillies also faced off in their $57,400 series final, and it was Lay Lady Lay who was crowned the Princess champion after a wire-to-wire winning effort in rein to Doug McNair.
The daughter of Up The Credit fired out to the lead from post seven and carved out fractions of :27.2, :57.1 and 1:26 en route to the one-length victory in 1:54 flat. She paid $5.60 to win as the second choice on the toteboard. Danish N Coffee (Mike Saftic) closed from the outer flow, but Divas Image (Clarke Steacy) rallied by late to snag the runner-up honours.
The late-blooming Lay Lady Lay, who had some health issues last year according to her trainer Chris Matthews, earned her first victory of the season following a pair of top-three finishes. However, the $12,000 Forest City Sale yearling purchase now has almost $62,000 in the bank for Matthews and his co-owners from the 1posse2steves3brothersstb group.
"We were surprised we got her for that price; she was a good looking filly and videoed good," noted Matthews of the filly out of the stakes-winning mare Lady D M. "She just got overlooked, I guess. We'll take it though. We won't complain.
"We had to wait on her a little bit, but she showed us some step so we were happy," he added.
The Ontario Sires Stakes eligible will try her luck in the WEG SBOA Stakes next, with eliminations in two weeks on Saturday, May 21.
This week's $34,000 Preferred Pace promised a showdown between the Horse of The Year heavyweights from Canada and the U.S., with State Treasurer making his second seasonal start and Wiggle It Jiggleit in town prepping for the Confederation Cup. Those two did duke it out, but it was Nickle Bag who stole the spotlight, building off his winning momentum from a week ago when he paced the nation's fastest mile of the season in 1:49 flat.
State Treasurer (Chris Christoforou) and Wiggle It Jiggleit (Montrell Teague) left together from posts four and six, respectively, but inside starter Nickle Bag emerged with the lead early in the first turn for driver Trevor Henry. However, State Treasurer drove on to clear Nickle Bag into the :26.2 first quarter while Wiggle It Jiggleit took back and tucked into fourth-place behind Nirvana Seelster (Rick Zeron).
State Treasurer led the field of seven to the half in :55 before Wiggle It Jiggleit tipped out and accelerated to confront his older rival approaching three-quarters in 1:22.4. Their battle continued into the stretch with Wiggle It Jiggleit gaining a slight advantage. Meanwhile, Nickle Bag rallied to their outside and managed to edge by late for the half-length victory over Wiggle It Jiggleit in 1:51.1. State Treasurer finished two and a half lengths behind in third.
Snubbed at odds of 6-1, Nickle Bag returned $14.90 to his backers at the betting windows.
The six-year-old Rocknroll Hanover gelding already has 10 wins on the year and a seasonal bankroll of $184,860 from 16 starts for trainer Bill Robinson and owners Linda Loyens of Denfield, Ont. and Harry Loyens of Ilderton, Ont. Lifetime, the 29-time winner has earned $644,490.
As for the Confederation Cup-bound Wiggle It Jiggleit, trainer Clyde Francis told WEG's Communications department that, "We thought he would race a little better than he did. He didn't look as good as he did when we trained him the other day. I hope there is not much to it.
"He's always had a little funny way of going, but he was worse tonight," he said, adding, "You just back up and regroup and try to find out what the problem is."
Henry also struck earlier in the $30,000 Preferred for distaffers aboard Waasmula, who lowered the Canadian season's record for older pacing mares below the 1:50 barrier.
Richard Moreau trainees Witch Dali (Drury) and Ms Mac N Cheese (Filion) raced 1-2 through fractions of :26, :54.1 and 1:22.1, with Ms Mac N Cheese flushed from the pocket when Waasmula began to advance from fourth with three-eighths to go. Waasmula swung off cover down the stretch and powered past the stablemates with Much Adoo (McNair) chasing her two lengths behind. Twin B Inspiring (Phil Hudon) came from last to show.
Waasmula stopped the clock in 1:49.3, winning for the fifth time this year from 13 starts and pushing her annual income to $88,240 for trainer Bruce Goit and owner/co-breeder Brent Vincent of Allenford, Ont. The eight-year-old daughter of Million Dollar Cam now has 27 career wins and total earnings approaching $800,000.
She was the 4-5 favourite and paid $3.70 to win.
To view Saturday's harness racing results, click on the following link: Saturday Results - Mohawk Racetrack.