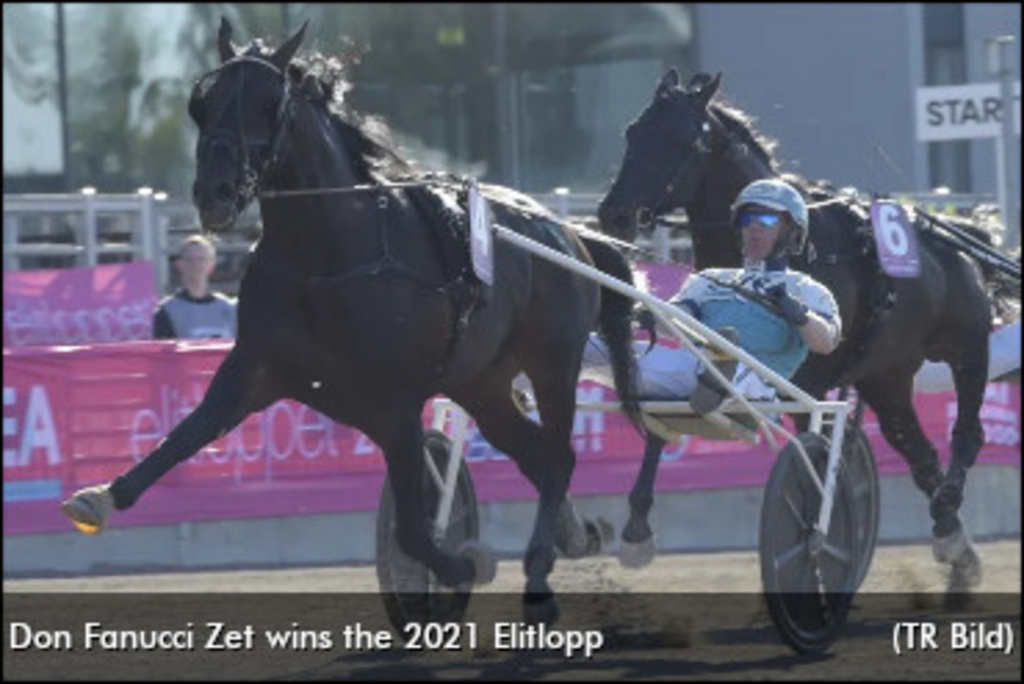 Published:
May 30, 2021 10:32 am EDT

After enjoying a second-over trip behind an extended duel between Vivid Wise As and Ecurie D, Don Fanucci Zet and Örjan Kihlström swept to victory in the final 50 metres of Sunday's (May 30) Elitlopp final, held at Solvalla.
Don Fanucci Zet angled second-over to stalk the cover of Ecurie D in the early stages of the race while Vivid Wise As (Alessandro Gocciadoro) controlled the pace as he did in the first elimination. The five-year-old son of Hard Livin was pinned in by a three-wide Aetos Kronos at the bell, but found room to angle three-wide with 600 metres to go. He closed in steadily through the final 300 metres, and after Vivid Wise As disposed of Ecurie D's sustained challenge, lifted to the fore in mid-stretch before edging away to win by a length in a stakes record 1:50.4.
Vivid Wise As held second; Gareth Boko (Mats Djuse) hooked wide out of traffic to narrowly nab the pocket-sitting Gelati Cut for third.
Daniel Redén trains Don Fanucci Zet, who is out of the pacing-bred Western Terror mare Kissed By The West, for Stall Zet. The victory comes one year after Redén had his Elitlopp win stripped due to the nerve procedure Propulsion received in the U.S.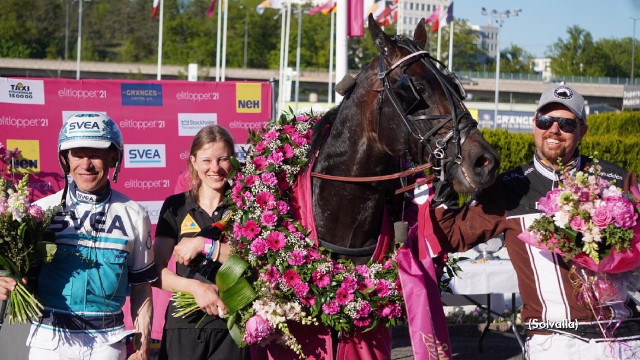 Vivid Wise As, Gelati Cut win Elitlopp eliminations
Vivid Wise As and driver Alessandro Gocciadoro led the entirety of the first Elitlopp elimination, delivering as the 9-5 favourite with a 1:52.3 score in the one-mile event. After establishing the lead from the pole, Vivid Wise As faced a first-over challenge from Don Fanucci Zet (Örjan Kihlström) — who circled three-wide at the bell — through the final 900 metres. The son of Yankee Glide responded well to that threat, digging in and keeping Don Fanucci Zet 1-1/4 lengths at bay to the winning post. Moni Viking (Björn Goop) and Aetos Kronos (Magnus Djuse), who finished third and fourth, respectively, also advanced to the Elitlopp final from the first elimination.
Gelati Cut and Gabriele Gelormini, sent off at 8-1 in the second elimination, took a similar path to victory. The son of Coktail Jet faced sustained pressure from Ecurie D (Ulf Ohlsson) through the entire last lap of the race, and was driven out to preserve his lead as the pressure intensified to the end of a 1:52 mile. Ecurie D only missed Gelati Cut by a neck. Gareth Boko (Mats Djuse) found a seam to split rivals in the final 100 metres to take third over pocket rival Cokstile (Vincenzo Gallo). Seismic Wave, the 2.2-1 favourite, was never in contention after failing to negotiate stalled three-wide cover up the far side.