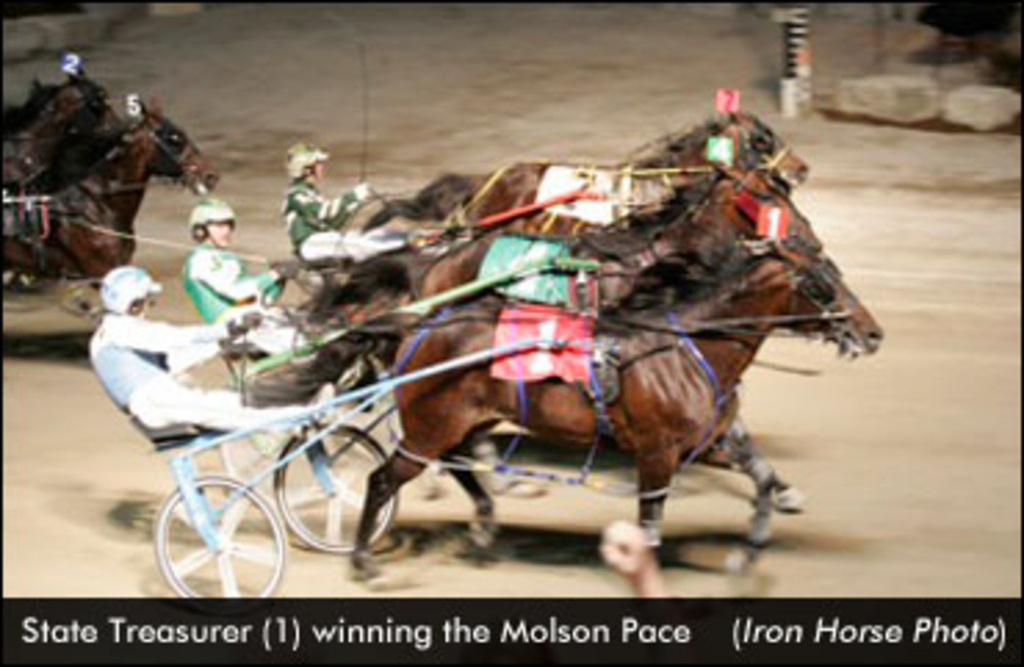 Published:
May 30, 2014 11:20 pm EDT

Despite a rocky start, defending Molson Pace champion State Treasurer circled a field of the sport's top pacers to take this year's $150,000 edition at The Raceway at the Western Fair District on Friday, May 30.
State Treasurer closed out the harness racing meet at Western Fair with a 1:51.4 triumph in the track's signature race with Chris Christoforou working out the winning trip for trainer Dr. Ian Moore and owners Sally MacDonald of Souris, P.E.I. and Paul MacDonald of Regina, Sask.
State Treasurer came from last at the half and edged out Apprentice Hanover (Jody Jamieson) and pacesetter Foiled Again (Yannick Gingras) in a three-across finish. He paid $4.90 to win as the 7-5 favourite.
Firing off the gate from the outside post seven, Foiled Again cleared to command over Dancin Yankee (Brett Miller) at the opening quarter in :26.1 while insider State Treasurer made a bobble at the start and dropped to the back of the pack.
A back-to-back winner of the Molson Pace in 2011 and 2012, Foiled Again was looking to become just the second horse to triple in the event and continued to lead the way past the half in :54.4 with Bandolito (Mark MacDonald) advancing first over and Apprentice Hanover (Jody Jamieson) following his cover. Levy Series champion P H Supercam (Jason Bartlett) was spotted third over.
With Bandolito looming first over, Foiled Again pressed on and reached the third quarter mark in 1:23. Meanwhile, Apprentice Hanover rolled three-wide while State Treasurer swept up from the backfield.
The iron-tough Foiled Again put up a valiant fight down the stretch, but was defeated as Apprentice Hanover edged by and a quick-closing State Treasurer reached up in the final strides to steal the glory.
After the race, State Treasurer survived a judges' inquiry into his early miscue and was declared the official winner.
"It feels real good for sure," said Dr. Moore of earning back-to-back Molson Pace victories with State Treasurer. "I sweated a little bit last year too, but this is a little different this year. I'm just glad there was no big problem leaving. He was right on the bit, I'm sure Chris will tell you all about that. He's a real good little horse and he tries his heart out. That's what I said to Trot Radio yesterday in an interview and he showed that tonight for sure."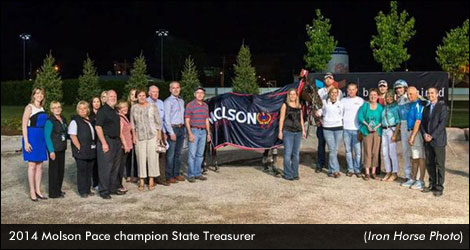 State Treasurer's bobble at the start also had Christoforou sweating early on, but the reinsman said he was able to work with his mount's quirks to engineer the winning trip.
"There was a tremendous amount of worry around this smaller track," said Christoforou. "It's hard to get around them all again, but I was sitting behind the right horse. I had the best horse in the race and I think he proved that tonight.
"I was hoping to get back down on Jody's back after I went three-wide and that worked out good," he continued. "I got him so he wasn't three-wide all the way around the turn. I know my horse drifts out a little bit in the stretch, which helped because I don't have to steer him much to get around one down the lane. I just started driving him before I even got him to the outside and he just kind of swooped his way by and he got his little head up in front and I'm real proud of him."
The victory was State Treasurer's fourth in a row and followed up a 1:48.3 lifetime-best effort in a Preferred Pace at Mohawk Racetrack last week. The five-year-old son of Real Desire and Ideal Treasure now boasts 17 career wins and a bankroll totalling $614,991.
Molson Pace Night was full of excitement for patrons with promotions galore. Earlier in the night, one lucky fan won the chance to sit behind former champion Foiled Again in a special two-seat jog cart for an early warm-up.
"My knees are still shaking," said Lynn Gilles after jogging the $6 million pacer that she has previously watched win the Molson Pace. "He was a teddy bear, gentle. It was a wonderful experience."
The first Gold leg of the 2014 Ontario Sires Stakes for three-year-old trotting colts and geldings was also contested on the Molson Pace Night undercard with upset winners dominating the action.
Tyrone Haji ($12.60) wore down pacesetter Starsaboveallerage to win the $52,500 opening division for the Hall of Fame team of driver Steven Condren and trainer Bob McIntosh.
With the inside post advantage, Starsaboveallerage (Chris Christoforou) led the field through fractions of :29.1, :59.4 and 1:29.2. Favourite Deweykeepumnwhy (Jody Jamieson) broke stride from the backfield approaching the half-mile mark while Scary Magic (Paul MacDonell) advanced first over before facing the same fate into the backstretch. Condren made his move from third with Tyrone Haji as they neared the three-quarters mark and prevailed in a career-best 1:59.2 clocking by a neck over Starsaboveallerage with pocket-sitter Dontcheatonmenow (Jack Moiseyev) finishing just a half-length behind in third.
Tyrone Haji earned one win and four seconds in six starts last year while competing exclusively in the Grassroots program. Tonight's Gold victory was his first in five sophomore starts and bumped his bankroll to $58,704. The Kadabra-Showee gelding is owned by the Robert McIntosh Stables Inc. of Windsor, Ont. and breeder Dave Boyle of Bowmanville, Ont.
Hitchin A Ride ($18) won the fastest OSS division of the night with a gate-to-wire effort.
Leaving from post one, the Angus Hall-B Cor Peatra colt and driver Jack Moiseyev carved out fractions of :29, :59.4 and 1:28.4 en route to the 1:58.2 triumph. The Tom Durand trainee was more than three lengths the best while Verdi (Paul MacDonell) finished second over pocket-sitter Massacaia (Sylvain Filion). The rough-gaited favourite, Massive Muscles (Jean Bernard Renaud), finished a distant fifth.
After going three-for-11 as a freshman, Hitchin A Ride pushed his career bankroll to nearly $60,000 while making his second start of the season. He is owned by Durand's wife June, along with Allan Smith of Oakville, Ont. and Ohio's Catherine Baker and Lynn Baker.
Massive Talent ($22) scored a maiden-breaking victory in the following division with Jody Jamison aboard for trainer Richard 'Nifty' Norman.
Crossing over from post five, Federal Strike (Bruce Richardson) set up shop on the front end while insider See The Wind (Sylvain Filion), the race favourite, broke stride. Federal Strike led the field through panels of :29.4, 1:00.3 and 1:31 with Derby (Dustin Jones) applying first over pressure. However, Jamieson had positioned Massive Talent second over and sent him three-wide nearing the third quarter mark before drawing clear in the stretch to prevail in 2:00.3. Entranced (Mike Saftic) followed the winner wide and closed well to secure the runner-up honours three-quarters of a length behind. Valorscross (Eddie Green) was third.
Massive Talent has now earned nearly $70,000 in 14 career starts for Toronto owner John Fielding.
O Narutac Perfetto ($5.70) defeated favourite Pasadena Star in a stretch duel to win the final OSS division.
Driven by Christoforou, O Narutac Perfetto established the lead from the inside post position through a :29.1 opening quarter before giving way to the leaving Alerthemedia (Eddie Green) from post five. However, O Narutac Perfetto retook the lead and trotted on top through middle panels of :59.2 and 1:29 while Pasadena Star (Steve Condren) advanced first over into second. The top two horses took off in a two-horse breakaway around the final turn and down the stretch with O Narutac Perfetto hanging on at the wire. The 1:58.3 win was the first this year for the Deweycheatumnhowe-Aiken For Clay gelding. Aggressive (Mike Saftic) rounded out the top three finishers four and a half lengths behind.
Owned by New York's Cataway Racing Stable and Pat Caturano, Meadowlands shipper O Narutac Perfetto now has two wins in 18 career starts and earnings totalling $55,327. He was racing from the Mark Steacy barn.
In other Friday action, the City Of London Series wrapped up with four finals, carrying purses ranging from $34,800 to $39,000. The series was for Ontario-sired pacers and trotters that are four years old or younger and non-winners of $10,000 lifetime as of midnight April 1.
The horse and gelding trotting division was won by Shadywood Kid ($16), who was left all alone on top early on with most of the field making breaks and then cruised wire-to-wire in 2:01.3 for Trevor and Shannon Henry. The maiden-breaking sophomore gelding is owned by the Trevor Henry Stables Inc. of Arthur, Ont. and John MacLeod of Kincardine, Ont.
Completing a sweep of the mares trotting elimination and final, the front-striding Ja El Diamond ($4.20) prevailed by neck over the late pocket-pulling Heroine Seelster in 2:02.1. Steve Byron drove the popular homebred three-year-old for trainer Pat Hunt and owner Glengate Farms of Campbellville, Ont.
Driver Mark MacDonald won back-to-back pacing finals with sophomore filly Lyons Katrina ($19.70) and four-year-old gelding Fortune Playboy ($2.30).
Trained by James Ciaran Morrison and owned by Geoffrey Lyons Mound of Burford, Ont., Lyons Katrina brushed three-wide down the backstretch and opened up five lengths before holding off Played By Anangel by half a length at the wire for a maiden-breaking victory in 1:57.1.
The Patrick Shepherd-trained elimination winner Fortune Playboy kept all challengers at bay as he went down the road to take his final in 1:57.3 by half a length over Hussys Blu Boy for Holland Racing Stable of Niagara-On-The-Lake, Ont.
Trained by Corey Johnson and owned by Debbie Element of Waterdown, Ont., Nothingbutmach ($13.20) and driver Scott Coulter won a $12,500 Preferred Pace in 1:54.1 while Gord Remmen's Glowing Fashion ($7.70) and Jamieson prevailed by a neck in 1:56.3 in a $7,000 Fillies & Mares Preferred 3.
To view Friday's harness racing results, click on the following link: Friday Results - Western Fair Raceway.