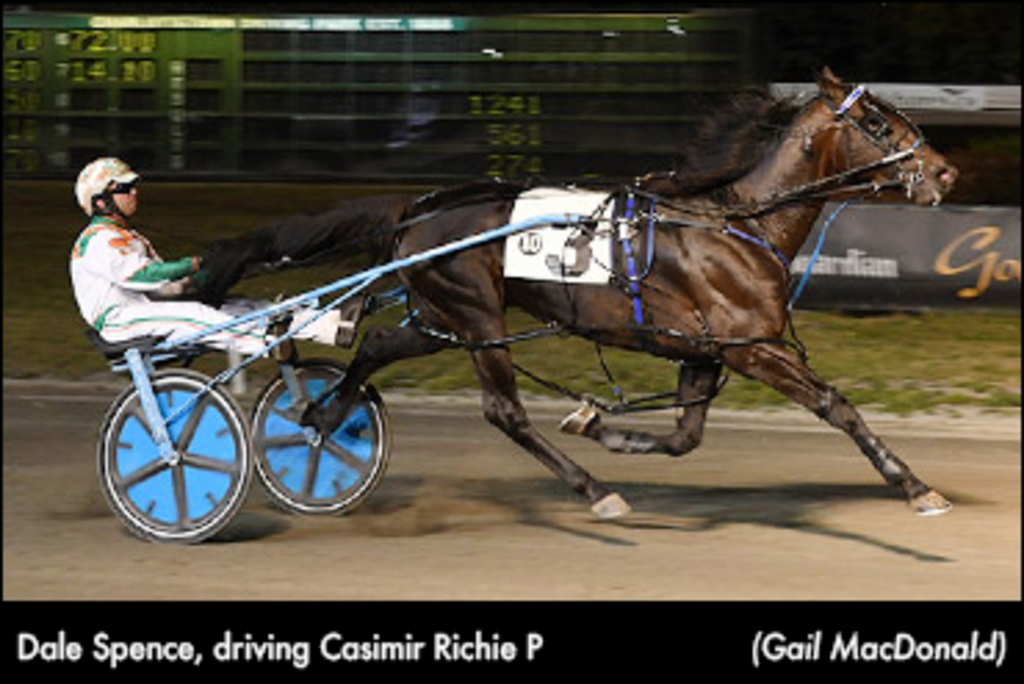 Published:
May 3, 2021 09:00 pm EDT
Having just completed his second winter as part of Dr. Ian Moore's southern operation, Dale Spence has opted to forgo a return to his Maritime base of operations in favour of plying his trade on the Ontario harness racing circuit, once it resumes — both to assist Moore and to build upon his almost 500 driving wins to date.
Spence, who, along with his fiancée, MacKenzie MacInnis, departed Prince Edward Island for Florida in the winter of 2020 to work with Moore, primarily in preparing two-year-olds for the races. He returned to P.E.I. in May and drove 46 winners — 12 of them in stakes — in an abbreviated season. Given the uncertainty of harness racing in Canada at the time, and despite mixed reviews of how government officials in the United States are handling pandemic mitigation, Spence and MacInnis reached out to Moore last fall about the possibility of re-upping with him for another winter stint in the Sunshine State.
"MacKenzie and I actually contacted Doc around the first of September and said, 'We'd be interested to go down again (to Florida), if you'd have us,'" Spence recently told Trot Insider. "And he said, 'That'd be great. Love to have you; not sure how things are going to go.'"
As it turned out, Spence found the winter sojourn both worthwhile and refreshing:
"It was like a breath of fresh air when we got down here. We fully expected things to be wild, but we got down here, and 98 per cent of the population's wearing masks. They were actually doing their part, which was not portrayed by the media in Canada. It's been — knock on wood — seamless down here ... I really think we're ahead of the ball game by coming down here this winter."
Now vaccinated against COVID-19 and refreshed from another winter out of the elements and around some of North America's most talented Standardbreds, Spence and MacInnis reached a fork in the road when it came time to break camp last week. And after being forced to postpone their wedding from last June to this year — and with those plans still uncertain — the pair decided now was the time to take the leap of faith and relocate to Ontario with Moore's operation.
"Last year, we went back to the Maritimes," Spence continued. "This year, we're actually planning on making the move to Ontario with Dr. Ian Moore, working for him, and I'm going to do some driving as well.... We weighed all the options down and looked at the stock we had this year. Obviously by the qualifying lines, we're confident in the stock we've got, and (so) it's time to make the move to Ontario."
Through his 10-year career in the bike, the 28-year-old Spence has amassed 481 wins in 2,994 starts — a 16 per cent strike rate. Given his successful track record and the wealth of experience he gained working with Dr. Moore through the past two winters, Spence felt it had become time to take the leap of faith and relocate to a more lucrative circuit with myriad opportunities.
"It kind of came about for myself around the first of December that I had really thought about it real hard," Spence said. "I said, 'You know, if we're going to do this, we've got to be somewhere else other than back home.'"
Spence had bought a share of a two-year-old in partnership with Moore and breeder Princeton Farms this winter, and that accelerated the decision to move — not without apprehension, admittedly, but on the strength of good working relationships and faith in opportunities to come:
"I said, 'You know, maybe we can make something work.' MacKenzie was a little bit apprehensive; she had never really been away from the Maritimes. Myself, I've never been away from the Maritimes, but I've been all over — upside down, sideways, crossways. I've been all over the place, let's just put it that way. If we're going to give it a try, we may as well. We're hooked up with Ian and Nancy, whom we get along really good with ... We've gotten to know each other the last couple of winters, and we seem to get along really well. Hopefully that relationship continues ... I can't see it not continuing because we get along very good. We're still on the same page; we want the same things, we expect the same things."
While Spence will primarily serve largely in a similar role as an assistant trainer for Moore at his northern base at Shamrock Training Centre, he hopes to make the most of opportunities to drive as well — and Moore's endorsement of Spence's ability in the race bike doesn't hurt, either:
"We had a little meeting here about a month and a half ago now, and he said, 'You guys are coming up, that's great. We love working with you, it's going to be a good summer ... what's your aspirations?' And I said, 'Well, to be honest with you, I make myself available for the stable because I understand what my full-time job is right now.' And he kind of said to me, 'Don't sell yourself short. When we get up there, I want you to market yourself. You have to market yourself appropriately. Once you get up there, we're going to have all kinds of help at the barn. As long as you're there to work, that's great. Market yourself, and try and make something. Unfortunately, I don't know how much (driving) work I'll have for you. But when I can get you up, I will.' Whether it be people not being able to be at a racetrack or this or that — you never know what goes on through a season, and I'm very grateful to have the opportunity to do what we're going to do. What will be will be and what won't be won't be and I'm just going to take everything in stride and try my best, make the most of all my opportunities."
Spence, who drove Moore trainee Casimir Richie P to victory in a Gold Cup and Saucer trial last August, looks forward to competing against a new group of drivers in Ontario and to seeing how his presence in the drivers' room can potentially affect the dynamic of competition — but he stresses that the goal is the same no matter the venue: to help each horse achieve their best possible outcome.
"I can't wait to get back up there and mix it up with those fellas," he said. "I think it really sharpens everybody up. A lot of people get into the same routine and stuff like that. It's the same way at home — there's a new driver that comes around that sharpens things up out of the blue. You more or less get the same product every night. Am I planning on doing that? No, but I'll bring my own qualities to the game, you know. Every driver has their own qualities and the way they drive. I don't plan on changing mine just because I'm going to go to somewhere different. You put the ones in play that are supposed to be in play. If you're not number one on the board, guess what? You can't always put them in play, but you've got to find the best route to the winner's circle for them."
The value of the experience gained from working with Moore is not lost on Spence in the least, and the opportunity to train and qualify the likes of O'Brien Award winners Century Farroh, Lawless Shadow and Tattoo Artist this past winter opened his eyes to what he can accomplish:
"It's second to none," Spence said of the experience and knowledge he has gained. "Without Doc, I probably would never sit behind some horses like that. They really open up your mind; they give you a different approach to the game.
"We were training Lawless Shadow together with Century Farroh one day, and we went as fast as we were supposed to go, and Doc says, 'I want us to come home as fast as we can come home.' I was coming out with Century Farroh, so that's what we did, and I'm telling you, it felt like the bike was floating. That's how fast we came home. It's just a whole different ballgame. It's one that I'm really overjoyed to be in this experience right now. I'm taking something from it every day we're at the barn. It's something that I hope to carry on here. Over these last two winters, the program that Doc has coordinated over the past 40 years — I'm on the backside of those 40 years — it's worth its weight in gold the experience we're getting right now.... To learn from somebody who has four decades in the business ... you couldn't pay for that kind of experience."